NEWS
FAQ
Follow Richi Machinery trends, collect industry information, and discuss market focus.
The difference between feed pellet machine and ring die biomass wood pellet machine (with price of pellet machine)
Date: 2021-05-24 10:18:45
From: www.pellet-richi.com
Clicks:
The pellet making machine is mainly composed of feeding, mixing, granulating, transmission and lubrication systems, etc. It is used to develop wet powder into required particles, and it can also pulverize bulk dry materials into required pellets. It is used in pharmaceutical, chemical, Widely used in the food industry. In terms of use, pellet machines can be divided into feed pellet machines and biomass wood pellet machines. In terms of models, pelleting machines are divided into flat die pellet machines and ring die pellet machines.
Feed pelleizer machine: generally requires high temperature, easy maturation, low pressure, and high output. Generally used are flat die pellet machine and ring die pellet machine. Biomass wood pellet mill machine: The production of wood pellets generally requires high pressure, high stability, good heat dissipation, and long-term operation. The popular pelletizing machines commonly used in the market are vertical ring die pellet processing machines and horizontal ring die pellets machine. However, due to the wide applicability of the ring die granulator and the horizontal ring die pellet granulator, the flat die pellet granulator is only suitable for small farms, and the vertical granulator is not widely used, so here we mainly focus on ring die pellets pressing machine is introduced.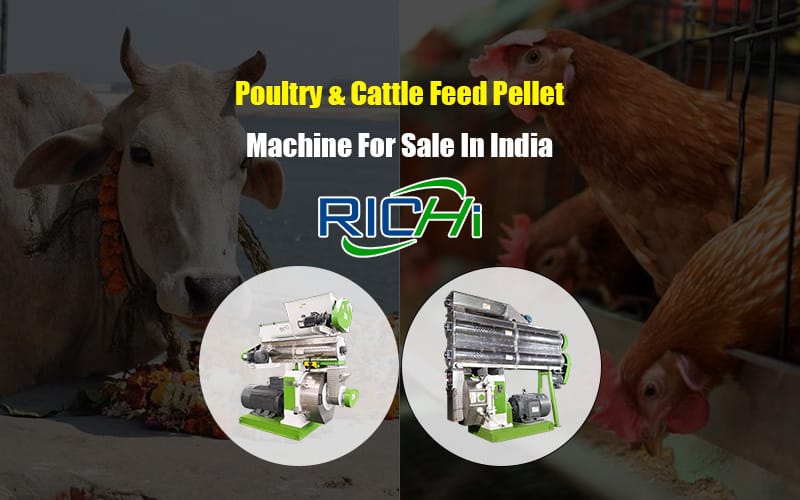 The pellets are made from biomass materials through a pelleting machine. Pellets were born in the wave of biomass energy. As the best-selling clean energy in the market, pellets not only provide more options for energy use, but also provide a new way to make money. Pellets have many applications, such as biofuels, animal feed, power generation, fertilizers, etc. Strictly speaking, there is still a difference between a biomass wood waste pellet machine and a pellet feed machine.
Conditioning time, comparing the two sets of units will find that the conditioner of the animal feed pellet mill machine is longer, even over two-layer conditioners. Because feed production requires higher tempering temperature, high-temperature sterilization requires longer heating of the stream.
The working mode of the pellet milling machine. Generally, the pelletizing die of the biomass fuel pellet machine is placed horizontally, and the depth of the die hole is relatively shallow. The pellet die of the pellet feed making machine is generally placed vertically and the mold is thicker. The vertical placement and the deeper die hole can give greater pressure to ensure the molding rate and complete the temperature control during the pelleting to avoid excessive temperature. Careful comparison can also find that the diameter difference between the inlet and outlet of the animal feed pellet machine die is also larger and more conducive to pressurization.
Granulation size. Biomass pellet machine granulation requirements are not high, fuel pellets are a little larger than feed pellets, with a diameter of 6-8 mm, which is slightly shorter than cigarettes. The particle size of the feed pellet machine is generally below 4MM, and the common feed pellets are relatively small, with a diameter of 2-3 mm and a length of 2-3 cm. Pellet machine mold selection is one of the key components of the good quality pelletizing machine.
The correct selection of molds will have a significant impact on quality, energy consumption and ring die pellet machine productivity. A wide variety of molds are available, from thin molds with parallel holes to thick molds with counter-drilled or tapered holes. When selecting a mold for a specific application, all requirements will be evaluated to ensure a smooth pelletizing process with the required pellet quality and the lowest energy consumption. The above is the difference between the feed pellet machine and the biomass pellet machine. The key to an effective pelleting process is to determine the best compromise between energy consumption and pellet quality, while generating the required capacity. Therefore, the user needs to understand clearly when choosing a pellet machine, from the formula to the adjustment parameters and the specifications of the pelletizer die, many factors will affect the pelletizing process.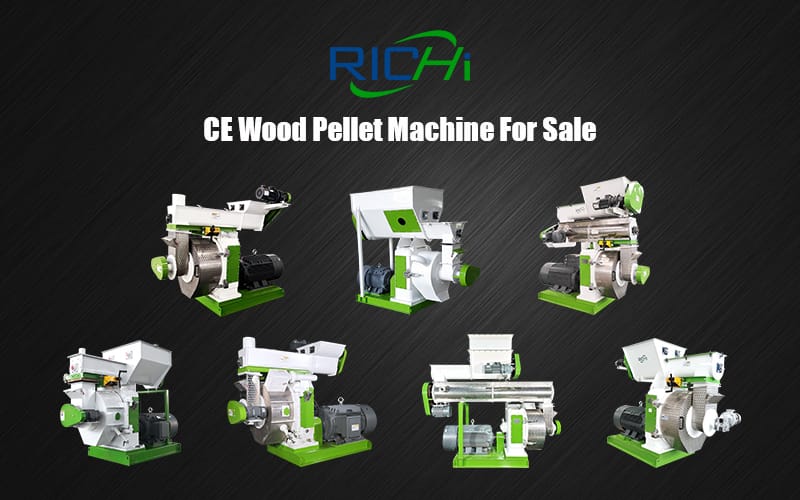 About this question, as a professional pellet making machine manufacturer, RICHI has something to say for the general breeding users or friends who are interested in building complete pellet production line for business. The pellet mill machine price is decided by many elements including production capacity, raw materials, pellet machine types, driving powers and your local market condition, etc.
So, making pellets, either for your own use or business purpose, you can't just think about the pellet mill price. When you are going to buy pellet processing equipment, what you can do is to find a reliable manufacturer or supplier and buy the cost-effective pelletizer machine.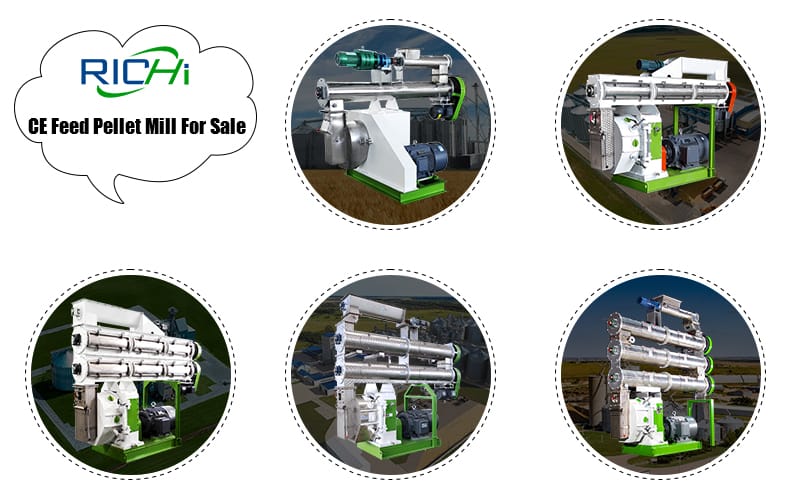 (1)High quality CE Pellet Machine For Animal Feed
Model
Capacity(TPH)
Main Motor Power(kw)
Feeder Motor Power(kw)
Conditioner Power(kw)
Dia.of Feed Pelletizer Die(mm)
Final Pellet(mm)
Feed Pelletizer Price
SZLH250
1-2
22
0.75
1.5
250
2~12
7000-100000USD
SZLH320
3-4
37
1.5
2.2
320
2~12
SZLH350
5-7
55
1.5
3
350
2~12
SZLH420
8-12
110
1.5
7.5
420
2~12
SZLH508
10-18
160
2.2
11
508
2~12
SZLH558
15-25
180/200
2.2
11
558
2~12
SZLH678
20-30
220/250
2.2
11
678
2~12
SZLH768
25-40
280/315
2.2
11
768
2~12
SLZH858
25-42
280/315
2.2
15
858
2~18
Model
MZLH320
MZLH350
MZLH420
MZLH520
MZLH768
MZLH858
Wood Pellet Maker Power
37KW
55KW
90KW
132KW
250KW
280KW
Capacity(wood sawdust,biomass)
300-400KG/H
500-700KG/H
1.0-1.2 T/H
2.0-2.5 T/H
2.5-4 T/H
3-4.5 T/H
Capacity(grass,straw)
600-800KG/H
800-1000KG/H
1.5-2 T/H
3-4 T/H
5-7 T/H
8-10 T/H
Capacity(organic fertilizer)
1-2 T/H
3-4 T/H
5-6 T/H
7-8 T/H
9-10 T/H
10-12 T/H
Final Pellet
6-12mm
6-12mm
6-12mm
6-12mm
6-12mm
6-12mm
Weight(KG)
2500
3500
4000
4500
5000
5500
Wood Pelletizer Cost
15000-100000USD
The above is the article for you: The difference between feed pellet machine and ring die biomass wood pellet machine (with price of pellet machine).
If you are interested in our products or project solutions, please contact us. We will give you the best product quality and the best price. Email: enquiry@pellet-richi.com