NEWS
RiChi News
Follow Richi Machinery trends, collect industry information, and discuss market focus.
40T/H Large Capacity Latest Technology Cow Feed Mill For TMF Feed Production
Date: 2021-10-08 10:11:51
From: www.pellet-richi.com
Clicks:
---
In September 2021, the 40t/h cow feed mill TMF (fermentation TMR) feed production project was officially put into production. The project was invested by Ningbo Yongyou Feed Company, with a total cattle feed plant project cost of 200 million yuan, covering an area of ​​57 acres, and introducing A world-class automatic cow feed factory with an hourly capacity of 40 tons and an annual output of 200,000 tons of TMF feed.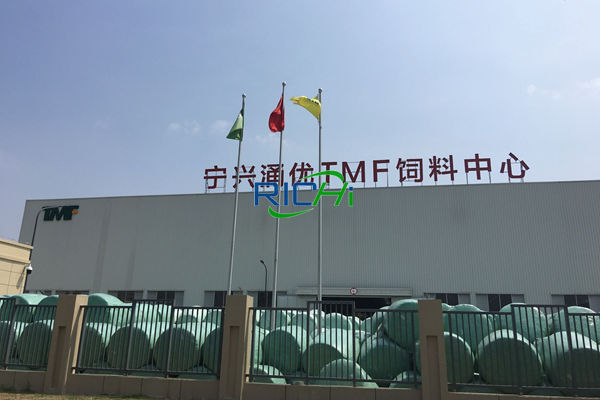 At the same time, this is also a large scale customized cattle feed plant project that the local government has given great support. This large 40tph full automatic cow feed factory project is to introduce TMF technology (TMF feed is an upgrade of TMR feed production technology. Through scientific feed formula, various beneficial microbial fermentation strains are added to TMR feed, compacted, packaged, and biologically fermented). It is expected to officially supply the entire Chinese market in October. The local 100,000 Australian beef cattle project and Ningbo Dairy Group's cow cattle feed demand will exceed 100,000 tons, accounting for about half.
Overview of large capacity heavy duty 40tph cow feed mill project in Xinjiang, China
RICHI professional team provided a comprehensive cow feed mill design program from the overall planning, cow feed plant layout design, cow feed mill process design, cow feed equipment personalization, cow feed mill installation and debugging, electrical control, to TMR production technology, etc.
During the 40t/h new design cow feed mill construction, RICHI installation team overcome a series of difficulties. After three months of struggle, they completed the first TMR cow cattle feed mill in Xinjiang on schedule, and won the praise of the local government and herdsmen!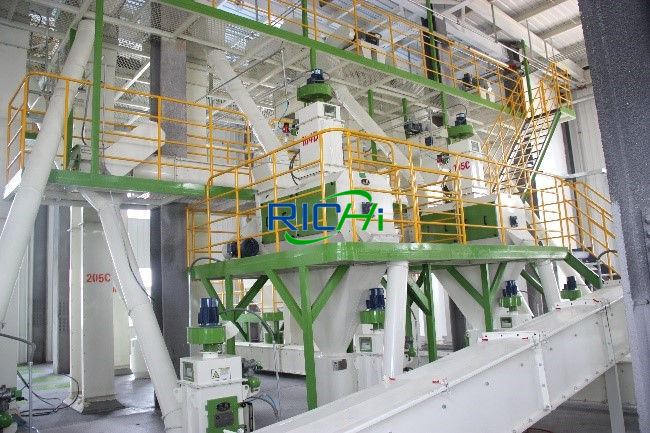 The reasonable layout new technology cow feed factory 40 tons per hour project includes three 508 cow feed pelleting production lines, which can produce TMR cattle cow ruminant feed, pure straw, forage pellets, various biomass pellets, fine cattle cow dairy feed, fine powder feed, etc., to fundamentally help local farmers to solve the breeding problem.
Advantages of new technology high quality 40t/h cow feed mill for MTR
It has the advantages of 40 tons per hour automatic large-scale cow feed mill production, high-temperature sterilization, flexible nutrition ratio, convenient storage and transportation, no waste of residue, especially in line with the rumination digestion characteristics of cows.
It overcomes the disadvantages of traditional divided coarse and fine feed which is not conducive to the healthy growth of cow, and low efficiency of TMR machine mixed feeding. Nowadays, it is the most advanced China feeding technology and cow feed machines.
Humanized and automatic operation, cow feed machine in the 40 tons cow feed factory efficiency is increased by 15%.
Multi-point steam conditioning makes feed heated rapidly to improve the maturing degree and cow feed quality.
Complete ancillary equipment further optimizes cow feed quality and enhance aquaculture benefits.
The main cow feed machine equipped like grinder for cattle feed, cow food mixer machine are improved and optimized according to the physical characteristics of straw, forage and other coarse raw materials. The original conveying equipment, arch breaking equipment and storage equipment ensure its smooth cow feed production process.

RICHI, as a professional cow feed plant manufacturer with a history of 26 years has common development with the country, will respond positively to the national economic policy and make use of its technological advantages in animal husbandry industry, to contribute to the healthy and sustainable development of the industry.
What is TMR feed?
TMR (Total Mixed Ration) is the abbreviation of Total Mixed Ration. TMR is to formulate ration formulas according to the nutritional needs of different physiological stages and production performance of dairy cows, using special TMR ration cow feed machine and following certain cow feed mill procedures. A diet with relatively balanced nutrition is obtained by fully mixing roughage, concentrated feed and various additives according to the cow feed formula ratio.

TMR feeding method for for dairy farm
For cow feed mills, the processing of TMR feed is large-scale, but it only provides feed. For dairy farms, the TMR feeding method is currently commonly used.
Adopting the TMR feeding method has the advantages of effectively reducing feeding procedures, saving labor, and improving feed utilization; increasing the dry matter intake of dairy cows, increasing milk production and milk fat rate; maintaining stable rumen PH of dairy cows and reducing dairy cows' disease Rate, saving treatment costs.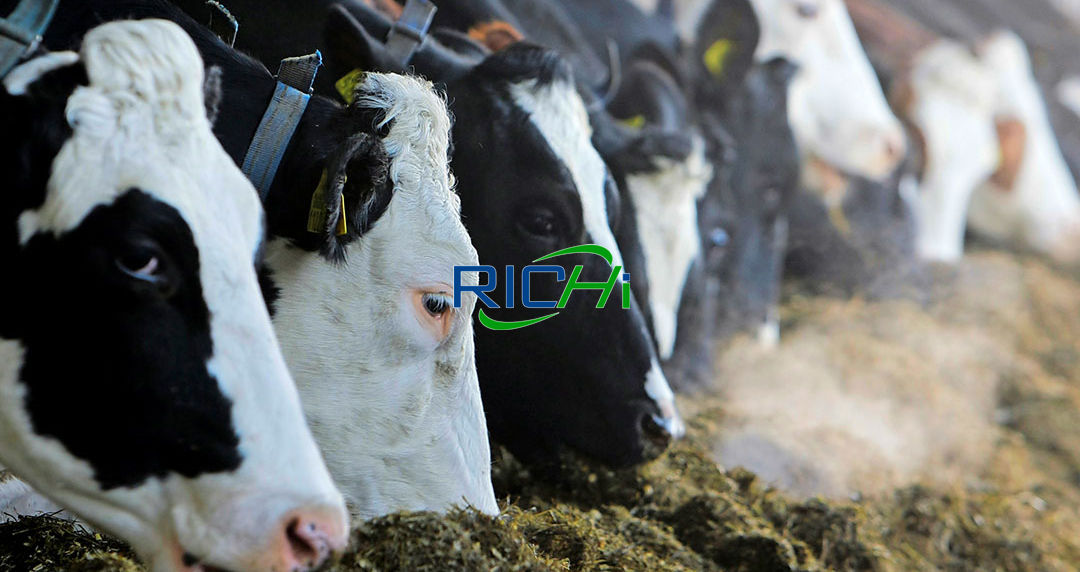 Developed countries such as Europe and the United States began to use TMR breeding technology as early as the 1960s, and the yield of dairy cows has been quickly improved. At present, developed dairy countries such as the United States, Canada, Italy, etc. have generally adopted TMR breeding technology In Asia, South Korea and Japan, the penetration rate of TMR has reached 70%.
Why use TMR feeding method for dairy farm?
Increase milk production and improve milk composition. Feeding TMR feed can meet the nutritional needs of dairy cows to the maximum, effectively increase the dry matter intake of dairy cows, maintain stable PH value in the rumen of dairy cows, improve feed digestibility, and increase milk production of dairy cows.
Studies have shown that it can generally increase the milk yield of dairy cows by more than 10% and increase the milk fat rate by more than 0.1%.
Save feed and reduce costs. Studies have proved that the use of TMR feeding method can save 5% of hay and 10% of silage, which greatly reduces the cost of feed.
Convenient feeding and labor saving. TMR adopts mechanized operation, which reduces the labor intensity of workers and also saves labor.
Reduce the incidence of dairy cows and save treatment costs. Using TMR feeding method can reduce the incidence of dairy cows by 20% and save medical expenses.
Technical points of TMRTMR feeding method
Dairy Cows Grouping
According to the physiological stage of dairy cows, dairy cows are divided into bred cows, young cows (pregnant bred cows), dry cows, and lactating cows; according to the milk production of dairy cows, the herd is divided into low-yielding cows, middle-yielding cows, and high-yielding cows. Different herds are equipped with different TMRs.
Develop a recipe for cow cattle feed
According to the nutritional needs of each herd, the corresponding ration formula is designed.
Sourcing of raw materials
Purchasing feed ingredients in accordance with the requirements of the ration formula, and ensuring the quality of the ingredients. The coarse feed raw materials for making TMR mainly include green forage, hay, silage, root-stalk melon and fruit feed, slag feed, and straw feed.
Concentrated feed mainly includes cereal solid feed, cake meal feed, legumes and cottonseed feed, bran feed, dried lees, animal feed, additive feed mainly includes mineral feed, vitamin feed, non-protein nitrogen feed, microbial feed for feed, enzyme preparations and other feed additives.
TMR processing for dairy farm
Processing TMR feed for dairy farm is generally divided into three steps:
The first step is to pre-treat the raw materials. For example, large bales should be opened in advance, fresh alfalfa grass should be short, moldy and deteriorated feeds should be removed, and roots and tuber feeds should be rinsed.
The second step is to add cow feed raw materials. The basic principles to be followed when adding feed ingredients are dry first, then wet, first long and then short, first light and then heavy. Under normal circumstances, hay should be added first, and dregs, grass, and roots and tubers are usually added last.
The third step is to stir. Stirring is the key link to obtain the ideal TMR. The stirring time is directly related to the uniformity of TMR and the length of the cow cattle feed pellets. Generally, after adding the last cow cattle feed raw material, you should continue to stir for 3-8 minutes. The total mixing time is controlled at 20-30 minute.
List of cow feed making machine needed in cow feed plant and cow farms:
grass cutting machine for cow
cow milk feeding machine
cow feed mixer machine
hammer mill for cattle feed
cattle feed pellet making machine
cow feeding grass cutting machine
cow feed pellet cooling machine
cow pellet grading machine
Precautions for TMR feeding method for dairy farm
The ratio of well-made TMR general concentrated feed and roughage is appropriate. The length of the roughage is controlled at about 4 cm, the moisture content is controlled at 45%-50%, the mixing is uniform, the nutrition is balanced, and the cows like to eat. Pay attention to the following points during the production process:
Master the appropriate mixing volume to avoid excessive loading and affect the mixing effect. Usually the load should account for 70-80% of the total volume;
Strictly follow the ration formula, ensure the accurate dosage of each component, and calibrate the metering controller regularly;
According to the moisture content of silage and other raw materials, control the moisture content of TMR diet;
During the adding process, prevent impurities such as iron, stones, packing ropes from being mixed into the mixer truck and causing damage to the vehicle;
Feed fresh every day, especially in hot and humid weather.
The above is the article for you: 40T/H Large Capacity Latest Technology Cow Feed Mill For TMF Feed Production.
If you are interested in our products or project solutions, please contact us. We will give you the best product quality and the best price. Email: enquiry@pellet-richi.com
---