NEWS
RiChi News
Follow Richi Machinery trends, collect industry information, and discuss market focus.
The groundbreaking ceremony of the additive premix animal feed plant project with an annual output of 20,000 tons was held
Date: 2021-10-21 14:25:39
From: www.pellet-richi.com
Clicks:
---
Overview of leading automatic premix animal feed plant project with an annual output of 20,000 tons (About 8t/h)
Recently, the groundbreaking ceremony of Tianjin Bangyuan Biotechnology Co., Ltd.'s annual output of 20,000 tons of additive premix animal feed plant project was held as scheduled under the witness of partners, friends and employees. RICHI is the animal feed equipment supplier for the 20000 tons premix feed production line for this premix feed factory project.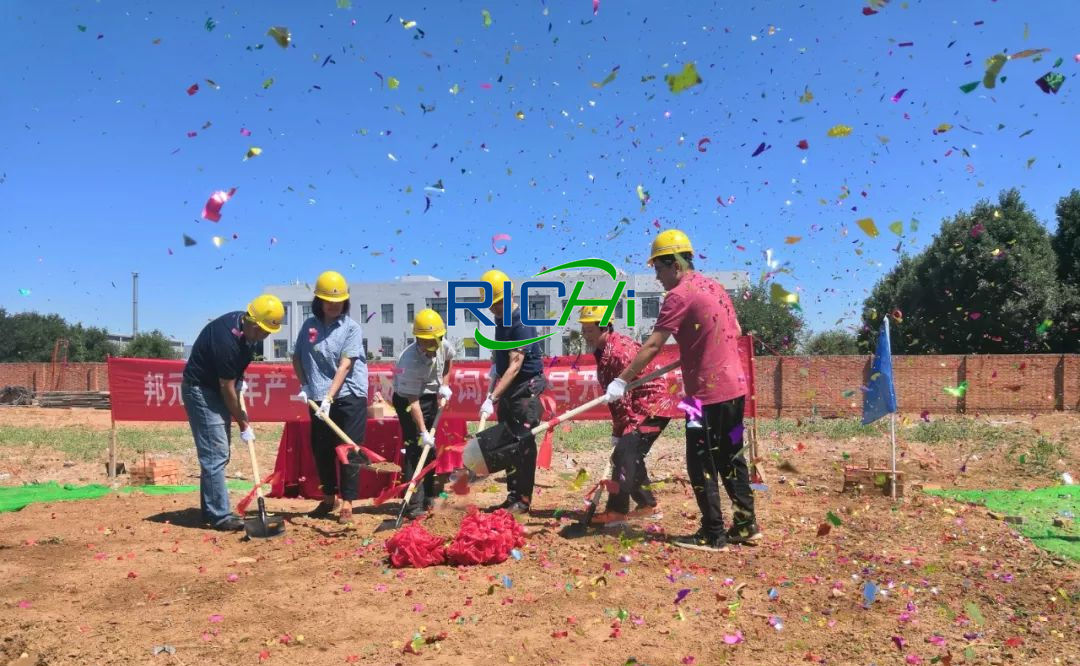 Under the background of the great changes in today's economy, society and industry, we must keep pace with the times and keep up with the development of the times. Focusing on industry development, the global animal nutrition and animal health market has developed from providing a single product to providing comprehensive solutions in the past. The premise of providing comprehensive solutions is to have a high-end manufacturing platform in addition to good technology and raw material resources.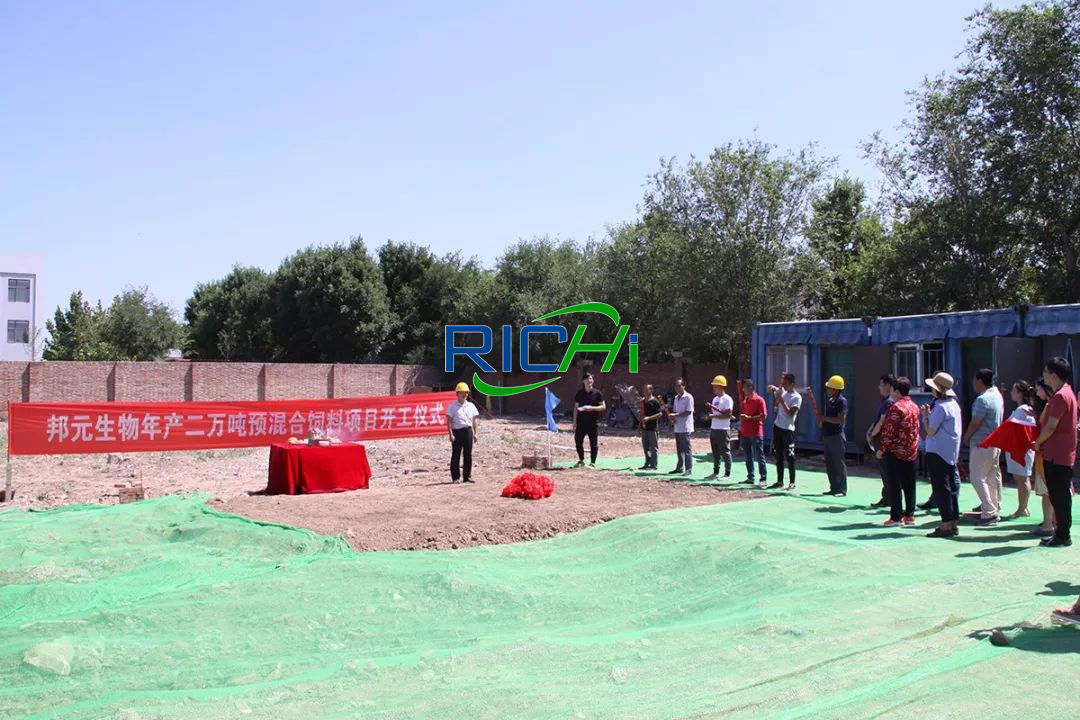 The client of this automatic animal premix feed plant project, Tianjin Bangyuan Biotechnology Co., Ltd., is a wholly-owned additive premix feed manufacturing platform built by Tianjin New Concept Biotechnology Co., Ltd. with 20 years of development experience, aiming to use the world's best quality feed additives and cutting-edge animal nutrition and health technology create products that best meet customer needs.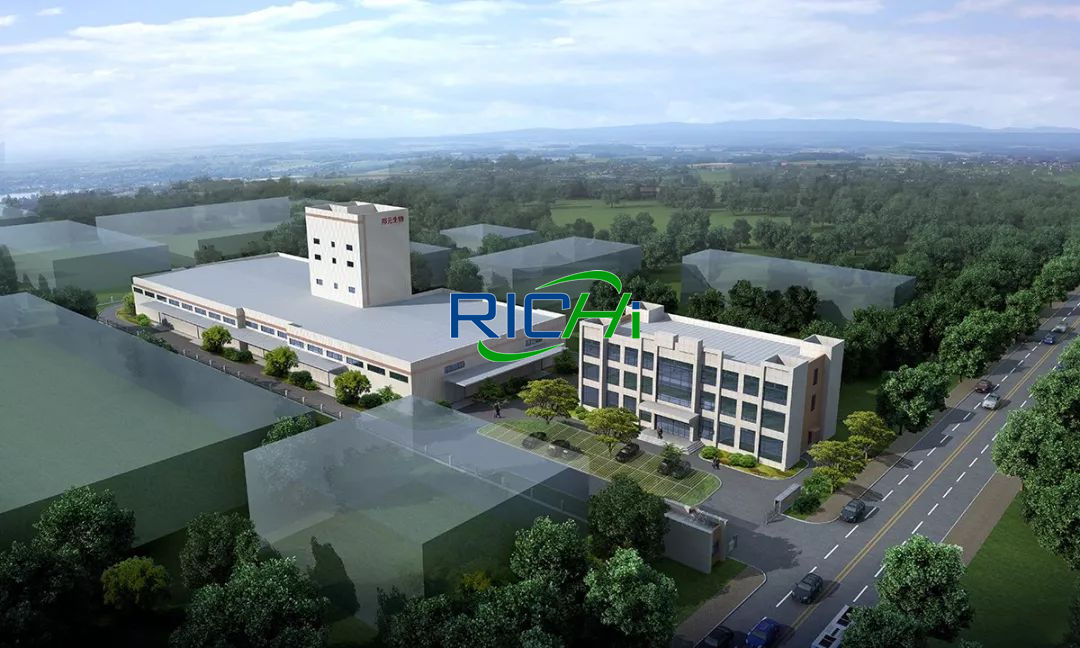 Design drawing of premix feed factory with an annual output of 20,000 tons
The new build high quality premix animal feed plant project is located in the Medical and Medical Equipment Industrial Park of Tianjin Beichen Economic and Technological Development Zone, covering an area of ​​more than 10,000 square meters. It is generally contracted and constructed by Hebei China Insurance Construction Group. The steel structure production workshop is specially subcontracted and designed and constructed by Butler, a subsidiary of Australia BlueScope Group.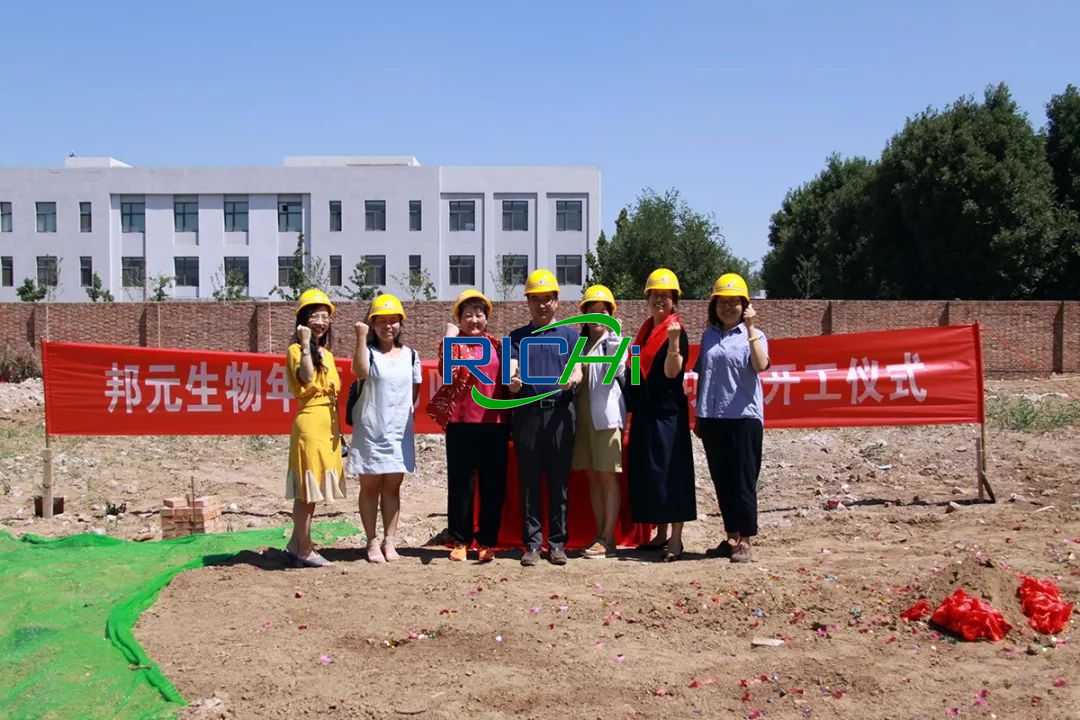 The 20000 tons per year advanced complete premix feed production plant uses a full set of RICHI pre-mixing feed pocessing equipment, 3 feed production lines automatic batching, and the whole animal feed plant process is traceable. At the same time, it is also equipped with a high-end laboratory to quickly analyze the raw materials provided by customers, and then provide precise nutritional formulas based on customer needs, not only can provide customers with high-quality products and services, but also meet customer customized needs.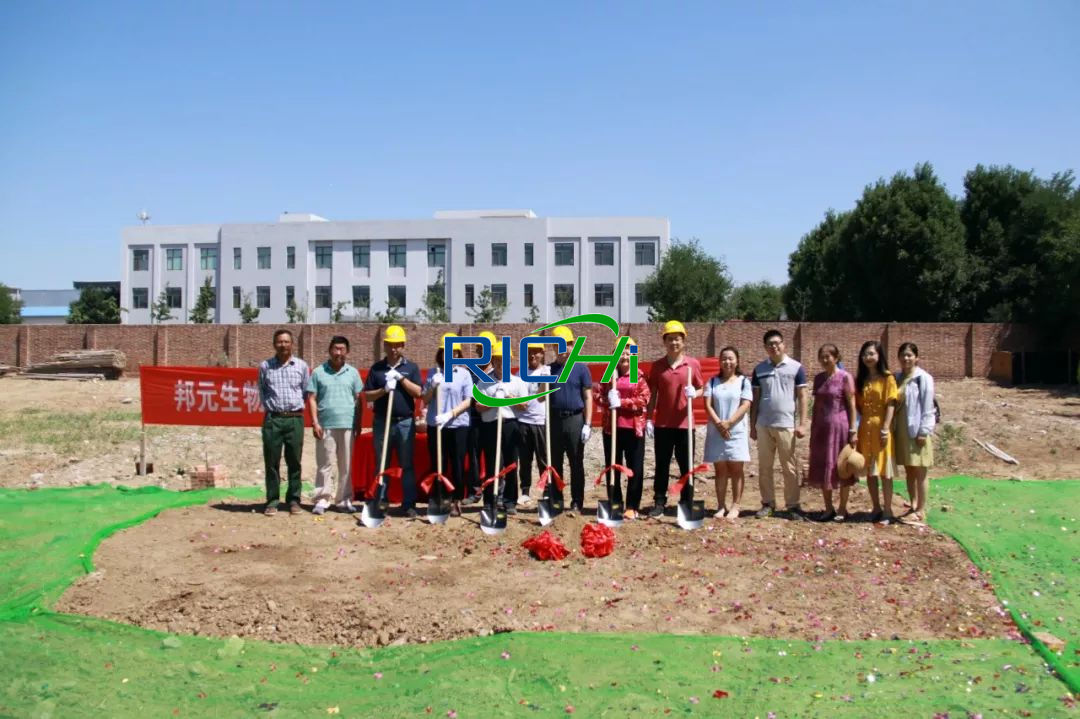 After the completion of the animal feed mill in animal premix feed production line project, its equipment and facilities configuration level, intensification, intelligence, and automation will be among the forefront of the industry and become a landmark project in Beichen Economic and Technological Development Zone. It is believed that with the completion of the project, Bangyuan Bio will become an influential enterprise in the country, and at the same time, it will also give employees, customers, suppliers and society more generous returns.
The client feed company of this full automatic leading premix animal feed processing plant project is based on a high starting point. In addition to ensuring safe production and excellent product quality, it is more important to uphold the people-oriented management philosophy of the new concept for two decades to provide employees with a safe, hygienic and comfortable working environment, provide an unlimited development platform and the most generous benefits for professionals .
The key points of production of high-quality premixed feed plant with an annual output of 20,000 tons
Animal premix feed is a homogeneous mixture of multiple additives of the same type or multiple additives of different types in a certain proportion. Although premixed feed occupies a small proportion of the complete feed, it plays an extremely important role in the feeding effect of the complete feed. Scientific premix feed formulation is the key to premix production. To produce high-quality premixes, not only scientific formulas, but also high-quality raw materials, sophisticated equipment and technology, and a complete set of management measures are required.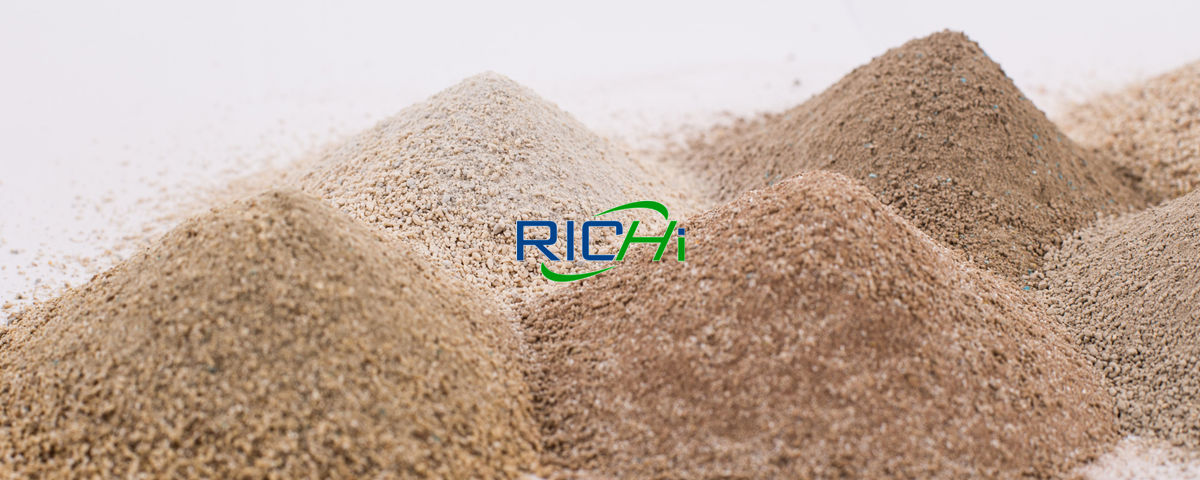 Premix is ​​not a simple commodity, but a technology with extremely high technical content. It is a comprehensive manifestation of raw material quality testing, nutritional formula design, and livestock and poultry breeding management technologies.
The purpose, characteristics and functions of the animal feed plant production of pre-mixed feed
The purpose of the animal feed mill production of premix is ​​to dilute and expand the micro-component additives so that the effective ingredients are evenly dispersed in the compound feed. The premix can be produced by a manufacturer that specializes in this type of product, or can be produced in a special production workshop attached to the compound feed factory.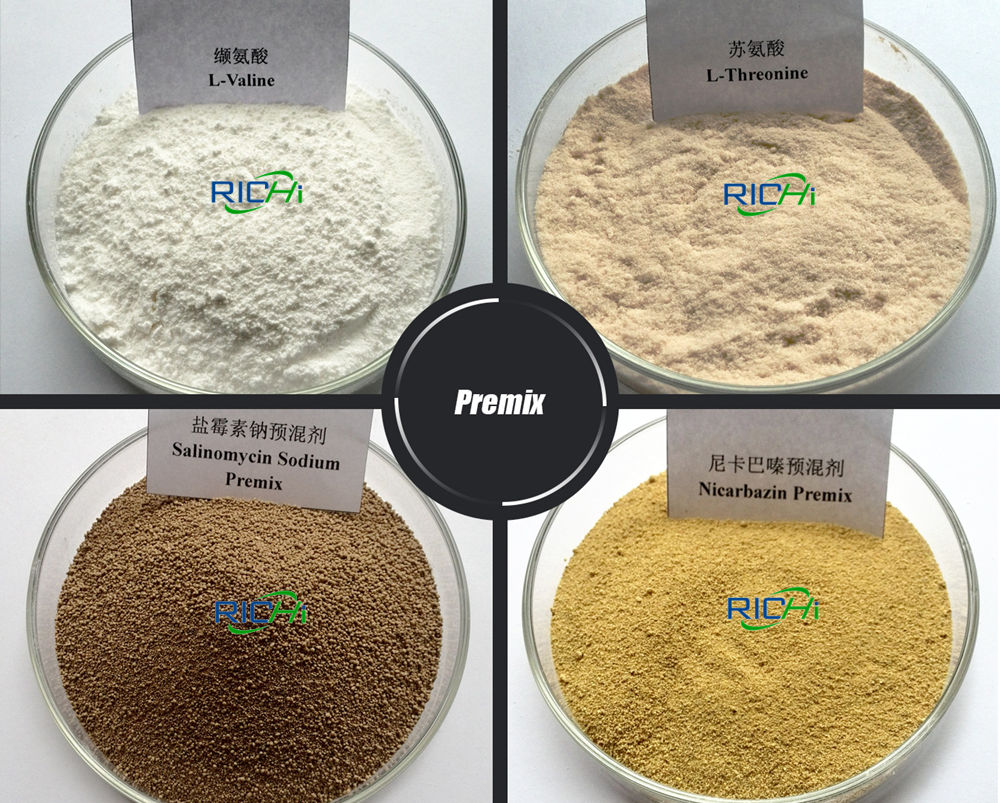 The premix made from animal premix feed plants has the following characteristics:  
Complex composition. Good quality premixes generally include 6 or 7 kinds of trace elements, more than 15 kinds of vitamins, 2 kinds of amino acids, 1 to 2 kinds of drugs and other additives (antioxidants and antifungal agents, etc.), and the properties of various feed additives And the role is different, the compatibility relationship is complicated; 
Low dosage and great effect. Generally, the proportion of premix in compound feed is 0.5%~5%. Although the amount is small, it has a great effect on the improvement of animal production performance, the improvement of feed conversion rate and the preservation of feed;  
Can not be fed directly. The active ingredient concentration of the additive in the premix is ​​very high, generally tens to hundreds of times the amount required by the animal. If it is fed directly, it is easy to cause animal poisoning.
There are four main functions of premix from the premix poultry livestock animal feed plant:
The trace components of the additives can be evenly distributed in the compound feed;
Through the premix feed making plant process to compensate and improve the undesirable characteristics of trace components, such as instability, water absorption, electrostatic adsorption, etc.;
Standardize the additive level;
Simplify the production process of general animal feed processing plants and reduce animal premix feed mill investment.
The above is the article for you: The groundbreaking ceremony of the additive premix animal feed plant project with an annual output of 20,000 tons was held.
If you are interested in our products or project solutions, please contact us. We will give you the best product quality and the best price. Email: enquiry@pellet-richi.com
---