Overview of 3-5t/h China supply poultry feed mill plant for sale Uzbekistan
This 3-5 tons per hour completely poultry feed mill project customer comes from Samarkand. RICHI's first animal feed mill project in this area was installed in the end of 2017, and one year after that poultry pellet feed plant project was put into operation, RICHI once again cooperated with customers in the area for a 3-5 ton per hour chicken poultry feed processing plant project.
This is a 3-5t/h turnkey poultry feed mill plant project, without any competitors, this Uzbekistan customer directly contact RICHI to discuss the poultry feed mill project cooperation.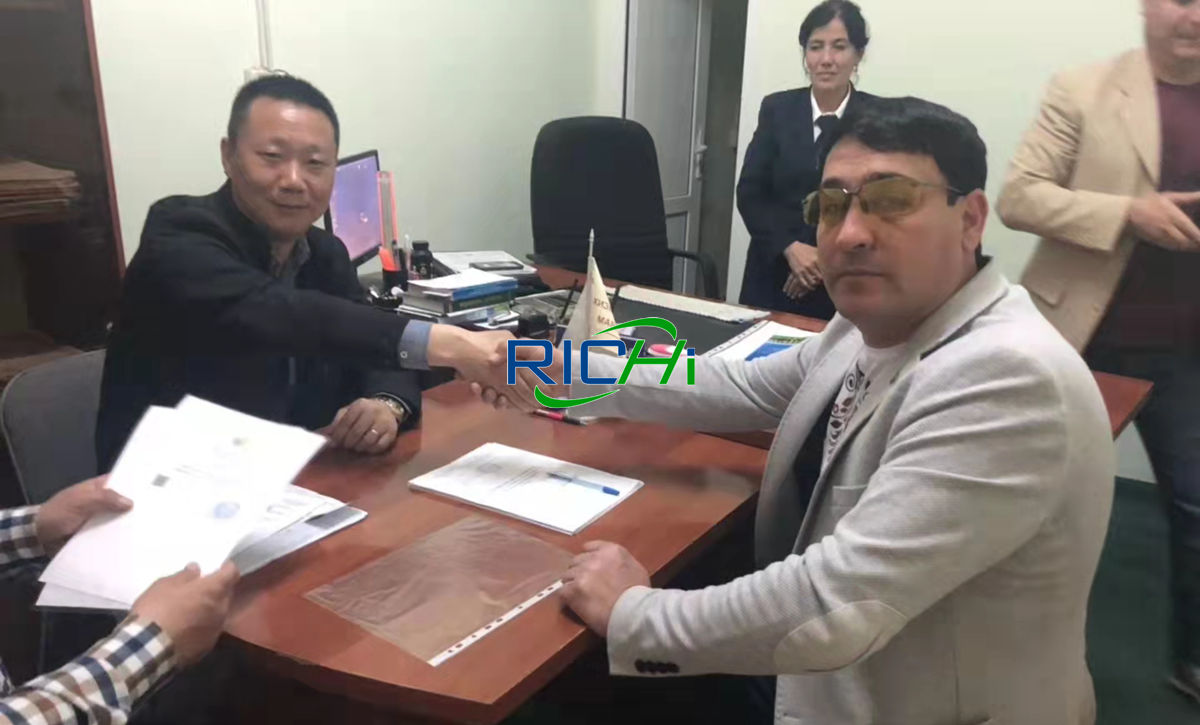 Signed 3-5t/h poultry feed production line project contract
It only took two weeks from the beginning of the negotiation to the signing of the 3-5t/h best price poultry animal feed plant project contract. The successful signing of this poultry feed manufacturing plant order is based on the operation and profitability of our first 3-5 ton per hour chicken poultry feed processing plant in the region, because the customer contacted us directly after inspecting the poultry feed production plant project.
Moreover, after signing the contract, the customer told us very confidently that he can use RICHI poultry feed manufacturing equipment to produce higher output feed.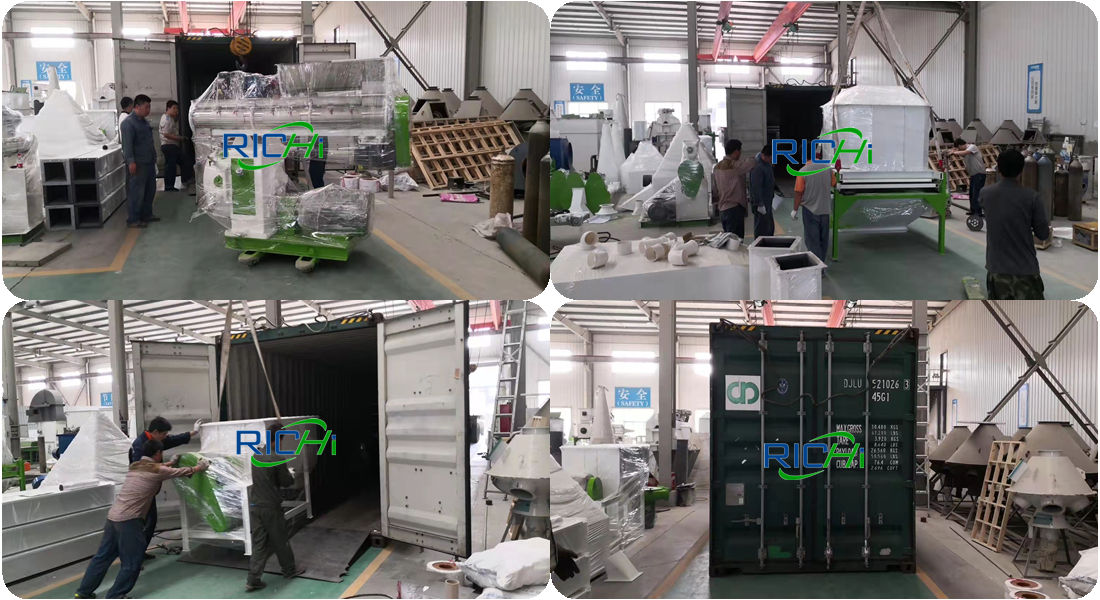 Delivery of animal feed manufacturing process machine of poultry feed plant for sale Uzbekistan
Today, The field trial operation of the poultry feed mill machines proves that the actual measured output of RICHI's 3-5 ton per hour poultry feed production line is up to 5.5 tons, the operating current only accounts for 55% of the rated current of the motor.
This 3-5tph full poultry feed mill plant project covers an area of 9*6*13m, and the main poultry feed making equipment includes: poultry chicken feed grinding machine, broiler chicken feed mixing machine, broiler chicken poultry feed pelletizing equipment, pellet cooling machine, pellet crumbler, vibrating screener,etc.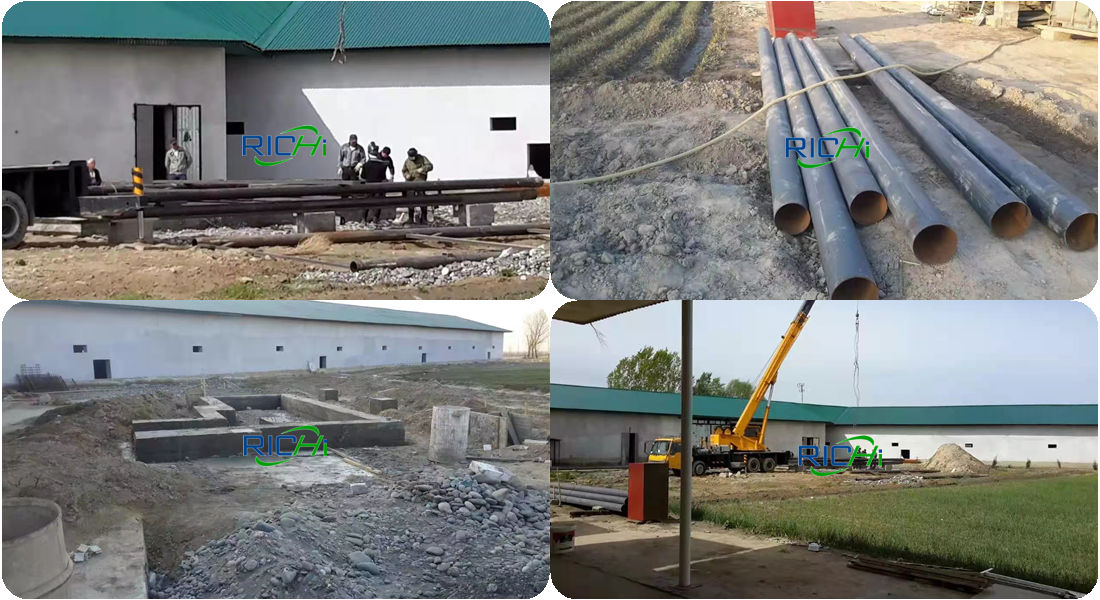 Installation site of customized 3-5t/h automatic poultry pellet feed plant in Uzbekistan
Recently,in order to expand the poultry chicken feed plant production scale, introduce advanced poultry feed processing equipment, and improve economic efficiency, the customer planned to add a new poultry feed manufacturing line. Based on the trust in RICHI products and services, the client is currently discussing this new animal feed mill project with us.
Poultry feed machine needed to start the 3-5t/h poultry feed milling plant in Uzbekistan
Poultry feed milling machine details
Bucket elevator*TDTG36/18
Permanent magnetic sleeve*TCXT20
Pre-Crushing bin*1m³
Rotary feeder*SWLY20*40
Poultry feed grinder machine*SFSP56*60
Pulse dust collector*TBLMa.12A
Screw conveyor (Air locked)*TLSS20
Bucket Elevator*TDTG36/18
Drum mixer for poultry feed*SLHY.1
Poultry pellet machine*SZLH320
Cooling Machine*SKLN14×14
Poultry pellet crumbler*SSLG15X80
Rotary screener*SFJH800*2C
Automatic Packing machine*DSC-50
Richi Machinery has always adhered to the core value of "Unity at Heart" and list "create value for the customers" as the first priority. From such angles as research, development and design, integrated feed factory solutions, services, channels, etc., we aim at providing long-term, stable, competitive assurance so as to realize maximum interest return and we are dedicated to becoming the most trustworthy cooperative partner of our clients.
Set Up A Suitable Animal Poultry Feed Plant
During the growing days, poutry chickens require proper nutrition and that's the reason there should be a proper chicken poultry feed plans for them. Now talking about the chicken feed composition, it differs in the egg-producing chickens (layer) and meat producing chickens (broiler).
The poultry feed should contain a properly balanced nutritional ratio that will prevent slow growth and leg problems in the chicken. The feed production team needs to analyze the requirements of the chicken to prepare a proper feed for them.
Making high quality chicken feed from scratch is never an easy task. Though a proper feed is prepared from 85% -90% of cereal grains, it cannot be completely made of grains. The feed must include soybean meal, salt and concentrated vitamins and minerals as well. The different nutritional needs and the levels of growth have a direct effect on the chicken feed production.
RICHI feed mill plant and feed machine for sale Uzbekistan
As of the end of 2020, we have established 24 feed plant and feed machine projects in Uzbekistan, including 18 complete animal feed production lines and 6 single animal feed mill machine projects. The products sold cover chicken feed production, cattle feed production, laying hen feed production, broiler feed production, stock feed production, fowl feed production, fish feed production, etc.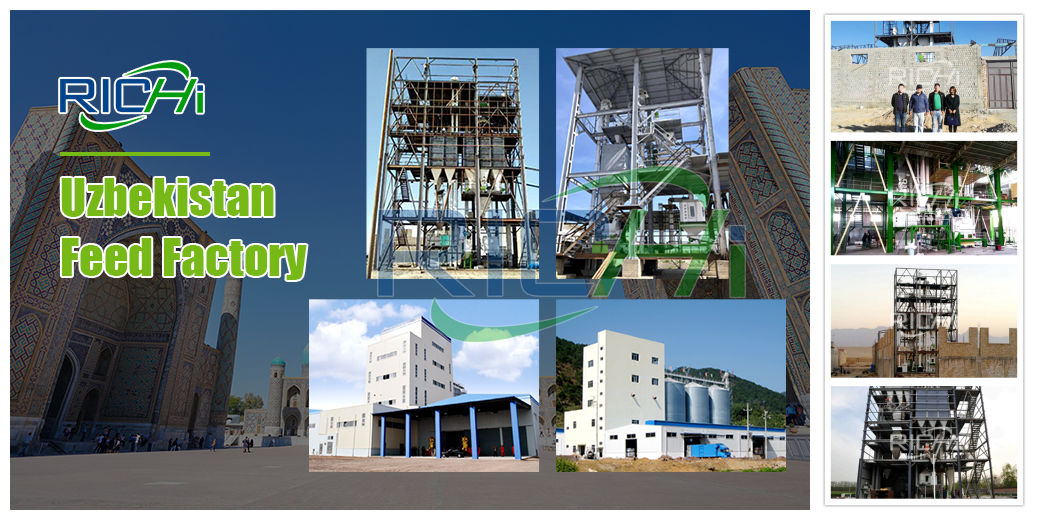 The following is a list of all our current feed production projects in Uzbekistan, all the information is true. (Currently, only some Uzbekistan feed production cases have been updated on the website. Because some cases are ongoing or lack relevant pictures, there is no specific detail page. You can directly contact our sales staff for more case information)