Overview of 1-2t/h small chicken feed plant project in Papua New Guinea
In Papua New Guinea, the output of poultry feed accounts for more than 90% of the country's annual feed production, followed by pig feed, duck feed, trout feed, horse feed, calf feed, dairy cow feed, etc. It can be seen that the market demand for poultry feed production such as chicken feed production in Papua New Guinea is great.
The cooperation chicken feed mill project with customers in Papua New Guinea is a 1-2 ton per hour chicken feed pellet production line. The customer's chicken feed raw materials are corn, wheat and other conventional chicken feed materials. The required chicken pellet size is 1-4mm, and the small chicken feed plant size is 10 *4 *5m.

Papua New Guinea chicken feed line project customer visit RICHI factory
After fully understanding the actual situation on the customer's site, after careful discussions with customer's engineers, the chicken feed production process design plan of this chicken feed manufacturing plant was determined: grinding process, mixing process, pelleting process, cooling process and screening process. The main poultry chicken feed making machine in this small scale chicken feed production line include:
| Chicken feed equipment | Model | QTY |
| --- | --- | --- |
| Screw conveyor | TLSS16 | 1 |
| Chicken feed grinder machine | 15-200 (Directly driving type with hammers) | 1 |
| Chicken feed mixing machine | SLHY0.5A | 1 |
| Chicken feed pellet machine | SZLH250 | 1 |
| Storage bin for making pellet | 1m³ | 1 |
| Stainless steel condtioner | TZQ22*180 | 1 |
| Conterflow chicken pellet cooling machine | SKLN1.0*1.0 | 1 |
| Vibrating sifter | ZDS60*1 | 1 |
| Cooling cyclone | SK60 | 1 |
| MCC Control Center ;Mimic Control Panel | / | 1 |
Papua New Guinea's 1-2tph chicken feed line with its accessory accessories is a turnkey chicken feed mill project. From planning and model selection to chicken feed mill project construction and trial operation, Richi is responsible.
Turnkey chicken feed plant projects have clear rights and responsibilities, fixed total prices, and considerable benefits, and are ideal for chicken feed mill projects in recent years. It is our service tenet to provide customers with a one-stop complete chicken feed plant solution and obtain as much return as possible with as little investment as possible.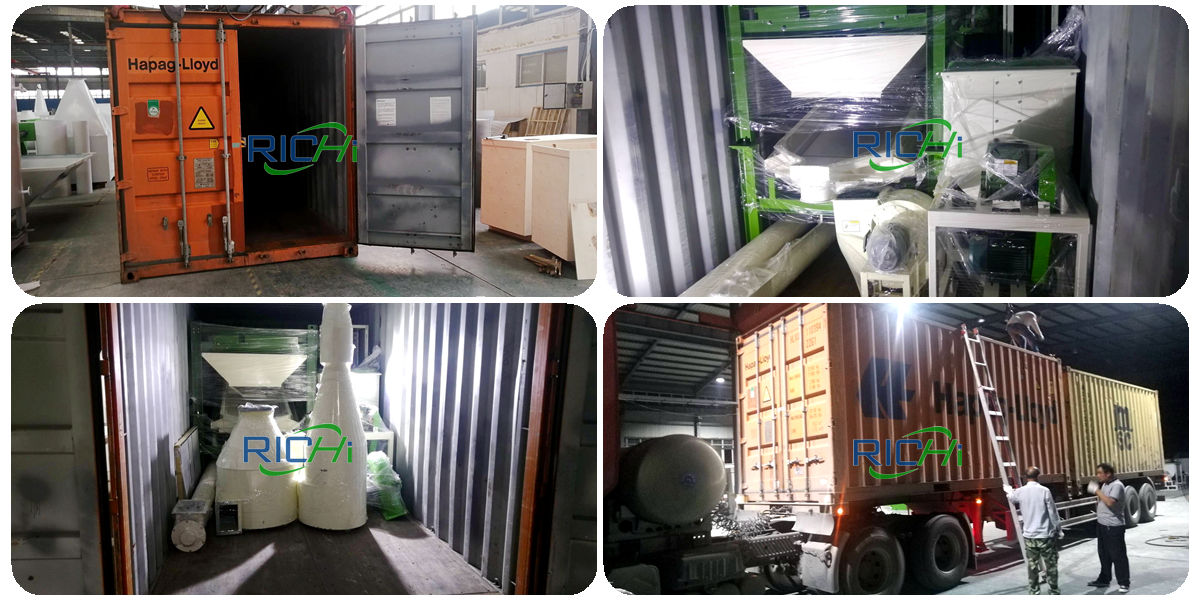 Whole 1-2t/h chicken feed milling machine delivery
Customer feedback of the small chicken feed mill
As an extremely credible enterprise in China's feed machinery industry, Richi is very good in terms of chicken feed production scale and chicken feed machine quality. After investigations by multiple manufacturers, we chose to cooperate with Richi Machinery.
At present, the chicken feed making machine of this Papua New Guinea 1-2t/h whole set chicken feed plant is running smoothly and the production capacity is strong, which meets our chicken feed production needs. The technical engineering team dispatched has also conducted professional training for our employees. We are very satisfied with this cooperation.