NEWS
Industry News
Follow Richi Machinery trends, collect industry information, and discuss market focus.
PFI wood pellets standards in United States market
Date: 2021-06-30 15:46:06
From: www.pellet-richi.com
Clicks:
---
While DINplus, ENplus and CANplus are all based on the European Union and ISO wood pellet standards (references grades criteria for A1, A2, and B based on EN 14961-2 or ISO 17225-2), the PFI Standards Program is the one quality scheme that currently reflects historical North American grade criteria—premium, standard and utility grades. PFI released the first version of its quality scheme in 2008. In 2010, the U.S. EPA (wood pellet association of America, also a wood pellet manufacturers association) made it known that it intended to regulate residential wood combustion appliances and the next year, PFI made substantial modifications to assure that the PFI quality scheme would comply with the EPA's anticipated requirements. The new rule is not yet finalized, but it is expected the U.S. EPA will reference the PFI quality scheme as part of its regulation.
The Pellet Fuels Institute (PFI) is a trade association representing the manufacturers of wood pellets in the United States and the companies and organizations that support them. PFI is dedicated to raising awareness about the benefits of using wood pellets to heat homes, businesses and institutions and ensuring that consistent, high-quality product is readily available in the marketplace.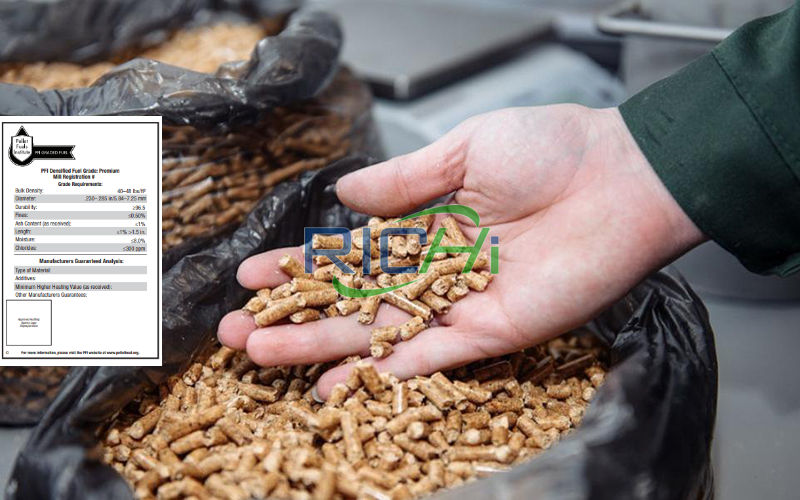 Pellet Fuel Institute (PFI) in the USA has also developed standard specifications for residential and commercial grade wood pellets. The PFI wood pellet standard forms the basis of a third party accredited certification program. The certification under ENplus and CANplus are currently voluntary in Europe and Canada, while the PFI certification is mandatory in the USA.
The PFI standards has designated fuels as Premium for years, and most product sold in the US bears the PFI premium designation, which requires <1% ash content and other test requirements. However, many participants in the Pellet Fuels Institute recognize that this standard is insufficient. It does not require regular third party testing of frequent samples from production, so though one bag tested may meet the standard, the next may not. In addition, the Pellet Fuels Institute does not own the word "Premium" so if you see a fuel labeled as a "Premium" fuel, unless it actually has the PFI pellets logo on the bag, you cannot be sure that the PFI pellets manufacturer is even testing to the same standard.
Property
Unit
PFI Premium
PFI Standard
PFI Utility
Testing Standard
Bulk Density, BD
lb/cu ft
40.0-46.0
38.0-46.0
ASTM E 873
Wood pellet diameter, D
inch
0.23-0.285
NIST
Wood pellet diameter, D
mm
5.84-7.25
NIST
Length, L (>1.50 inch)
%
≤ 1.0
NIST
Mechanical durability, DU
%
≥ 96.6
NIST
Fines, F (At Mill Gates)
%
≤ 0.5
/
Wood pellet moisture content
%
≤ 8.0
≤ 10.0
ASTM E 871
Inorganic Ash
%
≤ 1.0
≤ 2.0
≤ 6.0
D 1102-84
Chloride
ppm
≤ 300
ASTM E 776
Ash Fusion
°F
NA
ASTM D 1857
Heating Value
BTU/h
NA
ASTM E 711
Additives and Binders
%
NA
/
MZLH series wood pellet pressing machine, also called ring die wood pellet machine or large scale wood pelletizing equipment, is ring die designed. The extrusion die is circularly vertical with a series of rollers indside. Both the rollers and the die operate on the vertical axis, and therefore the inner and outer edges of the rollers cover the same distance across the surface of the die. Thus, the raw materials cannot be skipped being compressed by the ring die and rollers, which extends the service life of both ring die and rollers. When making pellets, the raw materials are compressed into the holes in the ring die to form pellets. And a series of rollers besides the ring die will cut the emerged pellets into the same length. Then, the uniform pellets are thrown out of the hot selling good quality wood pellet mill.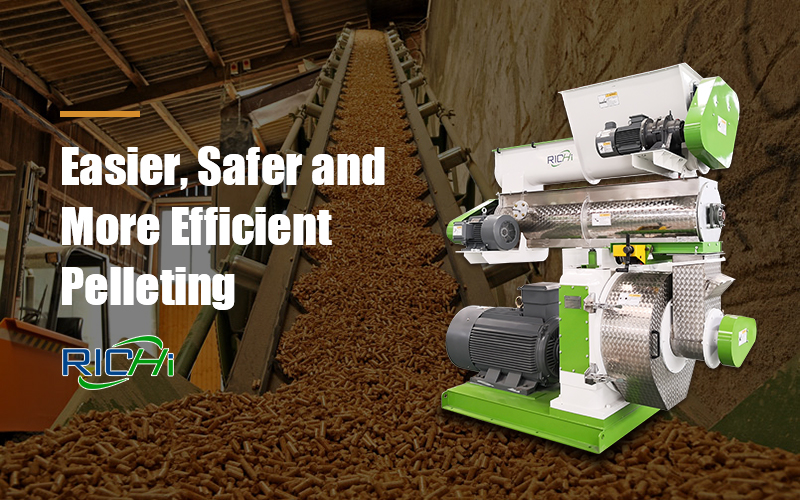 RICHI ring die type wood pellet manufacturing equipments have been exported to many countries around the world. The ring die pellet mill for wood waste is mainly used to build all sizes of wood pellets production lines and wood pellet plants for industry or commercial business. This kind of wood fuel pellet making machine is generally used with wood chipper, wood hammer mill, rotary dryer, pellet cooler, pellet screener, and pellets packing machine to make the complete wood pellet manufacturing line.
Wood pellet milling machine is the key equipment in wood pellet plant as it decides the quantity and quality of the final product pellets. RICHI horizontal ring die wood pellet mills for industry are made of high quality iron and steel. The pellets made by our high quality wood pellet machine enjoys features of smooth, high density, no cracking and uniform length. These pellets made by our clients have made large fortune and received high rate of return on investment for them! And we are sure that you can make money with our factory price wood pelleting machine in pellets business too! The following picture is the process of making wood pellets with reasonable design ce wood pellet mill in the biomass wood pellet processing plant.
The above is the article for you: PFI wood pellets standards in United States market.
If you are interested in our products or project solutions, please contact us. We will give you the best product quality and the best price. Email: enquiry@pellet-richi.com
---