NEWS
FAQ
Follow Richi Machinery trends, collect industry information, and discuss market focus.
Aquatic Feed Pellet Machine And Extruder For Cat Fish Food Production
Date: 2020-08-24 08:23:01
From: www.pellet-richi.com
Clicks:
---
Recently, a Nigerian customer wanted to purchase Cat Fish feed pellet equipment. He emailed:"Good morning. My name is Kenneth, and i am new in cat fish rearing business. I intend doing small scale feed production for my farm. I came across, on the internet, the above mentioned machine models for fish food production. Therefore, i will like to know :
1. the cost of the machines
2. mode and terms of delivering
3. if you have dealers in Nigeria and if yes, their contact..
warmest regards"
There are many types of machines for producing fish feed, and the common ones are fish feed extruders and fish feed pellet machines. According to the output of fish feed pellets, if the output is small, it is recommended to use an extruder below 1t/h. If the output is large, the cost of using the fish feed pellet machine is the most cost-effective.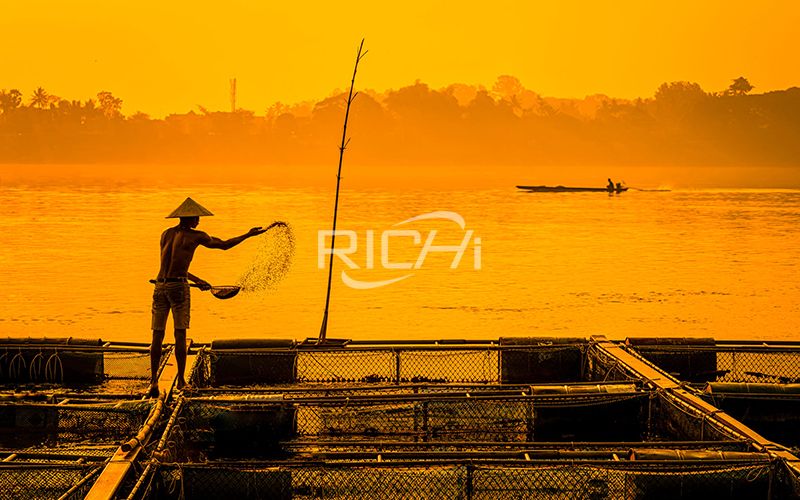 Aquatic Feed Pellet Machine And Extruder For Cat Fish Food Production
Ring die aquatic feed pellet mill is an ideal pelleting mill for commercial aquafeed pellet plant and it is also suitable for large scale aquatic farmers who feed large quantity of aquatic animals and aquatic feed processing industry. With advanced technology and compact design, this aquatic feed pellet mill can produce aquafeed pellets with smooth surface and super quality. The finished aquafeed pellets are easy to digest for aquatic animals, such as fish, shrimps, etc. Aquafeed pellets produced by this ring die aquatic feed pellet mill are becoming more and more popular for aqua culture.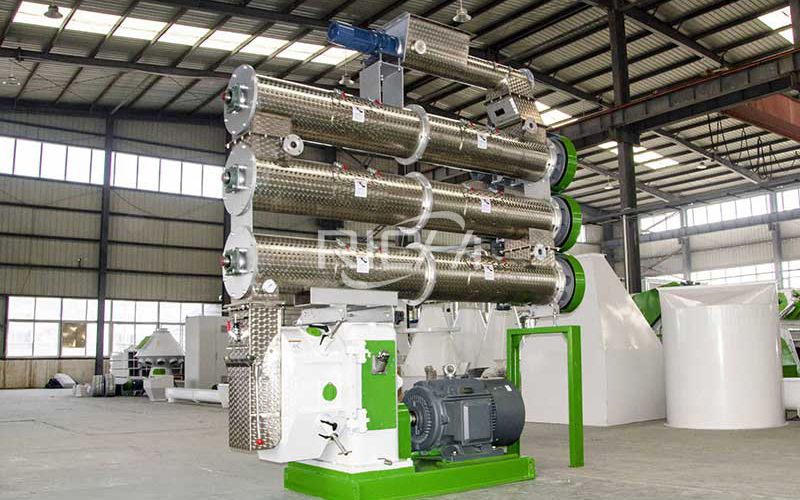 Aquatic Feed Pellet Machine
Aquatic Feed Pellets Diameter: 2mm, 3mm, 4mm, 4.5mm, 5mm, 6mm, 8mm, 10mm
Conditioner speed: 350RPM
Pellets shaping rate: ≥95%
Percentage of powdered pellets: ≤12%
Pellets stability in water: ≥20Min
Roller working temperature: ≤85℃
Steam working pressure: 0.1-0.4Mpa
Steam temperature: 130-150℃
Wet type fish feed extruder is widely adopted to process grains into high-grade feed pellets for aquatic animals, such as fish, catfish, crab, shrimps and pets, dogs, cats, etc. Equipped with steam boiler, this wet type fish feed extruder is mainly employed in medium and large scale fish feed pellet plant. Fish pellets produced by this fish feed extruder is of puffing type, which is more easily to digest for fishes and can float on the water surface for over 12 hours without dissolution.

Fish Feed Extruder
Fish Feed Extruder Features
1.Simple structure, widely used, small flooring space, low noise.
2.Different moulds can be chosen to make pellets with different diameters and shapes.
3.The floating pelletized feed produced can float on the surface of the water for at least 12 hours without blistering.
4.Generally, puffed floating fish feed is used to save 8%-15% of feed compared to powdered or granular feed.
5.Fish and poultry prefer to digest, and the artificial frog can easily observe the food consumption of the frog fish without causing waste of feed.
6.This fish feed pellet extruder also applies to make pellet feed for rabbits, ducks and the like. What's more, the pellet feed is more economical than the compound mash feed.
7.There are many different press molds you can choose in according to the size of the pellet that you.
Related Cases
Uzbekistan 5T/H Sinking Fish Feed Pellet Line
Ukraine 100-150KG/H Floating Fish Feed Production Line
Cote D'Ivorie 300-400kg/H Floating Fish Feed Line
Uzbekistan 1-1.5T/H Fish Feed Line
The above is the article for you: Aquatic Feed Pellet Machine And Extruder For Cat Fish Food Production.
If you are interested in our products or project solutions, please contact us. We will give you the best product quality and the best price. Email: enquiry@pellet-richi.com
---