NEWS
FAQ
Follow Richi Machinery trends, collect industry information, and discuss market focus.
30T/H Chicken Feed Pellet Production Line And 6t/h Poultry Concentrate Line
Date: 2020-08-21 08:37:37
From: www.pellet-richi.com
Clicks:
A recent user consultation in Benin"I am interested in poultry concentrate production line 6T/H at rate 0.25% and poultry feed pellet production line capacity 30T/H. All automatic option. What is your delivery time payment term and quotation? Looking to hearing from you soon. Regards. "What the customer needs is a 30t/h Chicken Feed Pellet Production Line And 6t/h Poultry Concentrate Line. The specific price of the two production lines can only be quoted according to the design plan. The production cycle is generally 2-6 months, depending on the number of orders in the factory.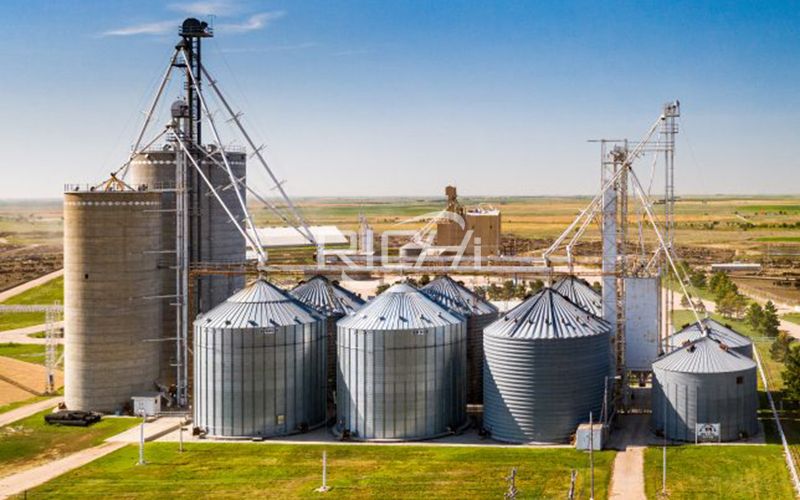 30t/h Chicken Feed Pellet Production Line
Main equipments in 30 T/H feed production line:
● Grain hammer mill: SWFP66*80 (185 kw)
● Double Shaft Paddle mixer: SLHSJ4.0 (30 kw)
● Pellet Mill: Double SZLH420 ( 234 kw )
● Total Power: 667 kw.
6t/h Poultry Concentrate Line
● Grain hammer mill: SFSP66*60 (55 kw)
● Mixer: SLHSJ2.5 (15 kw)
● Pellet Mill: SZLH 350 (56.5 kw)
● Conditioner: TZ38*2000 stainless steel. (2.2 kw)
● Total Power: 227 Kw.
● Production line Floor space: 11m * 14.2m * 23.2m ( L * W * H)
6t/h Poultry Concentrate Line
Concentrated feed pellet is composed of energy feed, protein feed, mineral feed and some feed additives, and is mainly suitable for feeding herbivores such as chicken, cattle, sheep and rabbits. Concentrate feed pellet is to supplement herbivorous animals which are based on coarse feed, green fodder and silage, so it is also called concentrate supplement feed, or mixed concentrate feed. This kind of feed has incomplete nutrition, so it is only a portion of animal feed to supplement the nutrition that livestock lacks by only eating forage grass or silage feed pellets.
30t/h Chicken Feed Pellet Production Line Case
Product Name: Chicken Feed Pellet Production Line
Output: 30T/H.
Install Time: March 2019
This feed factory was installed ready before the end of March 2019. Automatic batching 28 silos animal feed plant, with double pelletizing line, pig feed and chicken feed production line, we designed and manufactured the complete plant, material cleaning and sieving machine, the automatic batching system with 28 silos, ring die SZLH508 feed pellet mill, feed hammer mill, feed mixer, feed cooler, bag packing line etc.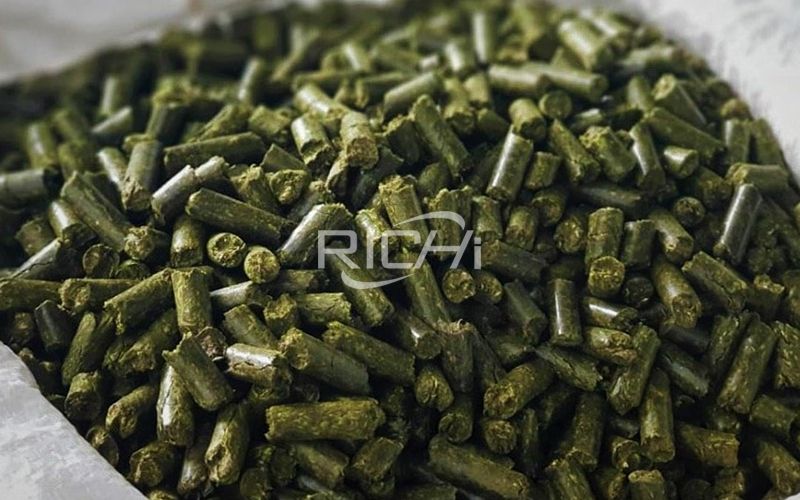 Feed Pellet
Factors Affecting Pellet Quality
Pelleting method
Most of the results of the improved energy and protein values of feeds were obtained with steam-pelleting, but to a lesser extent with dry-pelleting. It was felt that dry pelleting only changes the bulk density for ease of prehension but would not give all of the chemical changes associated with the steam-pelleting. In addition, the enhanced availability of dietary phosphorus brought about by the steam-pelleting over the dry-pelleting could be an additional factor contributing to the improved feed quality and the better performance of the birds when fed the steam-pelleted feeds.
Pelleting temperature
There is a little or no vitamin destruction with pelleting temperatures of up to 80°C. Rations can, therefore, be pelleted at any temperature up to 80°C that will allow for maximum production per hour without any fear of vitamin destruction or decreased ration performance. The same holds true with the energy value of the processed feeds. In one study, the ME value of corn and a soybean mixture was 3.05 and 3.04 Kcal/g at a pelleting temperature of 70°C and 80°C respectively but was reduced to 2.91 Kcal/g at 90°C.
Durability
Several feed additives have been shown to produce a marked increase in the firmness of pellets.
Pulverised bentonites
Liquid or solid by-products of the wood pulp industry, consisting mainly of hemicelluloses, or combinations of hemicelluloses and lignin; and guar meal, produced in Asia, also has been reported to improve pellet firmness.
Fines
Poorly manufactured feed with excess fines results in some of the birds consuming only pellets, leaving the smaller fines for less aggressive birds. Because pellet quality affects the rate of growth, the presence of fines in a feed can affect flock uniformity and impact processing. If fines are fed to poultry, a loss in feed conversion and rate of gain is observed. As indicated above, with each additional 10% fines, a loss of one conversion point will result.
Related Cases
Uzbekistan 10-15T/H Chicken Feed Pellet Line
Saudi Arabia 5-6T/H Cattle Feed+10T/H Chicken Feed Pellet Production Line
Zimbabwe 3-5T/H Chicken Feed Pellet Production Line
Senegal 3-5T/H Poultry Feed Pellet Line
The above is the article for you: 30T/H Chicken Feed Pellet Production Line And 6t/h Poultry Concentrate Line.
If you are interested in our products or project solutions, please contact us. We will give you the best product quality and the best price. Email: enquiry@pellet-richi.com