Overview of 300-350 kg/h low cost fish feed production line project in Côte d' Ivoire
This is a Côte d' Ivoire fish feed production line project with an output of 300-350kg/h. All processed fish food pellets are used in the customer's own fish pond. In this 350kg fish feed plant, Côte d' Ivoire customer use corn, soybean meal, oil, and premix as raw materials to process 1-5mm floating fish pellets.
Why make extruded fish food pellets by floating fish feed production line in Cote D' Ivorie?
Extruded feed can be divided into three types: floating, slow sinking and rapid sinking according to different processing techniques. At present, about 80% of the fish feed is sinking feed, such as shrimp, salmon, salmon, and yellowtail tuna, which prefers settling feed, while juveniles such as catfish, tilapia prefer floating feed. Catfish and tilapia have the same preference for settling feed and floating feed. In addition, extruded feed can also meet some special requirements, such as low moisture feed, high fiber feed, etc.


The extruded fish food pellets produced by the client of this project adopts a scientific and advanced formula, designed according to the nutrition, physiology and ecological habits of the fish, and the climatic characteristics of the weather every year. It adds substances that protect the liver, promote the fat metabolism of the fish liver, and improve the growth of the fish. Nowadays, our floating fish feed machine has been put into use, and in the future we expect more good news from this Cote D' Ivorie customer.
Fish feed making machine needed in the 300-350kg/h floating fish feed production line Cote D' Ivorie
| Fish feed making machine | Model | Power(KW) |
| --- | --- | --- |
| Fish feed grinder machine | RICR-350 | 11 |
| Delivery system | / | 2.2+1.5 |
| Screw conveyor | TLSS16 | 2.2 |
| Fish feed mixer | SLHY0.15A | 4 |
| Fish Feed Extruder Machine | DGP90-B | 38.4 |
| Mesh typ drying machine | DHG-350 | 18+1.5+0.37 |
| Spraying machine | RISP-350 | 0.75+0.37 |
| Cooling machine | RICL-350 | 3 |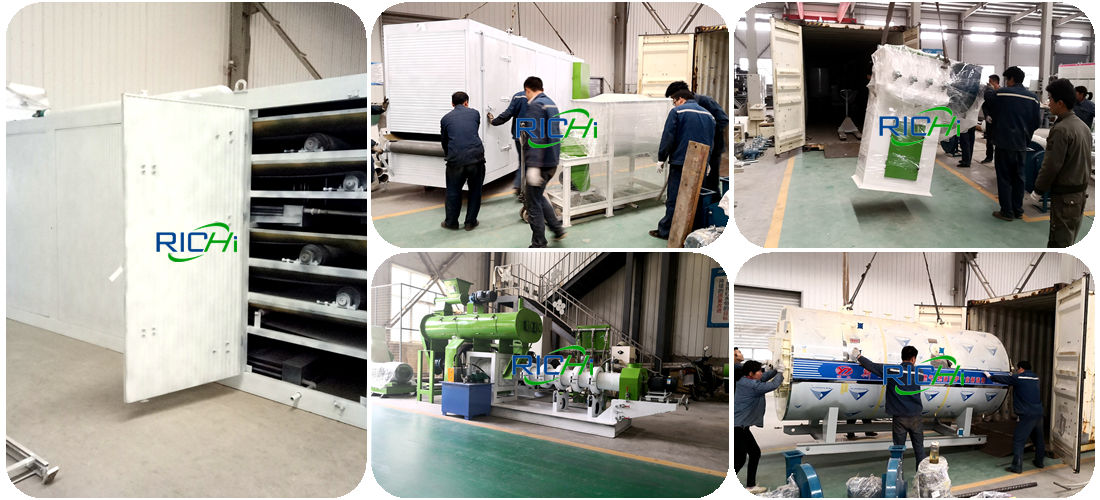 Equipment delivery of Cote D' Ivorie small fish feed manufacturing plant project
Floating fish feed production process of the 300-350kg/h small fish feed plant in Cote D' Ivorie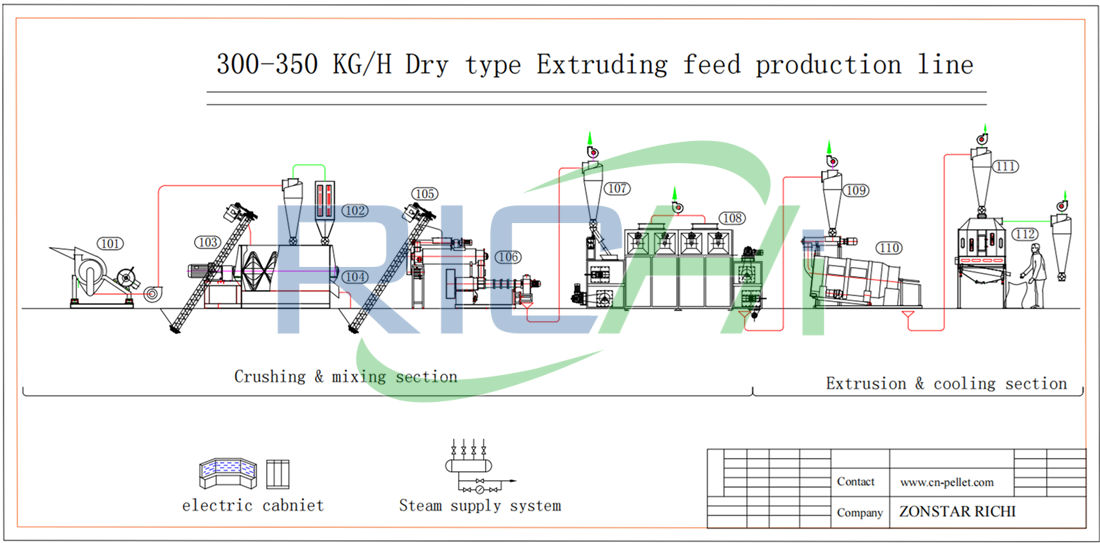 RICHI pellet production line and pellet making machine for sale Cote D' Ivorie
01
1T/H Fish Feed Pellet Extruder For Sale Cote D'Ivorie
Order date: 2019.07.15
Customer demand: "Hi there, Could I please receive quotations for DSP70B? Thank you,"
Feed Type: trout pellets
Pellet size: 2-6mm
02
Small animal feed machine for sale Cote D'Ivorie
Order date: 2021.06.29
Customer demand: "Please i need quotation for pellet machine, the smaller size, i am a poultry farmer."
Feed Type: poultry feed pellets
Pellet size: 4mm
03
1000KG mixing and crushing machine for sale Cote D'Ivorie
Order date: 2021.01.21
Customer demand: "I'm interested in your product: hot sale poultry fodder mixing machine, I would like some more details. I look forward for your reply."
Feed Type: layer chicken feed (powder feed)