Ecuador is one of the world's main shrimp producing countries and shrimp farming countries. The area suitable for shrimp farming in this country is about 100,000 hectares. Due to the superior climate conditions, the shrimp farming industry in Ecuador has experienced a prosperous period of great development.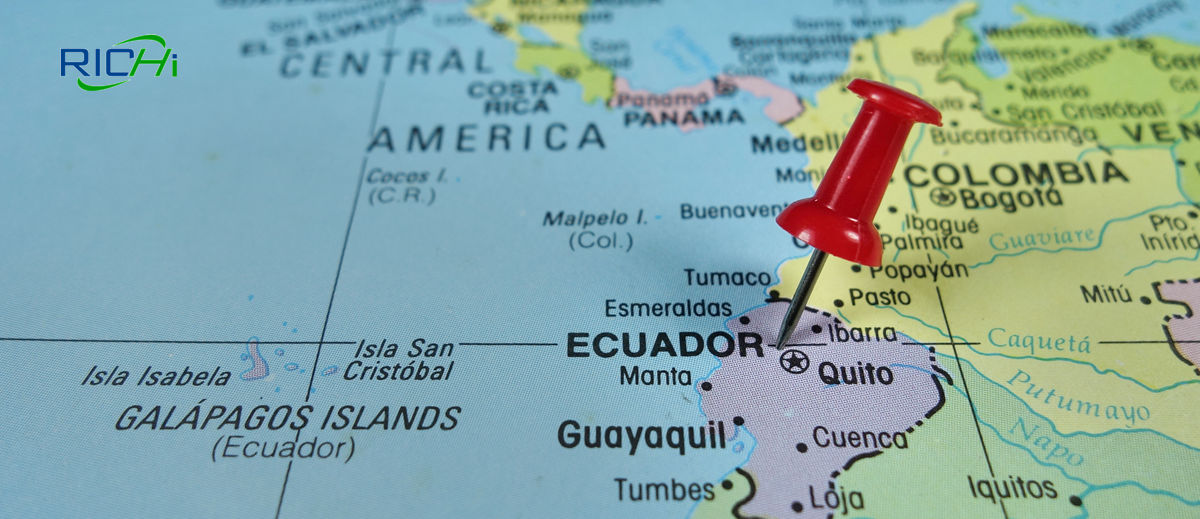 With the increase in demand for shrimp products in the global market, the use of farmed shrimp feed has also increased, which has brought substantial benefits to many Ecuadorian farmed shrimp feed manufacturers. In order to meet the needs of farmers, some shrimp feed manufacturers have increased Increased shrimp feed output. This also brings great room for growth in the shrimp feed production market.
Overview of Ecuador 1-2 ton per hour shrimp feed mill project
The shrimp feed making machine purchased by Ecuadorian customers from Richi Machinery includes shrimp feed pellet machine, 250kg/batch shrimp feed mixer and fully automatic packaging scale. They will be used in the customer's 1-2 tons high-end shrimp feed plant. It is worth mentioning that these three shrimp feed making machine were purchased by customers in three times, because customers are updating his shrimp feed production line.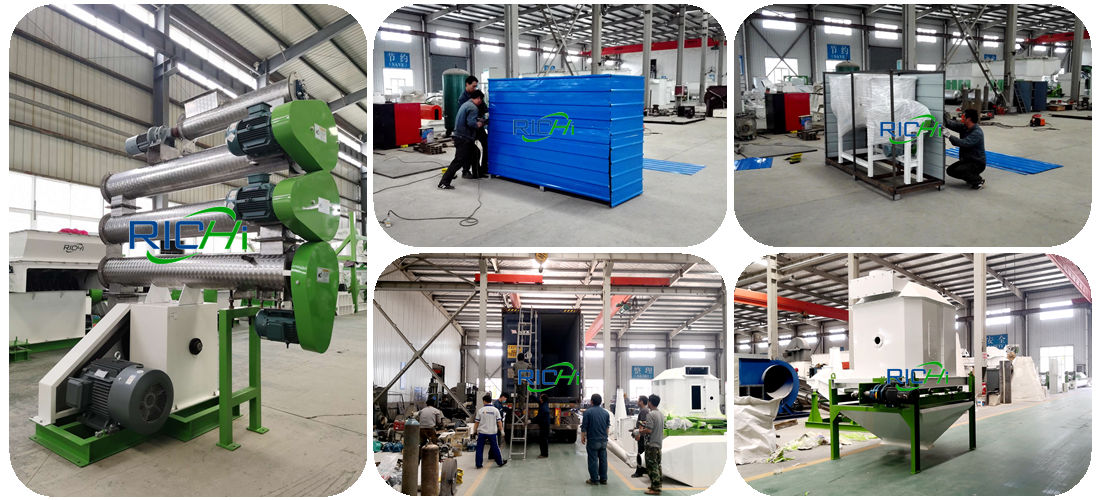 1-2T/H shrimp feed production plant project equipment delivery
It is understood that the Ecuador customer will also replace the shrimp feed grinder, pellet cooler and dust removal system next, because the efficiency of the previous shrimp feed mill equipment are too low, and the noise is very loud, and the dust removal effect is not ideal.
01
How to make shrimp feed in this Ecuador 1-2 t/h shirimp feed mill project?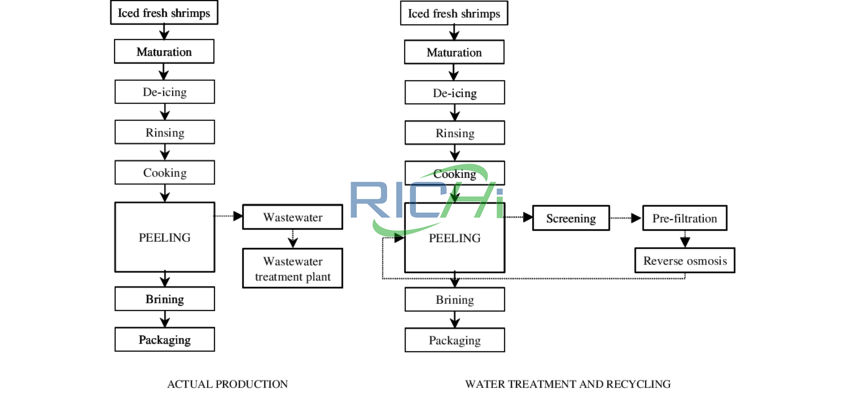 1-2T/H shrimp feed manufacturing process
02
shrimp feed pelletizer in this 1-2 t/h shrimp feed mill project
Generally speaking, in order to increase production, many customers who produce shrimp feed now choose aquatic feed extruders. But this time the Ecuadorian customer chose the shrimp feed pellet making machine, why? There is no doubt that the aquatic fish feed extruder machine has many advantages, but the shrimp feed pelleting machine is more suitable for this Ecuadorian customer's demand.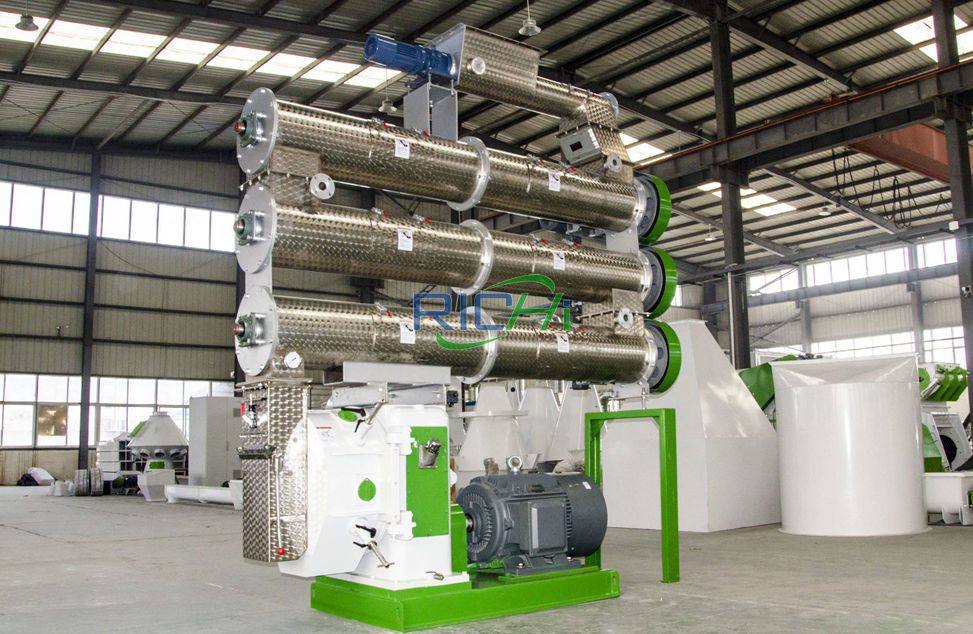 Shrimp feed pelletizing machine for sale Ecuador
Some people will also question that the output of the shrimp feed pellet machine is lower than the shrimp feed extruder. If it is in other countries, this is indeed a problem; but in Ecuador, this is not a problem.
03
Advantages of shrimp feed pellet machine used in this 1-2 t/h prawn feed making plant Ecuador
Shrimp feed pellet machine - High output and long service time
This shrimp feed making machine can produce both sinking and floating shrimp feed.
Service time of the shrimp feed pellet machine die with hole diameter Ø1.8mm is up to 8500t, with continuous production of 2500h and output of over 2 tons.
Shrimp feed pellet machine - High-quality shrimp feed
Double-layer jacket insulation conditioner and double-shaft differential conditioner. Optional hygienic conditioner of shrimp feed pellet maker, better maturing performance.
The reverse opening structure and improved pellet machine cutter make the cutting more convenient and improve the quality of feed incision.
Shrimp feed pellet machine - Advanced structure and smooth operation
Equipped with pneumatic external discharging structure, realize automatic external discharging when it is blocked or overloading of the main motor current.
The improved feeding scraper divides material into two pellet pressing areas, ensuring smooth discharging and stable operation.
The three basic advantages of the Ecuadorian shrimp culture system are lower risk, high quality and good reputation. In Ecuador, the abuse of antibiotics in shrimp farming is prohibited. Shrimp farmers in Ecuador know how to produce high-quality shrimps responsibly. Their actions are very uniform and everyone is very self-disciplined. Moreover, local farmers are very satisfied with the current status and will not blindly pursue high yields.
In Ecuador, prawn farmers insist on using prawn formula feeds that are closer to natural conditions, and efficient low-protein feeds are more popular. At the same time, chemical products are strictly used. In Ecuador, there is no disinfection and sterilization. Some aquaculture ponds do not even have aerators. Apart from feed and probiotics, other products will not be used.


In addition, the shrimp farm in Ecuador adopts a low-density farming production system, which breeds about 8 to 15 juveniles per square meter, the breeding density is lower than other countries, and the yield per acre ranges from 100 to 300 kg. Such a farming system can provide enough space for juvenile shrimp to have a better growth site and ensure product quality. Therefore, Ecuador dare to play the title of "the best shrimp in the world" at international exhibitions, and the quality of Ecuadorian shrimp has become an international consensus.
The shrimp farming industry in many countries is expanding, but against this background, we have seen Ecuador's firm conviction and insisted on taking a long and difficult road to success. Going to the world with quality is the real sustainable development path, Richi Machinery have benefited a lot from this Ecuador customer.
History of Ecuador shrimp industry
Ecuador has been farming shrimp for around fifty years, making it the most experienced shrimp-farming country in the Americas. In the beginning, cultivation of these crops in the southern salt flats of the country was informal and lacked scientific knowledge to back it up. Eventually, as a result of rapid growth in demand, implementation of genetic improvement programs for crops began in agricultural lands and mangroves.


In the 1980s, Ecuador became the largest exporter of shrimp in the world. However, the industry faced several epidemics, such as the seagull syndrome in 1989, the Taura syndrome in 1993 and the white spot virus in 1999. These considerably reduced exports and generated severe economic crises.
With strict regulation, Ecuador recovered and is currently the second-largest exporter of shrimp in the world, after India, with a 15.5 % market share. Now, not only does Ecuador lead in shrimp production and exporting, the country also offers a product with the highest quality standards.
Main markets of Ecuador shrimp industry
The white shrimp (Litopenaeus vannamei) from Ecuador is distinguished worldwide as a gourmet product due to its exquisite taste, color and texture, all of which can be attributed to good genetics and correct nutrition.


The distribution of shrimp exports by country:
China – 42 %.
Vietnam – 22 %
U.S. – 13 %
Spain – 5 %
France – 4 %
Others – 4 % (Italy, South Korea, Russia, England, Colombia)
After overcoming many challenges and facing environmental adversities, Ecuador was able to create a stable shrimp-farming industry and sustain its growth and consolidation in the international market.