NEWS
FAQ
Follow Richi Machinery trends, collect industry information, and discuss market focus.
Marine Farms 8-10 T/h Sinking Fish Feed Production Line Cost Of Installation And Delivery
Date: 2020-08-14 08:35:18
From: www.pellet-richi.com
Clicks:
Marine Farms 8-10 T/h Sinking Fish Feed Production Line Cost Of Installation And Delivery. A client from Greece wanted to purchase a sinking fish feed production line with an output of at least 8t/h. He sent us a long email with the following content:
Dear gentlemen good morning. I am the main owner and CEO of the Greek marine farming company, HELLENIC FISHFARMS SA. We operate sine 32 years, we posses several marine farms around Greece, and recently have decided to examine the possibility to build our own fish feed factory. Having noticed your activity in the pellet-richi.com site, I address you for a preliminary quotation with short description of items, cost of them, cost of installation and delivery in operation, for a complete, sinking fish feed, production line, together with the appropriate metallic buildings and installations. The line has to have the capacity of production of 8 tons at least per hour, for the 6 mm size of pellet, after been drying process. The dryer must have the capacity to dry the pellets up to 5% humidity left on them, out of an original humidity of about 30%, without reducing - the 8 tons per hour - production capacity of the line. It will be very kind of you if can send me a brief (or more analytic if you can), but realistic offer, which I will use with the necessary confidentiality, only within our company and exclusively for my project.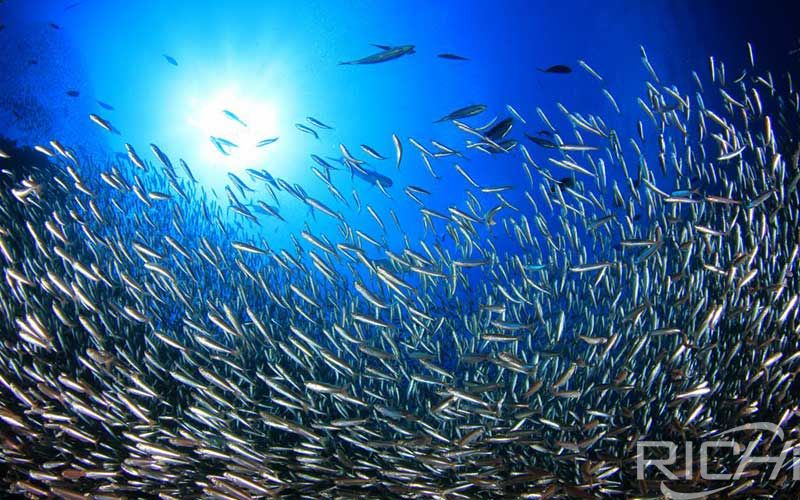 Marine Farms 8-10 T/h Sinking Fish Feed Production Line Cost Of Installation And Delivery
8-10 T/h Sinking Fish Feed Production Line
Exporting country: Greece
Output: 8-10 T/h
Scale: Medium
Applicable animals: sinking fish, shrimp, crab
Particle size: 6mm
How to Make Fish Feed Pellets?
A complete fish feed pellet production line generally includes the following process:
Material crushing—>material mixing—>extruding process—>pellets drying—>oil spraying process—>pellets cooling—>pellet packing.
1.Raw material selection
Besides the nutritional value, the processing characteristics of aquatic feed raw materials should also be an important factor to be concerned about. The ideal processing characteristics of aquatic feed raw materials are not only manifested by larger output and less energy consumption in crushing, mixing or granulation, the more important point is that the final produced fish feed pellets must have good stability in water.
Starch is usually an important component in aquatic feeds, and the content of starch can be 5% to 60%. It is suggested that the starch content of sinking fish feed is 10% to 15%, and the starch content of floating fish feed is no less than 20%. In extruding fish feed pellets, carbohydrates act as adhesives, suspending agents, and emulsifiers. It is an important determinant of many structures and special sensory properties of extruded products.
2.Material Grinding
Various kinds of raw materials should be ground to the required size by feed hammer mill. Particle size of raw material has a direct effect on the pellets making efficiency. There are two types of feed hammer mill: fish feed hammer mill and fish feed crusher, which can meet your requirements for fish feed pellets making.
3.Material Mixing
Powdery feed materials need to be blended evenly to increase diet uniformity and improve the feed stuff quality. Featured by low energy consumption and high mixing accuracy, our feed mixer is widely used in feed pellets plant. Feed mixer can be equipped with atomizing spraying system to add liquid to the materials.
4.Fish Feed Extruding
After mixing, fish feed pellet extruder can be adopted at this stage to compress feed powder into sized pellets. We have dry type fish feed extruder and wet type fish feed extruder for pelletizing. Wet type feed extruder is equipped with conditioner and can produce high quality pellets in large capacity, so it is suitable for large fish feed factory. While dry type fish feed extruder suits for small aquatic farms.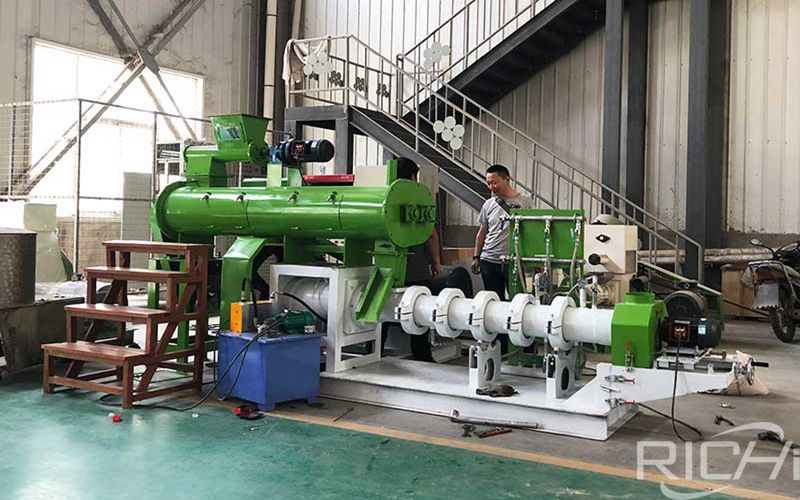 fish feed pellet extruder
5.Fish Feed Pellet Drying
Pellets are in high temperature and moisture content after extruding, so fish feed pellets dryer is needed to cool and dry pellets. Featured by simple structure and high efficiency, feed pellet dryer is ideal for drying.
6.Oil Spraying
Oil spraying process. The good taste and nice smell of the end product is owed to the Oil Spraying Machine. This equipment rotates with high speed, spraying atomized oil on both surfaces of the fish feed pellets. Excess oil during this process is then recycled through a special filter.
7.Pellets Cooling
Pellet cooling. When the temperature of the oil-sprayed pellets increases, they become soft, and can easily break. To avoid loss in this regard, the feed pellets must be cooled, and are consequently hardened. The cooling type adopted by most fish pellet plants is the counter flow cooler where the fish feed pellets are in opposite direction to the air cooling them.
8.Fish Feed Pellet Packing
To make pellets easy to store, transport and sell, they should be packed properly. Pellets weighing and packing can be finished at the same time. Moreover it can also prevent feed deterioration and thus prolong its shelf life. Pellets packing machine can largely reduce labor cost and increase working efficiency.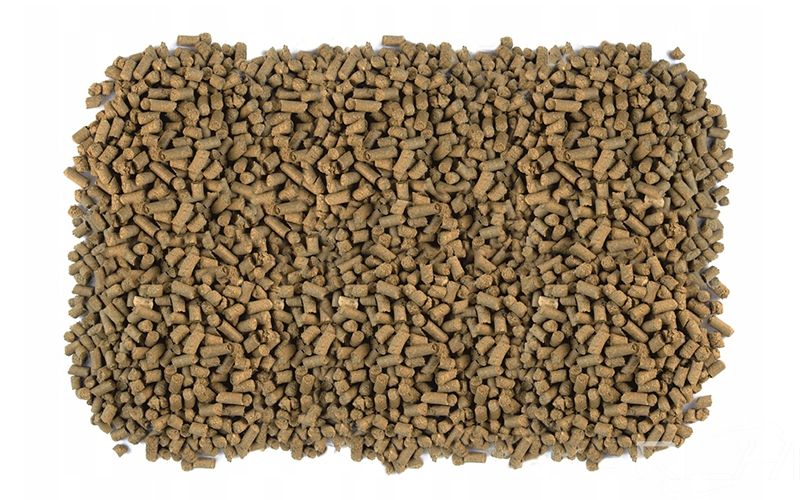 8-10 T/h Sinking Fish Feed Production Line
Benefits Of Fish Feed Pellets:
Quality nutritional features – denaturing of proteins, gelatinization of starch, reduction of anti-nutriments, flavor enhancement, balanced protein/lipid complexes, increased digestibility, attractive texturing and shaping, controlled expansion and density, hygienic salmonella-free pellets
Ingredient flexibility to process a large range of raw materials (fish flour, vegetable proteins, binders …) continuous processing, fast changeover times
Full control of process parameters and automation to ensure consistent quality
Precise shaping and feed dimensions calibrated from 0.5 to 30.0 mm
Output range, from 25 to over 34,000 kg/h of finished products
Intensified processing to reduce water and energy consumption

Related Cases

Uzbekistan 5T/H Sinking Fish Feed Pellet Line

Uzbekistan 1-1.5T/H Fish Feed Line
The above is the article for you: Marine Farms 8-10 T/h Sinking Fish Feed Production Line Cost Of Installation And Delivery.
If you are interested in our products or project solutions, please contact us. We will give you the best product quality and the best price. Email: enquiry@pellet-richi.com