NEWS
Industry News
Follow Richi Machinery trends, collect industry information, and discuss market focus.
Planned largest US Wood Pellet Mill Plant coming to Arkansas
Date: 2021-03-26 10:59:45
From: www.pellet-richi.com
Clicks:
---
Humans have used wood as fuel for millennia. It has been used for cooking, heating, and more recently power production. Many people believe that wood is an old-fashioned fuel. Globally, 51% of all wood used is for fuel. In developing regions, like Africa, 90% of wood used is for fuel. Closer to home the U.S., about 8% of wood used is for fuel.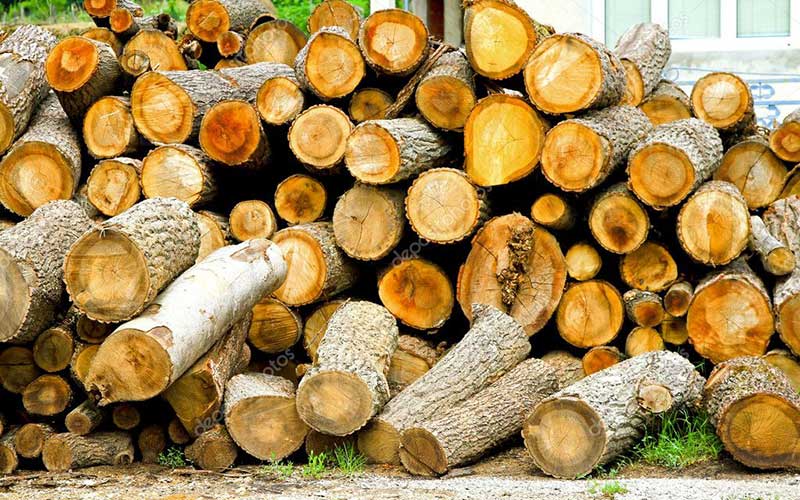 Wood pellets are a form of wood fuel that have received a lot of attention in recent years. One major advantage of wood fuel is that it is carbon neutral. Carbon is released when wood is burned, but it is also sequestered in our forests at the same time. The U.S. Environmental Protection Agency treats wood biomass from managed forests as carbon neutral. You find both hardwood pellets, made from broad leaf trees, and softwood pellets, made from needled trees. Pellets are typically made from a wood byproduct such as ground waste wood from a hardwood flooring plant. The cut off ends, sawdust, and planner shavings are ground up and a roller forces the raw material through a die under intense pressure. This process produces a densified wood pellet similar in diameter to a drinking straw, which break off in lengths less than ½ inch long. Both hardwood pellets and softwood pellets are very hard since they are densified in the die. A typical pellet weighs in at around 40 lbs. per cubic foot versus 10-25 lbs. per cubic foot for split firewood at the same moisture content.
It's important to understand how moisture content impacts wood fuel. Pellets, for example, have a moisture content range of 4 to 8%. Split firewood can range in moisture content from 20 to 70% depending upon how well it is seasoned.
U.S. Arkansas Plans to Build a Large Biomass Wood Pellet Mill Plant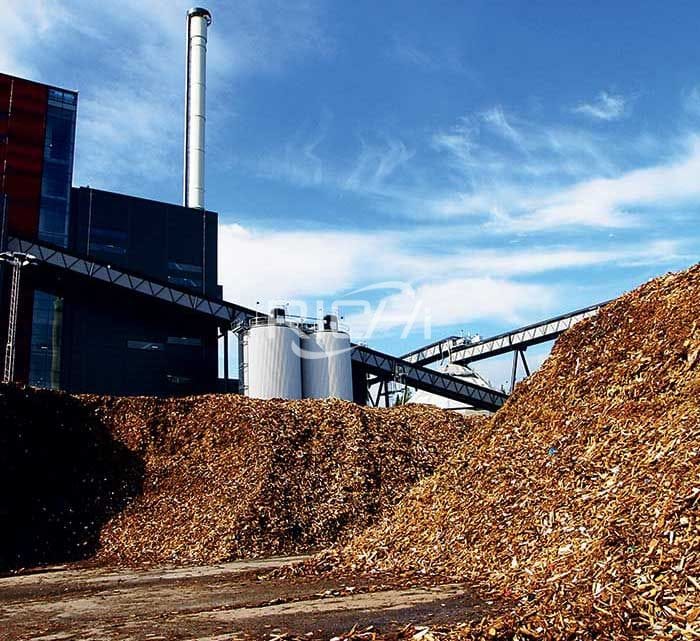 large biomass wood pellet mill plant
HOPE, Ark. – Dansons USA will open the country's largest barbecue wood pellet mill and distribution center in Hope, the company announced Wednesday. The company will install three pelleters in the 335,000-sq-ft facility, giving the site an initial capacity of 100,000 tn of pellets. If the company decides to expand production, space is available for nine pelleters with a combined capacity of 300,000 tn. Once operational, the facility will also function as a distribution center for wood pellets and barbecue grills.
The global wood pellets market is expected to grow at a CAGR of 6.12% between 2019 and 2027, reaching a value of $14.5 billion by the end of the period, according to a recent forecast issued by Transparency Market Research.
How to Make Wood Pellets?
(1) Initial size reduction
For large pellet plant, when the raw materials are ready, the first thing to do is raw material size reduction. The raw materials to produce wood pellet must be under the diameter of 5mm, so the logs and branches must be processed into small pieces. In this stage, the large pellet plant usually uses the high efficiency drum wood chipper, which is a common size reduction equipment that can cut the wood logs and branches into small wood chips with a diameter no mor than 40mm in order to be further processed. On the contrary, this is not a necessary step for the small pellet plant. If the pellet plant use wood shavings as a raw material, that means the raw materials has already been processed into small pieces in the saw mills, so there is no need to use the wood chippers to cut the raw materials agairn.
(2) Drying
For large wood pellet plants, after the initial size reduction step, the raw materials must be dried. In order to produce high quality wood pellets, the raw material must maintains a moisture content of 8% – 12%, so the raw material must be put into a dryer to reduce its moisture content. The most common dryer for large pellet plant is the rotary dryer, which is the most cost effective choice for large pellet plant. The drying process is also a necessary step for the small scale pellet plant to produce commercial wood pellet.
(3) Initial sieving
For large wood pellet plants, after the drying process, the raw material will be sieved to separate the contaminants such as stone and metal particles away from the wood raw materials. These contaminants may cause the mechanical failure of the pellet mills, so if the raw materials of your pellet plant has the potential to be contaminated by these solid particles, it is necessary for you to sieve the raw materials before fed them into the pellet mill. The machines for the initial sieving process is normally a de-stoner or magnetic separator. Fo small scale pellet plant, due to its limited capital, this is not a necessary step.
(4) Grinding
Grinding is also a size reduction step to make wood pellet, it is a necessary step for both large and small pellet plants. During the grinding process, the raw materials will be fed into a sfsp wood hammer mill which will grind the raw materials into smaller pieces with a diameter under 5mm. But the hammer mill can only process the wood raw materials with a diameter no mor than 50mm, therefore, the wood logs and branches can not be fed directly into the hammer mill, they must be processed by the wood chipper first.
(5) Pelletizing
After the grinding process, the wood raw materials are reached the size and moisture requirements for wood pellet manufacture. Therefore, the following step is to pelletize the raw materials into wood pellet. The machine used to pelletize the raw materials into wood pellet is called wood pellet mill. There are two kinds of pellet mills, ring die pellet mill and flat die pellet mill. Ring die pellet mill has a capacity over 1ton per hour, it is used for large pellet plant. Flat die pellet mill has a capacity about 500kg per hour, which used for small pellet plant.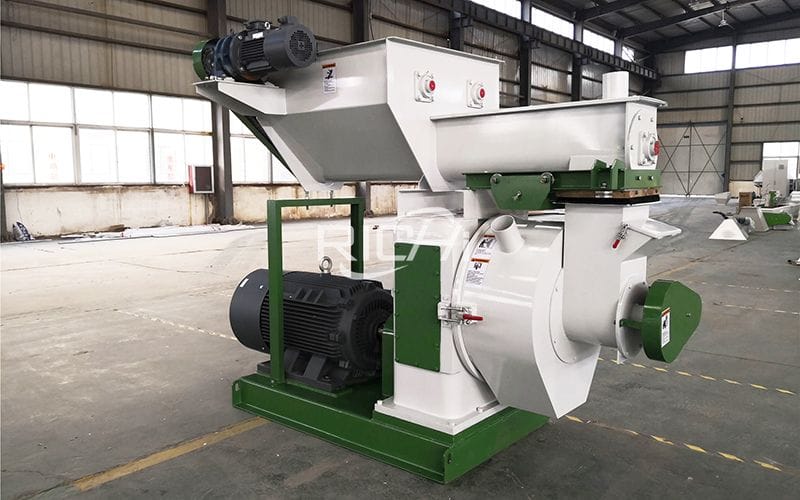 wood pellet mill
(6) Cooling
After the pelletizing process, the wood pellet is very vulnerable. It has been press over and over in the pellet mill, which makes it hot and easy to be deformed. To make the wood pellet regain its proper rigidity and temperature, the wood pellet will be fed into a pellet cooler right after the pelletizing process. The types of pellet cooler can be divided into three types, the horizontal cooler, the vertical cooler and the counter flow cooler. All of them can be used to cool the wood pellet, but the counter flow cooler is my recommendation, as it is the most advanced pellet cooler in the market.
(7) Final sieving
At this stage, the wood pellet sieving purpose is different from the initial sieving. This step only exist in the commercial wood pellet plant. As the commercial wood pellet has a strict limit on fine content, therefore, after the pellet cooling process, the wood pellet products will be sieved in order to separate the fine particles from the well made wood pellet. For the final sieving process, the vibrating screen is a common equipment for wood pellet plant."
USA Large Industrial New Design 10 Tons/Hour Wood Pellet Plant Production Line Project
Country: USA
Date: November 2020
Capacity: 10 T/H
Project area: 16680m2
Project investment cost: Around 1,300,000USD
Water consumption: 550t/a
Electricity consumption (kw·h/a): 1.5 million
Annual output: 30000 Ton per year
Number of employees: 10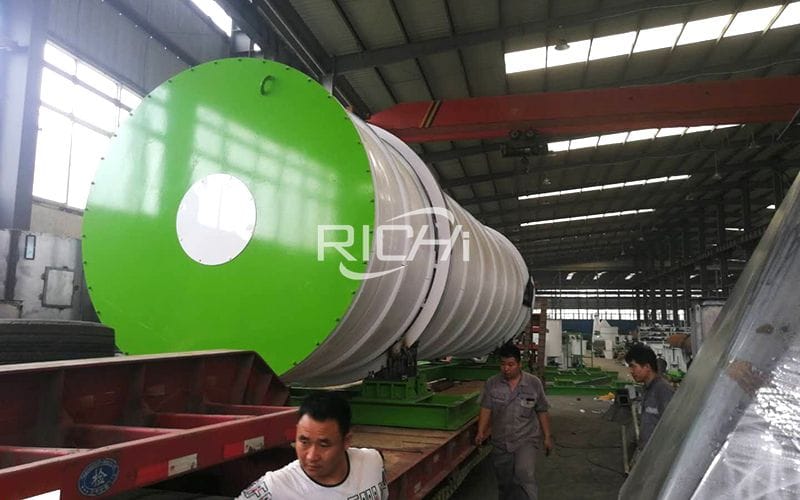 rotary drum drying machine of US 10 tons/hour biomass wood pellet line equipment shipped
This project is ahigh capacity fully automatic 10 tons/hour biomass wood pellet making line. The customer's main production raw materials are some waste wood, which is relatively large and contains iron nails and other impurities. Therefore, if you want to make wood pellets, you must first slice and crush. We have specially customized the cleaning section for customers, which can screen out iron nails, and then directly slice and crush the waste wood, and then use a high-efficiency wood sawdust hammer mill crusher to crush again to meet the granulation requirements. The core equipment of this set of equipment is 3 sets of MZLH768 ring die wood pelletizer machine, with a single output of about 2.5-4 tons per hour and a power of 250kw. It is our high performance pelletizing equipment, and it is also a wood pelleting equipment that is affirmed by our customers worldwide.
Main Machines in this complete lin:
Wood chipper for making 3-5m chips*JLBX218, High quality wood hammer mill to grinding wood chips*SFSP66*60, Pulse dust collector*TBLMa.36b, Heavy duty rotary dryer*ф1800*180000, Ring die commercial biomass wood pellet mill*MZLH768, Pellet cooling machine*SKLN17*17, Screener machine, Automatic packing machine, Sewing machine,etc.
The above is the article for you: Planned largest US Wood Pellet Mill Plant coming to Arkansas.
If you are interested in our products or project solutions, please contact us. We will give you the best product quality and the best price. Email: enquiry@pellet-richi.com
---