NEWS
RiChi News
Follow Richi Machinery trends, collect industry information, and discuss market focus.
RICHI Aquatic Feed Plant With An Annual Output Of 5,000 Tons Is Put Into Operation
Date: 2021-12-21 10:23:00
From: www.pellet-richi.com
Clicks:
---
The new build fish feed plant project with an annual output of 5,000 tons of aquatic feed, 10,000 tons of new enzymes and new microecological preparations was invested and constructed by Hangzhou Baoankang Biotechnology Co., Ltd. This is a combined feed production line project, which is divided into two feed plants for aquatic feed and feed nutrient additives. Among them, the customer's 5,000 tons of aquatic feed plant equipment is provided by RICHI.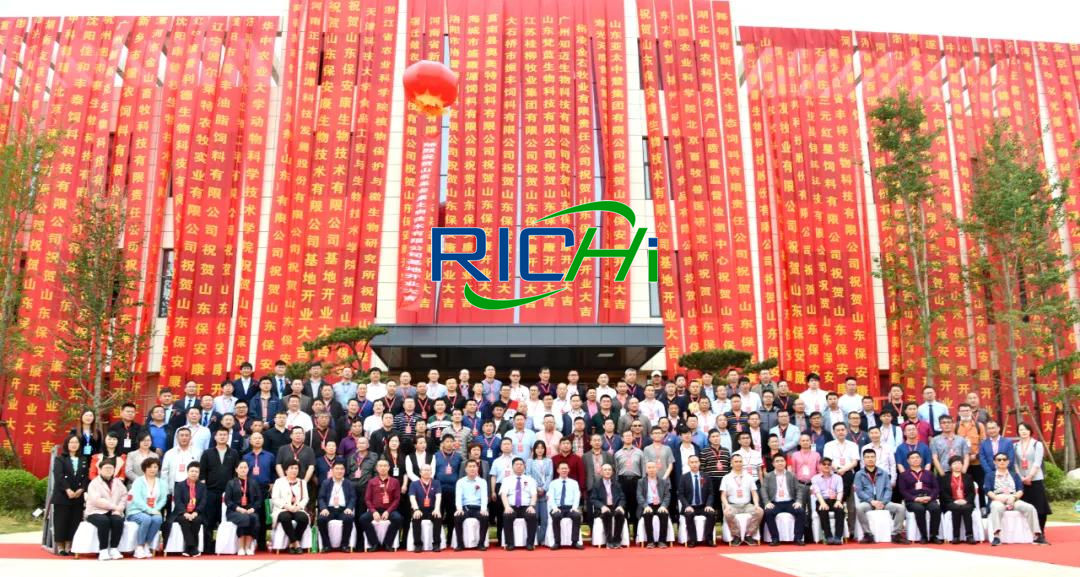 Fish feed mill project commissioning ceremony
It is worth mentioning that the client is mainly engaged in the processing of animal nutrition, and aquatic feed is their first foray into the compound feed production industry.
The client company is a high-tech company specializing in microbial research and a high-tech enterprise in Hangzhou, China. The company owns the only domestic research and development center with solid fermentation technology and process research as the core, and has obtained 3 national invention patents. Seven patents have been declared.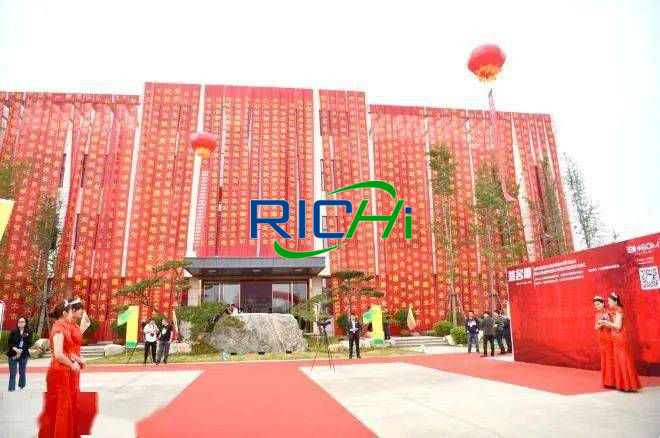 The main research and development products are new enzymes and new microecological preparations, which are the key substitutes for animal antibiotics promoted by the Chinese state, and the market prospects are very broad.
The combined aqua feed plant project has a total investment of 500 million yuan(78520000USD), covering an area of ​​60 acres. The first phase covers an area of ​​30 acres and a building area of ​​15,800 square meters, including 11,700 square meters of production workshops and 1,600 square meters of R&D centers.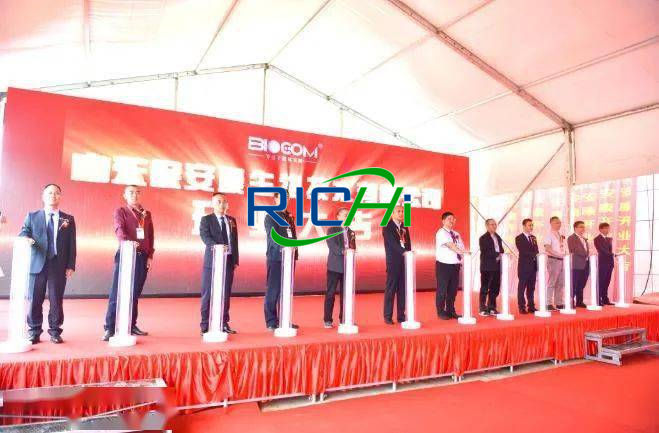 Fish feed mill project commissioning ceremony
Newly built 3 feed production lines with an annual output of 5,000 tons of aquatic feed, 10,000 tons of new enzymes, and new microecological preparations, purchased more than 60 sets of equipment, and invested 40 million yuan(6282000USD) to establish China's largest solid fermentation research and development center to ensure that the company's products always occupy the commanding heights of the international and domestic market.
The aqua fish feed plant project uses bran, soybean meal, etc. as raw materials to produce new enzyme preparations and microecological preparations using green and environmentally friendly solid fermentation production processes.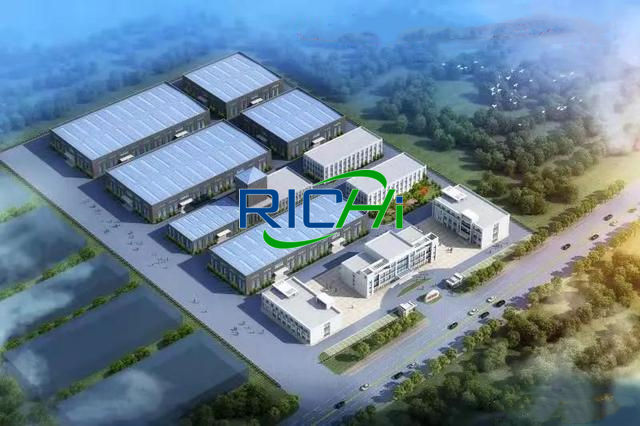 Aerial view of aquatic feed factory
The aqua feed plant production process has no waste water, waste gas, waste residue discharge, no pollution, and can be realized. The efficient use of agricultural and sideline products promotes the implementation of China's national animal feed policy of no added antibiotics.
After the aqua feed plant project is put into operation, it can achieve an annual output value of 230 million yuan(36120000), a tax of more than 7 million yuan(1100000USD), and an average tax of more than 250,000 yuan(40000USD) per acre. It will solve more than 100 jobs, and the economic and social benefits are very significant.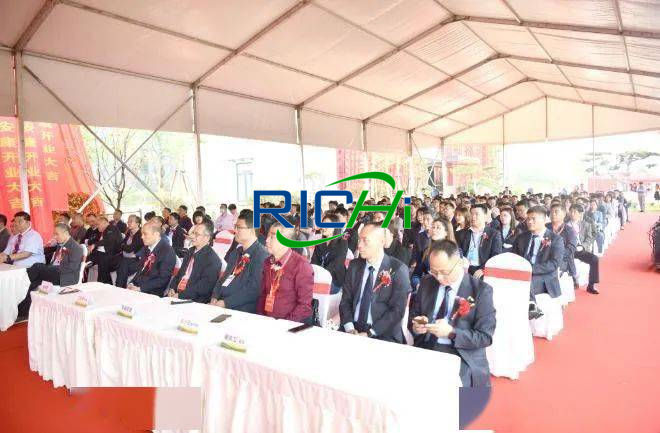 Fish feed mill project commissioning ceremony
More information of the customer in this aqua feed plant project:
Since its establishment in 2003, Baoankang has gone through a history of eighteen years. It is mainly a bio-tech company that applies modern solid fermentation technology and specializes in the development and production of green and efficient feed additives and other products.
Over the years, it has been focusing on the research and development of solid fermentation technology and related solid fermentation products, forming a unique production and application technology system for feed enzyme preparations, feed microecological preparations, fermentation raw materials, fermented feeds and other products. It is a leading company for modern solid fermentation technology in China.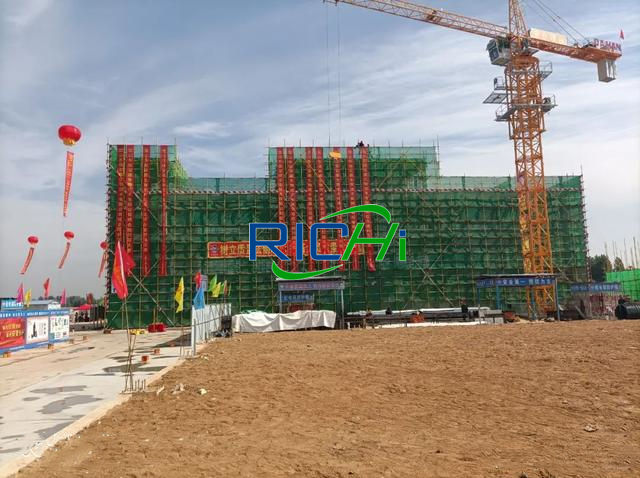 2021-09-14, the office building has been capped
Enzyme preparations produced by solid fermentation technology have natural substrate pertinence and multi-enzyme synergy. The microecological preparations produced are rich in a variety of beneficial metabolites and have unique characteristics and advantages in terms of use effects. The entire substrate of solid fermentation is used, no waste water, waste gas, or waste residue is produced. It is a very environmentally friendly production process.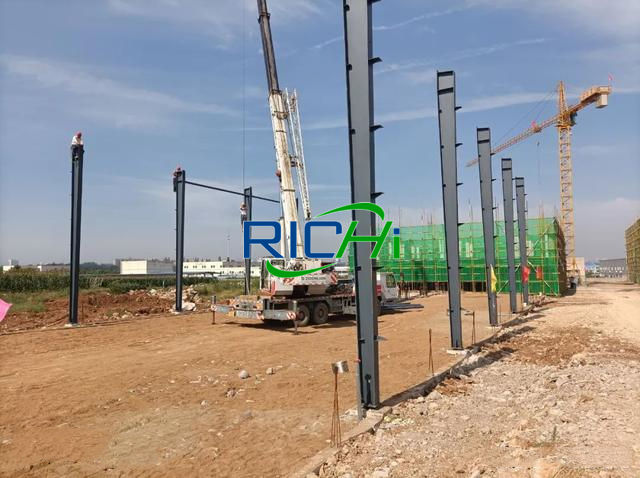 2021-09-14, the main body of the No. 1 workshop has been completed
The Ministry of Agriculture of China stipulates that starting from July 2020, the addition of antibiotics in feed is prohibited. In 2019, Baoankang Biotechnology Co., Ltd. used years of technology accumulation to successfully develop a replacement product with concentrated culture of inactivated lactic acid bacteria as the core component, a new generation of antibacterial growth-promoting hormone-Peptijunkang, which is rich in inactivated Lactic acid bacteria cells, bacteriocins, organic acids, immune polysaccharides and other ingredients have been proven by a large number of animal experiments and customer use verification to control diarrhea and maintain intestinal health.
The above is the article for you: RICHI Aquatic Feed Plant With An Annual Output Of 5,000 Tons Is Put Into Operation.
If you are interested in our products or project solutions, please contact us. We will give you the best product quality and the best price. Email: enquiry@pellet-richi.com
---