RICHI Aquatic Grass Carp Fish Feed Mill With An Annual Output Of 90,000 Tons Will Be Fully Put Into Operation
Recently, the 90,000-ton aquatic feed factory in cooperation with Jiangxi Gree Biotech Co., Ltd. of China was officially completed and put into operation.
The client of this grass carp fish feed mill with an annual output of 90,000 tons project is committed to building the most modern aquatic feed enterprise in Jiangxi that integrates terminal breeding technology, services, raw materials, trade, production, and research and development.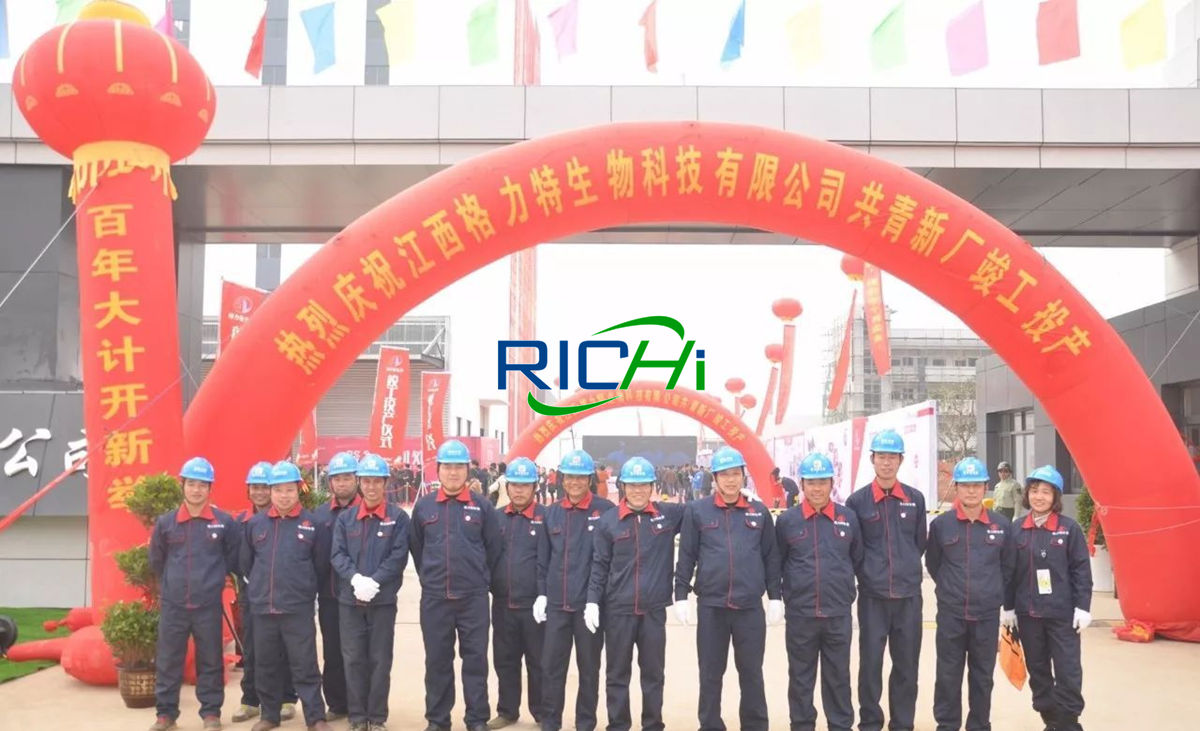 Fish feed mill project completion ceremony
The client aqua feed company mainly produces aquatic grass carp feed and soybean meal. This year, the company will increase R&D and productivity in the fields of crayfish, rice field eel, frog and other aquatic products, and strive to exceed 300 million yuan(47110000USD) in annual output value. After more than a year of construction, grass carp fish feed mill with an annual output of 90,000 tons project was put into trial production and entered a critical period of equipment running-in and debugging.
At present, the fish feed mill equipment in the main workshop and the back-end packaging link is in place, and small batch trial production is in progress. At the same time, the operating conditions of the fish feed mill plant equipment in each link are further optimized.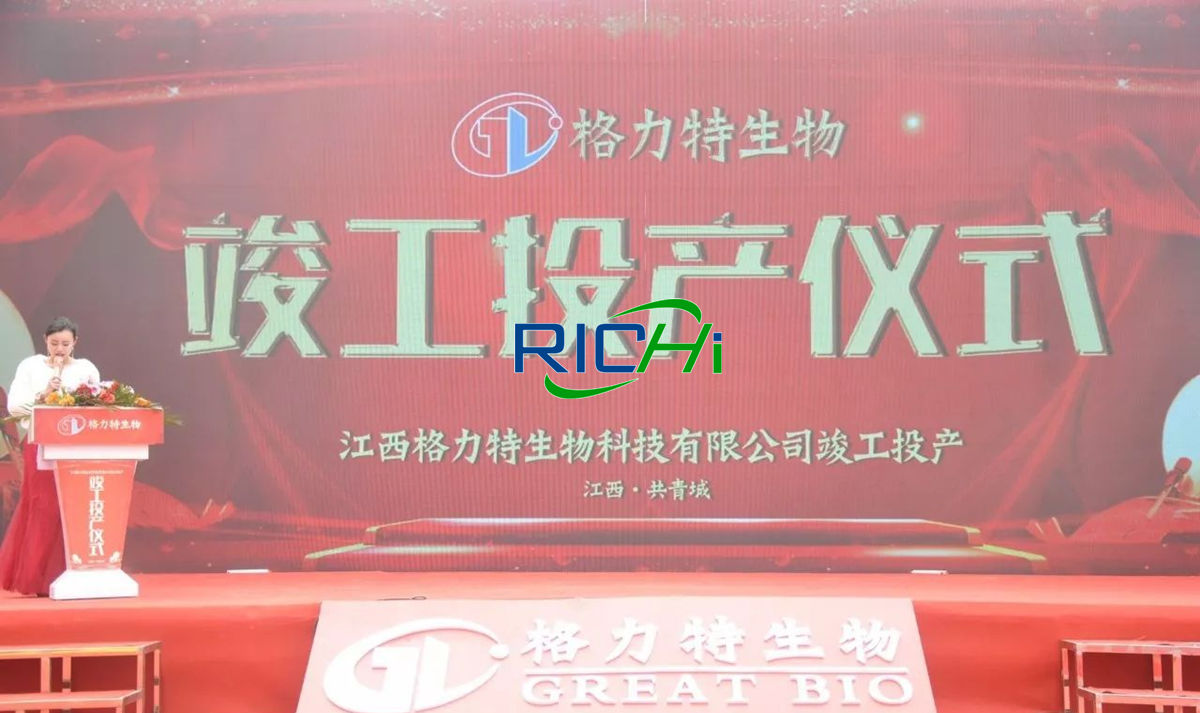 Fish feed mill project completion ceremony
This aquatic feed production base has 4 fish food processing lines for pellets, puffing, and puffed soybean meal, with an annual production capacity of 90,000 tons, advanced equipment, perfect technology, energy saving and environmental protection, and high degree of automation. It is completely possible to "not lag behind in ten years and not be surpassed in five years".
Recently, according to feedback from RICHI's project engineers, in the main workshop of 90,000-ton carp fish feed mill project, it can be seen that the soybean meal production line and aquatic fish feed processing line have started small batch production; on each floor of the main workshop, technicians are fully monitoring the operation status of the equipment in each link and the debugging of the fish feed making machines.

Fish feed mill project completion ceremony
In the past few days, the first batch of extruded soybean meal feed orders is under intense production. At present, it can produce nearly 200 tons of soybean meal feed per day. After fish feed processing machine debugging and optimization, it will reach normal conditions, including fish feed, which can produce 800-900 tons per day.
Our customized aquatic feed factory for customers can monitor the entire fish feed making process through a central control system. Compared with traditional fish feed processing lines, it not only realizes production automation and intelligence, but also greatly reduces labor costs and labor intensity.

Smart packaging section
In addition, the back-end packaging link also introduces intelligent robotic arms, and packaging efficiency will be greatly improved. At present, the intelligent robotic arm is still being debugged. According to RICHI engineers, an intelligent robotic arm "manages" three back-end packaging lines.
The robotic arm can store 900 packs (equivalent to 36 tons) of feed per hour, which can meet the needs of the fish feed processing line. It can be seen that the "enterprise automation and mechanization degree of the grass carp fish feed mill project is relatively advanced". After the optimization and debugging of the fish feed mill machine is completed during the small batch trial production, the 90,000 tons carp feed mill project will be officially put into production.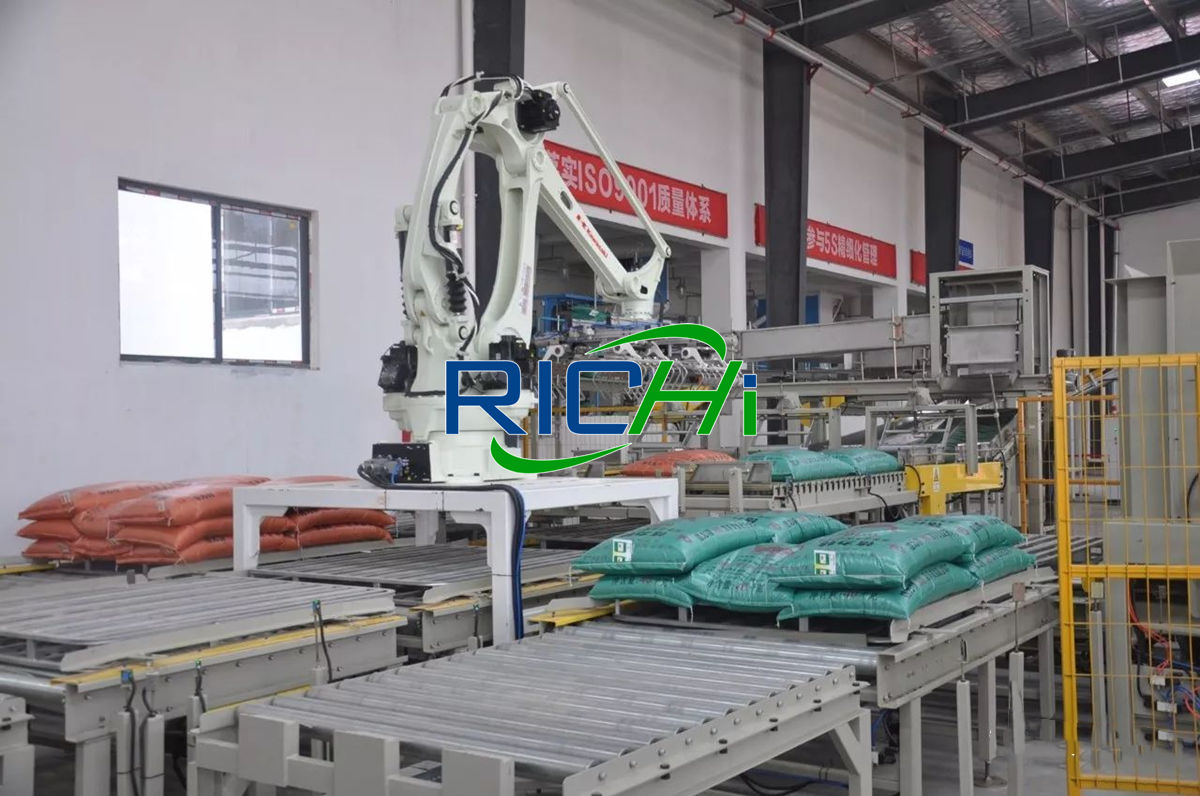 Smart packaging section
After normal operation, the daily production capacity of expanded soybean meal reached more than 200 tons; the daily production capacity of the aquatic fish feed processing line reached 700 tons at the peak. The expanded soybean meal and aquatic fish feed produced by the enterprise sell well in the province, and the total sales volume is expected to exceed 90,000 tons next year.
The following is the content of our interview with the fish feed mill project client:
RICHI: What is the scale of the aquatic feed market in Jiangxi Province where the project is currently located? What are the characteristics?

Client: The aquatic feed market in Jiangxi Province has a capacity of approximately 600,000 tons. Your aqua feed company has been hovering at 40,000 to 50,000 tons in previous years. After we set up a professional technical service team, our sales in 2020 finally exceeded 70,000 tons. This shows that pure marketing is no longer sufficient to meet the needs of the Jiangxi market, and supporting technical services are needed.


Client company headquarters

RICHI: As far as I know, your aqua feed company started to sell some animal protection products. What is your company's original intention to set foot in the animal protection product sector? What is the relationship between feed and animal protection products?

Customer: There is no doubt that aquatic feed is our main business. In recent years, we have cultivated a professional technical service team to help farmers solve practical problems at the terminal. Animal protection products are just one of our service tools.

Now, with the increasing density of aquaculture, the deterioration of water quality, and the increasing incidence of fish diseases, fish diseases are becoming more and more difficult to treat. Farmers are paying more and more attention to water quality control and fish disease prevention through animal protection products.

However, in the past, when our service team performed technical services on the front line, we often encountered situations where farmers bought low-quality fish medicines, which caused bad water to be adjusted for a long time and fish diseases could not be cured for a long time.

While this has brought greater losses to farmers, it has also affected the service efficiency and enthusiasm of our team. Therefore, the company decided to make its own animal protection products to ensure product quality and reduce user losses.

RICHI: Both the feed and animal protection sectors have experienced product homogeneity problems. How did your aqua feed company respond? Especially when large companies have a price advantage, how to deal with it?

Customer: Feed and animal protection are not high-tech. The emergence of homogeneous competition is the inevitable result of the development of the industry. Our aqua feed company has always adhered to a philosophy: to make feed with conscience. The same is true for animal protection products now.

I feel that for products of the same quality and cost, large companies may not have a price advantage. For example, our animal protection products, we can achieve less profit, or even no profit, but large companies may not have made this determination.

In addition, our aqua feed company has accumulated a large number of customer resources for 20 years since its establishment, and there are many raw material suppliers at home and abroad that have cooperated for many years. Moreover, we have a professional procurement team with rich experience, able to avoid the risk of raw material price increases, and have great procurement advantages.

Of course, our company's biggest feature is its high cost performance. Compared with group companies, we have a price advantage; compared with local companies, we have quality assurance; at the same time, we have strong service capabilities and can truly solve problems for farmers .

RICHI: Your aqua feed company has developed some functional feeds. Are you optimistic about the prospects of functional feeds?

Customer: After two years of experiments in the breeding base, we began to promote our functional feed in 2018. The main function is to improve the growth of grass carp while protecting and repairing the liver, gallbladder and intestines of grass carp. From the response of the breeding terminal last year, the effect was very good, so we are still very optimistic about the prospects of functional feed.

RICHI: What role does your company think that functional feed will play in aquaculture in the future?

Customer: With the continuous in-depth research of animal nutrition, precision feed nutrition, organ nutrition, dynamics, and molecularization will become the trend. The incidence of fish and shrimp also shows a certain regularity. I think functional feed will play an important role in the development of animal organs and disease prevention in the future.

In addition, in recent years, fish prices have risen and fallen in a roller coaster manner, with great fluctuations. In order to catch fish prices, many farmers will greatly increase the feeding amount and increase the load of liver and gallbladder and intestinal tract. In this case, functional feed can also play a role. Therefore, according to different breeding rhythms and the different breeding needs of farmers, functional feeds are of great use.

RICHI: What plans does your company have in the next three to five years?

Customer: In 2022, my aqua feed company will continue to base itself on grass carp feed and vigorously develop special aquatic feed. In the next three years, our aqua feed company special aquatic products will reach 150,000 tons. In the next five years, we will strive to exceed 200,000 tons in sales and become the leader of feed in Jiangxi Province.

After Jiangxi becomes stronger and bigger, we will radiate Jiangxi's surrounding provinces and plan to establish branch companies in Hubei, Hunan, Anhui, Fujian, and Zhejiang. In addition, we will speed up product upgrades, improve product quality, and provide users with competitive products, so that our user profitability will always be at the advanced level of the market.
The above is the article for you: RICHI Aquatic Grass Carp Fish Feed Mill With An Annual Output Of 90,000 Tons Will Be Fully Put Into Operation. If you are interested in our products or project solutions, please contact us. We will give you the best product quality and the best price. Email: sales@cnrichi.cn