NEWS
RiChi News
Follow Richi Machinery trends, collect industry information, and discuss market focus.
How To Select Reliable Suppliers Of Biomass Pellet Machine
Date: 2020-07-17 08:21:17
From: www.pellet-richi.com
Clicks:
There are many ways to find biomass pellet mill manufacturers, first look at your requirements for manufacturers. Do you want to find a biomass pellet machine manufacturer in your own country, or specify which region, or the most cost-effective manufacturer in the world? Methods as below:
1. Search for biomass pellet machine manufacturers on the map, you will find some manufacturers marked on the map,
2. Google search for biomass pellet machine manufacturers, you will also find some company websites.
3. Find some large B2B platforms, many of which are from a certain country. For example, Alibaba is from China, and you searched on Alibaba to find many Chinese biomass pellet machine manufacturers.
4. Seek advice from friends in the same industry, where they bought it from. If the granulation is good, let them recommend it to you!
5. Some authoritative enterprise directory websites, here are a large number of biomass pellet machine enterprises, you can choose and compare these manufacturers according to the country.
If you find a biomass pellet machine manufacturer, how to choose the most cost-effective manufacturer? So here are some points for reference.
Like everything in life, having options automatically puts one at a place of advantage. I highly recommend procuring quotes from an average of five manufacturers (at the VERY minimum three). This will give you an idea of where the mid-range pricing and lead time falls for making your product and will also set you up for a place of price negotiation. If you know your product can be produced several ways, I would also recommend reaching out to manufacturers that utilize both processes to see which method of producing your product is less expensive and more time efficient.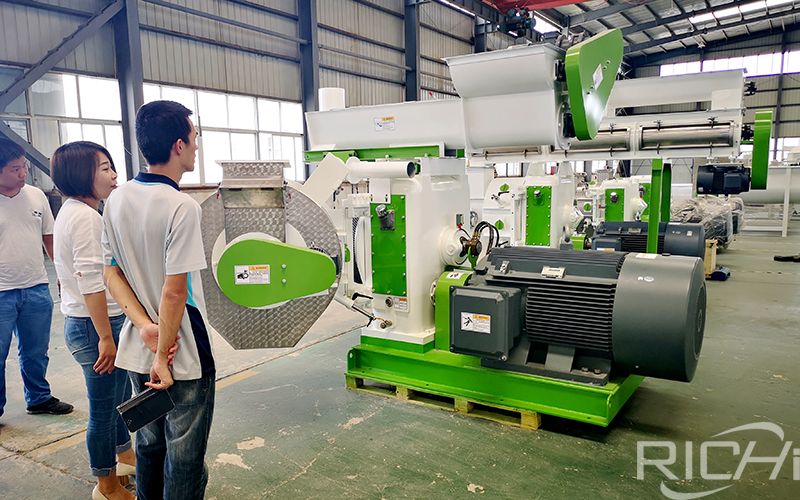 How To Select Reliable Suppliers Of Biomass Pellet Machine
First Article Approval and Payment Plans
Another thing that should be asked of potential manufacturers is whether they offer first article approval and what payment options are available. First article approval is when a manufacturer ensures that their customer is satisfied with the first part(s) made before proceeding to produce the full order. Though this doesn't always prevent tooling issues, it can help identify part mistakes early on. Additionally, asking whether the full payment must be made upfront, or whether it can be made in installments (i.e. 50% with first order, 25% at delivery of first articles, and 25% at approval of first articles) is important for knowing whether this works for your budget, and how to plan your budget for meeting payment installments later on.
Noting Follow-Up Response Time
How quickly does the company get back to you when you are initially reaching out and requesting a quote? This can be an early on indicator of how punctual and attentive this manufacturer will be throughout your relationship.
Are They Asking YOU Questions?
From my experience, a good manufacturing company will ask you concise, thoughtful questions about your expectations and the product requirements. This shows that they are considerate of their customer's expectations, and how the can best meet these expectations. Bottom line: a good manufacturer knows that it is always better to ask questions initially, rather than go through the trouble of fixing an order later on, and failing to do so should be a red flag.
Request a List of References
Ask if they can provide a list of current or past customers as references. Reach out and ask them how satisfied they were with the quality of the parts they received and whether their orders were met in a timely manner. Other additionally useful questions would be about whether they found the customer service to be satisfactory, and whether they would use this manufacturer again in the future.
Do They Have a Minimum Order Requirement?
If your company only needs a small order of parts initially, check to see if the manufacturer you're interested in has a minimum order requirement, and whether this fits your order size.
Do They Offer Prototyping Options?
Manufacturing can be an expensive process, if you are not completely sure about the requirements of your product (maybe the material or how thick you need your part to be for it to function properly), it is worth asking whether the manufacturer can make a couple initial prototypes with small variances in the factors you are unsure of. Using less expensive, softer tooling to test your part out and discover hidden issues before transcending into a full-scale order will save money and heartache later on. Some manufacturers will do this for a small fee, and it is worth seeing whether this option is available.
Weighing Tooling Cost vs Part Cost
Any startup who is bootstrapping will want to get the best bang for their buck, especially when in the early product development stages. When receiving a quote, generally pricing for tooling and price per part will be listed separately. If your company intends on making large orders in the future, then it may be worth going with a manufacturer who quotes a higher tooling price, but lower price per part, rather than a company who quotes a mid-range tooling price, but a higher price per part. If you plan on making very few parts, it is likely better to choose the manufacturer who quotes the lowest tooling cost.
Lead time
The lead time factor is critical for obtaining your parts in a timely manner so you can begin fulfilling customer orders and generating revenue. Obtaining a good combination of price and lead time for your budget and timeline is an important thing to consider when choosing a manufacturer. If your company is currently not in a time-sensitive stage of growth – maybe you have other business factors that need to be taken care of prior to launching the product, then focusing more keeping tooling and part costs low may be more beneficial, as it can sometimes be a tradeoff of lead time.
Related Articles
Is the greater the output of the biomass pellet machine better?
How to choose a biomass pellet machine with a daily output of 50 tons?
How to successfully invest in a biomass pellet production line
Cost Estimation of Biomass Pelletizer Production Line in China in 2020
The above is the article for you: How To Select Reliable Suppliers Of Biomass Pellet Machine.
If you are interested in our products or project solutions, please contact us. We will give you the best product quality and the best price. Email: enquiry@pellet-richi.com