NEWS
Industry News
Follow Richi Machinery trends, collect industry information, and discuss market focus.
Animal Feed Hammer Mills
Date: 2020-08-31 14:03:50
From: www.pellet-richi.com
Clicks:
---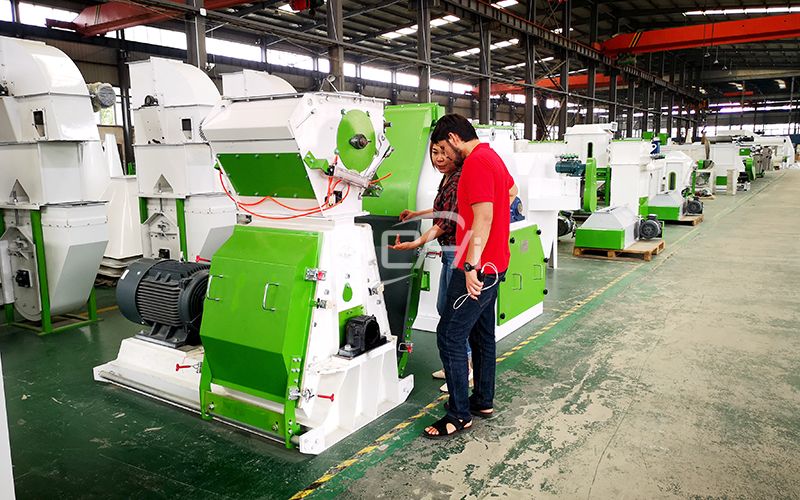 Feed Hammer Mills
Hammer mills are mostly impact grinders with swinging or stationary steel bars forcing ingredients against a circular screen or solid serrated section designated as a striking plate (Figure 1). Material is held in the grinding chamber until it is reduced to the size of the openings in the screen. The number of hammers on a rotating shaft, their size, arrangement, sharpness, the speed of rotation, wear patterns, and clearance at the tip relative to the screen or striking plate are important variables in grinding capacity and the appearance of the product. Heat imparted to the material, due to the work of grinding, is related to the time it is held within the chamber and the air flow characteristics. Impact grinding is most efficient with dry, low-fat ingredients, although many other materials may be reduced in size by proper screen selection and regulated intake.
Most feed hammer mill have a horizontal drive shaft which suspends vertical hammers but for some ingredients, such as dried animal byproducts, a "vertical" hammermill is more efficient. In this mill, the drive shaft is positioned vertically and screens and hammers are positioned horizontally. Material successfully reduced in size to the diameter of screen holes or smaller, are carried by gravity outside the mill and thence by air or conveyor to storage in "make-up" bins. Over-size particles, not easily broken, drop through the mill and may be re-cycled or discarded. Thus foreign materials, such as metal and stones, are discharged before they are forced through the screen causing damage.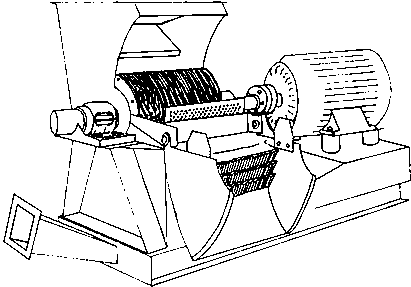 Figure 1 hammer mills
Grinding or particle-size reduction is a major function of feed manufacturing. Many feed mills pass all incoming ingredients through a grinder for several reasons:
(a) clumps and large fragments are reduced in size,
(b) some moisture is removed due to aeration, and
(c) additives such as antioxidants may be blended.
All of these improve the ease of handling ingredients and their storability.
There are other reasons for grinding and the associated sieving of ingredients in formula feeds before further processing. Small fish and fry require plankton-size feeds available in dry form as a meal or granule. Extremes in particle sizes are wasteful and often dangerous. Fry have been killed because of their inability to pass through the digestive system large pieces of connective tissue and bone present in dry animal byproducts, or hull fragments found in cottonseed meal and rice bran. On the other hand, dust or "fines" may become colloidal suspensions in water, so dilute that several mouthfuls carry little nutritive value.
The grinding of ingredients generally improves feed digestibility, acceptability, mixing properties, pelletability, and increases the bulk density of some ingredients. It is accomplished by many types of manual and mechanical operations involving impact, attrition, and cutting.
Attrition Mills
Attrition mills use the hammermill principle to a certain extent; i.e., shattering by/impact. However, they also impart a shearing and cutting action. Grinding is done between two discs equipped with replaceable wearing surfaces. One or both of these discs is rotated; if both, they rotate in opposite directions. When one disc is rotated, and the other stationary, the assembly is used for shredding and deferring. Often materials which have been coarsely ground by other mills, are passed through an attrition mill for blending or smoothing out an ingredient or mixture containing liquids which may have clumps. The discs of an attrition mill are generally in a vertical position so that materials not capable of reduction can pass by gravity out of the grinding area.
Roller Mills
A combination of cutting, attrition, and crushing occurs in roller mills. These are smooth or corrugated rolls rotating at the same speed set at a pre-determined distance apart with material passing between the two. A tearing action may be added by operating the rolls at different speeds and by corrugations which are different for each roll; i.e., the top roll may have off-radial spiral corrugations and the bottom roll lateral corrugations. This last type, called a "Le Page cut" is used in making granules from hard pellets, as it provides a breaking surface without much impact to cause dust. Roll grinding is economical but limited to materials which are fairly dry and low in fat.
Cutters
Rotary cutters are a type of grinder which reduces dry particle solids mainly by shearing with knife edges against a striking plate. The mill also includes the processes of attrition and impact, although these actions are limited if the material is easily reduced by cutting and the screen limiting discharge has large perforations. The mill consists of a rotating shaft with four attached parallel knives and a screen occupying one fourth of the 360 degree rotation. The mill is best used to crack whole grains with a minimum of "fines". It is not used as a final process for reducing the size of ingredients used in fish feeds.
Screening
Associated with grinding feeds for fish fry, a sieving system is required which classifies materials to any desired particle size. The "overs" in this system may be re-ground or rejected. The "throughs" may be selected to comply with fish preferences for size and mixed according to formula specifications. Feeds sifted through a 177-micron opening (a U.S. No. 100 sieve) have been successfully used for increasing survival and growth of minnows and catfish fry. Hammermill or impact grinding of dry feeds, especially cereal grains, creates particles within the range called "dust", and a dust-collecting system may be necessary to remove this. An excess of dust in the feed may lead to gill disease, a situation where organic matter adhering to gills becomes a nutrient for bacteria or parasites.
The problem of excess dust formed by grinding feeds may be partly alleviated by adding a spray of oil or a semi-moist ingredient, such as condensed fish solubles or fermentation solubles, on feeds entering the grinder. Dehydrated alfalfa is prepared as a dust-free meal, similar in texture to a sifted crumblized pellet, by spraying mineral oil into a hammermill chamber during grinding.
Related News
How to use the feed hammer mill, sharing tips for using feed feed grinding machine
What is the role of the air inlet of the hammer mill?
Is there a machine that combines a hammer mill and a granulator?
Application Of Feed Hammer Mill In The Feed Pellet Production Line
The above is the article for you: Animal Feed Hammer Mills.
If you are interested in our products or project solutions, please contact us. We will give you the best product quality and the best price. Email: enquiry@pellet-richi.com
---