NEWS
Industry News
Follow Richi Machinery trends, collect industry information, and discuss market focus.
Afghanistan builds a poultry feed plant
Date: 2020-08-07 08:32:27
From: www.pellet-richi.com
Clicks:
"Dear Sir/Madam,My name is Moheb Qadernia, I work as marketing manager for Omar Group of Companies. Our office in Afghanistan operates under the name of Omar Trading Ltd and it is a leading importer and producer of Frozen Poultry Products in Afghanistan.
Currently we import frozen chicken products from Brazil and USA to Afghanistan and produce Frozen Poultry Products by using our own farm birds. We would like to establish a new plant for producing Poultry Feed in Afghanistan. Therefore we kindly request you to let us know if you are able to supply us the poultry feed machinery and related technical services. (Related case: Afghanistan 10-15T/H Chicken Feed Mill )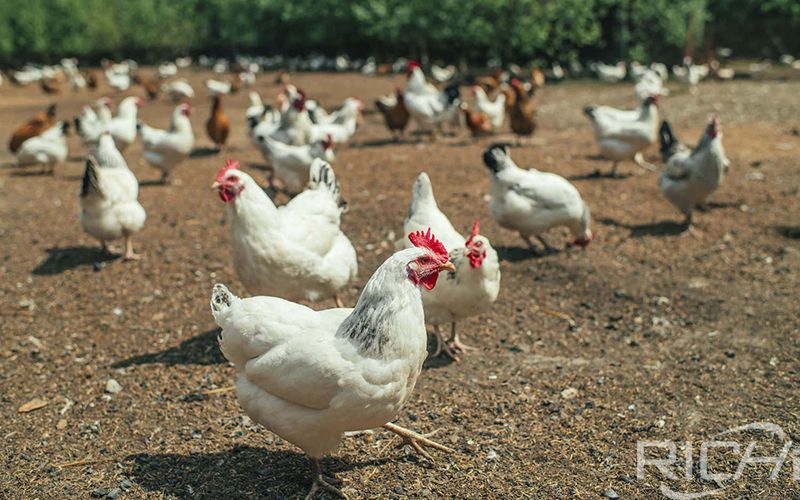 poultry feed pellet production line
Please kindly send an offer that includes the complete details about of machinery, prices, conditions and costs for technical support etc."
The above is the customer inquiry we received. The client wanted to build a poultry feed pellet production line, but did not give specific requirements. Let me tell you, if you are going to build a poultry feed pellet production line, what information do you need to provide us?
1. Number of poultry
2. The output of feed pellets required per hour
3. What are the raw materials
4. What kind of poultry, do you need crumbs
5. Which country or region
The Benefits Of Eating Feed Pellets For Poultry
Research consistently demonstrates production benefits associated with feeding pellets to poultry. These benefits include the following:
improved feed handling at the mill and on the farm
greater hygienic quality of feed
reduced feed wastage
decreased ingredient segregation
decreased opportunities for selective feeding
increased feed intake and subsequent live weight gain
decreased feed conversion ratio
Improved feed form yields results
The Cobb 500 broilers had decreased feed conversion ratios when fed diets containing intact pellets. The highest carcass weight (day 39) was obtained when broilers were fed HPQ in comparison to all other treatments. The modern broiler appears to respond best to an improved feed form by increasing feed intake, and consequent live weight gain, with improved feed conversion being more of a minor response.
An economic model that set feed costs at $300/ton multiplied by feed intake/[(carcass weight) – (60% x 21d chick weight)] found a savings of $0.02 per pound of carcass weight when feeding HPQ versus GP (Table 1). In addition, a linear model generated from the data indicated that with each 10 percentage point increase in intact pellets there was a 0.4 point improvement in FCR, a 0.35 oz. increase in carcass weight and a 0.14 oz. increase in breast weight.
This research explored all combinations of the established benefits of feeding pellets except for ingredient segregation and increased pellet length effects. If ingredient segregation and pellet length effects were included in the design of this study, then the benefits of feeding high-quality pellets would likely be more dramatic. In addition, birds used in this study were only grown to 39 days. A longer grow-out period may accentuate feed quality benefits.
Investment justification
These data may encourage a company to consider if an investment of time, utility cost and labor to produce pellets of high quality would justify improvements in live production and overall profitability. More specifically, the feed mill may have to operate an additional day per week or additional shift, and electrical and gas inputs at the mill would likely increase.
Throughput may be enhanced via increased inclusions of mixer-added fat or high-fat ingredients such as distillers dried grains with solubles or bakery by-product meal. However, pellet quality effects must be considered.
If feed manufacture strategies translate to improved bird weight gain, and less feed and time are required for grow-out, then the added investment required to create pellets of high quality may be well justified.
Related Artical
How to control the high powder content of poultry feed pellet machine
Model and case of 1-2 ton poultry feed pellet machine
Turn food waste into poultry feed through pellet machine
5-7 Tons Per Hour Poultry Feed Pellet Production Line Price and Case
The above is the article for you: Afghanistan builds a poultry feed plant.
If you are interested in our products or project solutions, please contact us. We will give you the best product quality and the best price. Email: enquiry@pellet-richi.com