Turn food waste into poultry feed through pellet machine
Converting feed waste into poultry protein, if we mix these wastes with some nutritional additives and feed them through pellet machines to feed poultry, we can greatly reduce the use of concentrated feed. Of course, the conversion of feed waste to poultry protein cannot be separated from poultry feed pellet production line and pellet machine equipment.
RICHI Food Recycle is an start-up tackling the global problem of food waste by converting it into poultry feed.
According to CEO of RICHI, Angela, 30% of all food that is produced is never consumed. So, the idea is to take that waste and convert it into valuable products through feed pellet machine. such as poultry feed and liquid fertiliser. "This is a global problem. There is food waste everywhere, and there are chickens everywhere," says Boyle.
Every tonne of food waste turned into poultry feed can save valuable resources.
The Australian chicken meat and egg industries are largely independent industries that compete for feedstuff ingredients. The Australian chicken meat industry produces over 664 million broiler chickens per annum, consuming some 3 million tonnes of feed. The egg industry has approximately 27 million hens, consuming about 850,000 tonnes of feed annually, and producing in excess of 516 million dozen eggs per annum.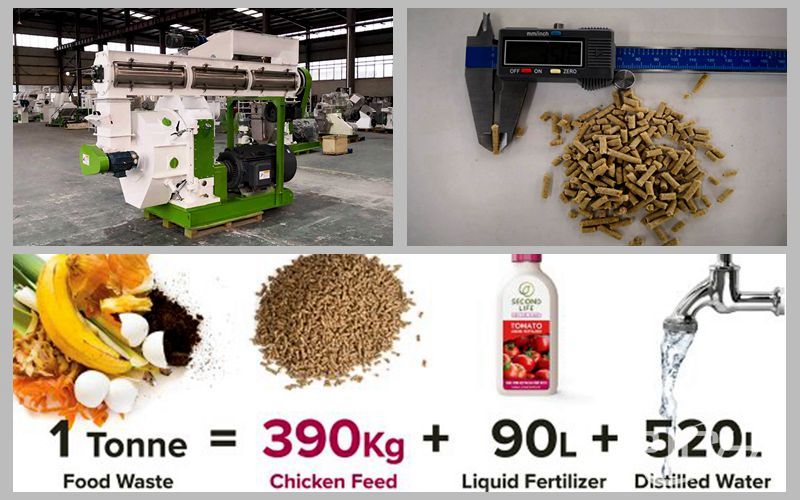 Turn food waste into poultry feed through pellet machine
Sustainable Livestock Farming
Achieving sustainability goals in livestock farming, needs to be a collaborative effort between policymakers, farmers and consumers.
It is projected by The Centre for International Economics that Australia will need to produce over twice the number of chickens by 2050. Boyle urges us to ask ourselves where we are going to get the feed to feed the animals that feed us. "We have to get smarter about it. If we collected all the food waste in the world we couldn't produce enough poultry feed."
Also interesting: Turning feed waste into poultry protein
The Food Recycle process to poultry feed
RICHI Food Recycle is now commercialising their patented and patent-pending technology. The first step of the Food Recycle process is heat treatment using direct steam to kill the microbes. The next step is maceration and de-watering followed by dehydration and then accumulation and blending. Finally, pelletising. The Food Recycle process, which uses the food waste for its original purpose, just further down the food chain, is a sustainable solution, both environmentally and economically.
Furthermore, the process is extremely clean, with minimal emissions of any type and has only 2 by-products, namely liquid fertilizer, which adds another revenue stream to the facility, and pure water, which can be used for growing new food.
Pelletizer That Converts Food Waste Into Poultry Feed
1. Imported high-quality bearing and oil seal are adopted to ensure efficient, stable and low-noise whole machine operation . the granulating room is equipped with air suction temperature reducing system.
2. Widely applied product with mature technology.
3. The main driving adopts high-precision gear drive, so that the output is improved by about 20% when compared with that of belt drive.
4. The feeder adopts variable-frequency and variable-speed motor to ensure the quality of discharged particles.
5. International advanced compensation type snakelike spring coupling has the propertied of novel and compact structure, high safety, low noise and low fault rate.
6. Ring dies with multiple kinds of bore diameters are optional . and high-quality craft ring dies are adopted, so that the service life is long. The discharged particles are smooth and the quality is high.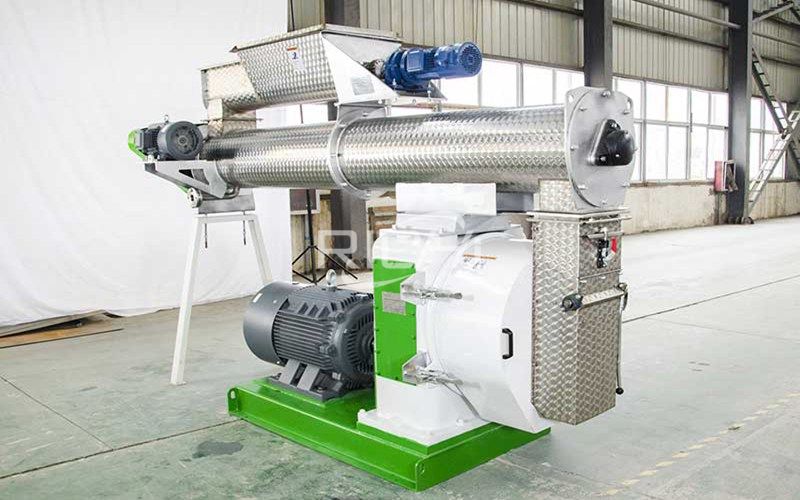 pelletizer that converts food waste into poultry feed
RICHI Feed Pellet Machine Parameters
| | | | | | | |
| --- | --- | --- | --- | --- | --- | --- |
| Model | Capacity(TPH) | Main Motor Power(kw) | Feeder Motor Power(kw) | Conditioner Power(kw) | Dia.of Ring Die(mm) | Final Pellet(mm) |
| SZLH250 | 1-2 | 22 | 0.75 | 1.5 | 250 | 2~12 |
| SZLH320 | 3-4 | 37 | 1.5 | 2.2 | 320 | 2~12 |
| SZLH350 | 5-7 | 55 | 1.5 | 3 | 350 | 2~12 |
| SZLH420 | 8-12 | 110 | 1.5 | 7.5 | 420 | 2~12 |
| SZLH508 | 10-18 | 160 | 2.2 | 11 | 508 | 2~12 |
| SZLH558 | 15-25 | 180/200 | 2.2 | 11 | 558 | 2~12 |
| SZLH558D | 14-22 | 160/180/200 | 1.5 | 7.5 | 558 | 2~18 |
| SZLH678 | 20-30 | 220/250 | 2.2 | 11 | 678 | 2~12 |
| SZLH678D | 15-25 | 200/220/250 | 2.2 | 11 | 673 | 2~18 |
| SZLH768 | 25-40 | 280/315 | 2.2 | 11 | 768 | 2~12 |
| SLZH858 | 25-42 | 280/315 | 2.2 | 15 | 858 | 2~18 |
Production Process of Feed Pellet Production Line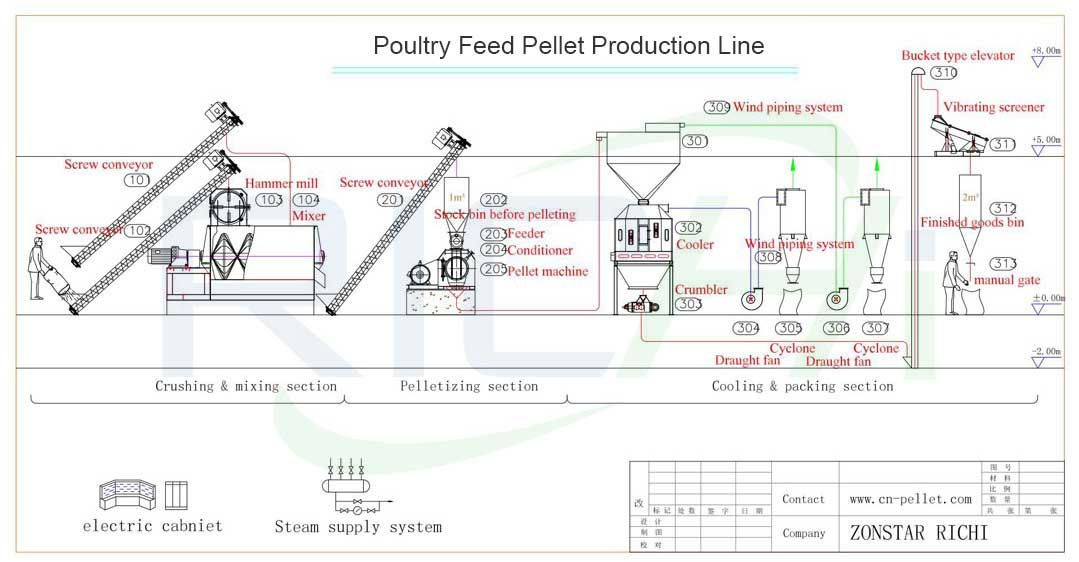 Poultry Feed Pellet Production Line
Step 01: Raw Materials Reception and Cleaning Process
Complete Poultry Feed Pellet Production Line includes raw material storage, cleaning machine, crushing machine, mixing machine, pellet machine, cooling machine, screening machine, packaging systems, transportation and electronic control system.
The first stage involves receiving and cleaning the raw material such as grain, beans, grass or fish meals used for making pellet feed.
Step 02: Feed Crushing Process
The material is then passed into the hammer mill, where it is ground into a size which is suitable for making feed pellets.
Step 03: Feed Mixing Process
The crushed fodder materials are then passed through a feed mixing machine, where different ingredients are added to the feed raw material to ensure that the finished pellet contains all the required nutrients.
Step 04: Animal Feed Pelleting Process
The pelletization stage is the most important stage in the animal feed mill, since the feed powder is converted into pellets of the desired size and shape. Compared to the flat die feed pellet machine, the ring die feed pellet machine has a larger capacity.
Step 05: Feed Pellets Cooling Process
The feed pellets are produced at a temperature of 88 degree centigrade and have a moisture level of 17-18%. For cooling, drying and storage, the moisture level should be reduced to 10-12% . Hence the feed pellets are passed through the pellet cooler, where they are cooled to a temperature which is close to room temperature, dried to reduce the moisture levels.
Step 06: Feed Pellets Packaging
After the animal feed pellets are produced, a semi automatic packing machine is used to put the pelleted feed in bags so that they can stored or transported to the end customer. A computerized machine will measure the feed of a specific amount for each bag, and it will be pneumatically discharged to the bag for packing. The bag with the pellets will move on a conveyor to the area where machines will automatically stitch the open tops of the bag, so that they can be transported.
Tell us your raw material, requirements of capacity and budget for the plant. Then Richi machinery can design a suitable and specific solution for you. To ensure the success of your business, we will provide detailed solutions including material storage, pretreatment, crushing … pelleting, cooling, packaging and waste disposal.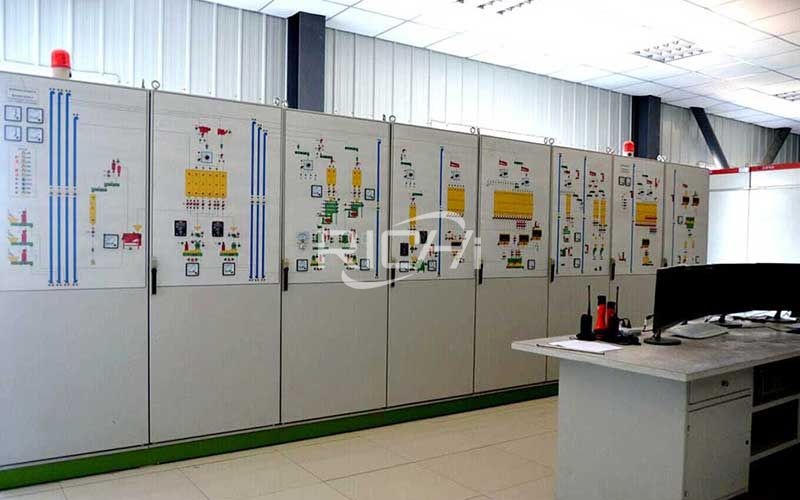 Flow chart of electric control cabinet of poultry feed pellet production line
If your team is going to build a poultry feed pellet production line, the advantage of choosing us is that RICHi will help you:
1.Determine the scale of poultry feed mill.
2.Determine the feed process and recommend poultry feed machine.
3.Control mode selection.
4.Poultry feed manufacturing plant structure selection.
5.Planning the general drawing of poultry feed mill plant site.
6.We devote ourselves to undertaking all poultry feed production line 1-80T/H.
RICHI Machinery is the producer and leader of poultry, ruminant, livestock and animal feed pellet machines. At present, more than 113 countries around the world have selected the right products and equipment in RICHI. Of course, they have also achieved great benefits. If you are interested in the feed pellet machine production line, you may wish to contact us and customize the solution for customers for free!
The above is the article for you: Turn food waste into poultry feed through pellet machine. If you are interested in our products or project solutions, please contact us. We will give you the best product quality and the best price. Email: sales@cnrichi.cn