NEWS
Industry News
Follow Richi Machinery trends, collect industry information, and discuss market focus.
5 T/hr Floating Fish Feed Extruer And Poultry Feed Production Line
Date: 2020-08-05 08:28:42
From: www.pellet-richi.com
Clicks:
A customer from Israel inquired about a 5 ton/hour floating fish feed extruder and a poultry feed pellet production line. He says:"We need a quotation for floating fish pellets (extruded) 5 t/hr, including a side line for poultry feed 5 t/hr" Yeah, the fish feed extruder is to produce fish feed pellets. The extruded fish feed pellets have high water resistance and nutritional value. Of course, the extruded pellet machine is more expensive than the general pellet machine.
5 T/hr Floating Fish Feed Extruer
Currently, the main extrusion equipment applied in aquatic feed production is single screw fish feed extruder which is also divided into dry type fish feed extruder and wet type fish feed extruder machine. With different parameters and feed formulation, fish farmers and feed plants can make floating, sinking and slow-sinking feed with high quality and nutrition so as to adapt for diverse ingestion requirements of various aquatic animals. Adopting alloy steel as material, Richi Machinery dry type fish feed extruder has been widely used in small-scale and medium-scale fish farm or feed plants to produce aqua feed and also dog/cat pet feed in virtue of its simple structure and low noise. Other than dry type, the wet type fish feed extruder machine is equipped with a boiler that can add vapor constantly into chamber when extruding feed ingredients, which makes it widely applied to produce floating fish feed pellets for fish farm, aquaculture and even poultry farms.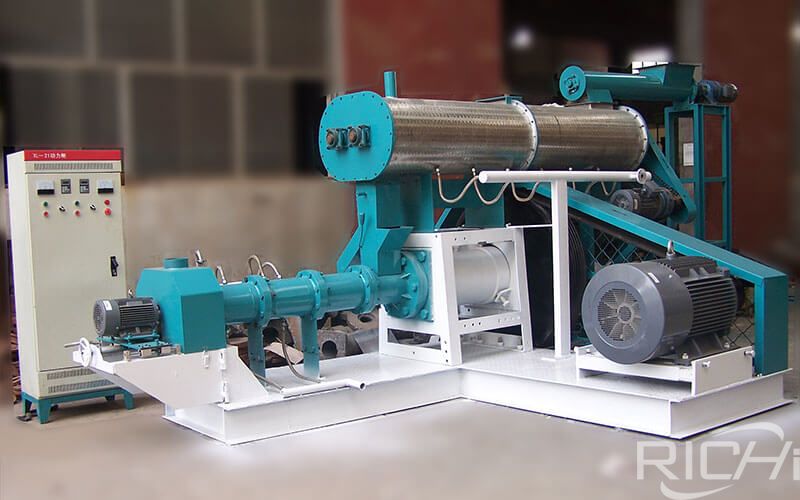 Fish Feed Extruer
Adavantage of Extruded Fish Feed
The basic function of fish feed produced through extrusion process is to kill the germ, mycete and fungus in feed ingredients, improve the hygienic quality and provide safe fodder for fish and other aquatic animals. Besides, there are some other obvious advantages of extruded aqua feed:
High digestive utilization ratio: in the process of extruding, the heat, steam, pressure and other mechanical actions can promote the degree of starch pasting, break and soften the cell wall part of fiber structure and release some digestible materials, which is in favor of the digestion and absorption for aquatic livestock.
Slight pollution to environment: with good stability in water, extruded fish feed makes it possible to decrease the dissolution and sediment of feed nutrition and then reduce loss and waste, alleviating water pollution.
Convenient feeding management: extruded fish feed can float on water for a long time, which makes it easier to observe fish ingestion so as to adjust feeding quantity timely and master fish growth and health state.
In addition, with longer and easier storage period, fish feed via extrusion process, including floating, sinking and slow sinking types, also can satisfy different demands of aquatic animals with various ingestion habits. All in all, extruded fish feed has gained great popularity among fish farms and other aquaculture industry around the world.
5 T/hr Poultry Feed Production Line
Grain hammer mill: SFSP66*60 (55 kw)
Mixer: SLHSJ2.5 (15 kw)
Pellet Mill: SZLH 350 (56.5 kw)
Conditioner: TZ38*2000 stainless steel. (2.2 kw)
Total Power: 227 Kw.
Production line Floor space: 11m * 14.2m * 23.2m ( L * W * H)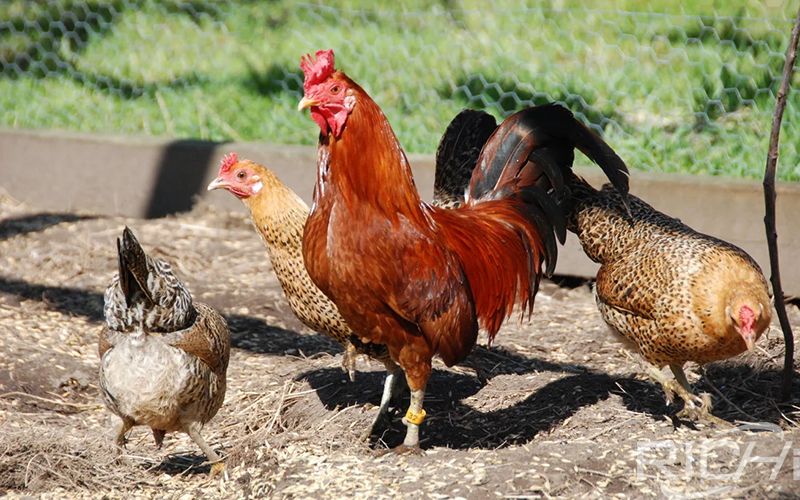 Poultry Feed Production Line
Advantages Of Richi Poultry Feed Pellet Production Line
A. The components of a complete feed pellet line can be TURN-KEY MADE, since Richi Machinery is professional in production animal feed processing plans, we can give you the MOST SUITABLE feed pellet production Business Plan.
B. All the machines are strictly developed and manufactured to guarantee PREMIUM QUALITY.
C. You can choose it for production many kinds of animal feeds, such as cattle, dairy cow, goat, sheep, horse, pig, chicken, broiler, duck, rabbit, fish, goose, etc.
D. We have experienced engineers for overseas installation and comissioning. We will also train your workers on how to operate the feed processing machines.
Related Artical
Turn food waste into poultry feed through pellet machine
5-7 Tons Per Hour Poultry Feed Pellet Production Line Price and Case
Importance of livestock and poultry feed pellet mill on farm
The above is the article for you: 5 T/hr Floating Fish Feed Extruer And Poultry Feed Production Line.
If you are interested in our products or project solutions, please contact us. We will give you the best product quality and the best price. Email: enquiry@pellet-richi.com