NEWS
FAQ
Follow Richi Machinery trends, collect industry information, and discuss market focus.
Can grass be made into fuel pellets?
Date: 2020-07-15 09:38:26
From: www.pellet-richi.com
Clicks:
---
Dear all, we are a company from Greece that has a lot of grass cutting activity from photovoltaic plants interesting in bying the following unit for producing pellet from grass (if possible): Movable Wood Pellet Workstation.
1) Integrated wood chipper, wood sawdust crusher, dryer and wood pellet mill together.
2) Dimension ( L * W * H ): 12m * 2.5m * 4.1m 3) Weight: 18.6 Ton.
3) Suitable for capacity: 500 - 800 kg/h.
Could you give as please a quote in order to evaluate the offer. Please let us know because we have around 1000tons per year of grass from our fields.
The above is the grass pellet production equipment consulted by Greek customers. Grass can be made into pellets. Grass pellets can be used to feed ruminants or burned as fuel. Of course, the two formulas are completely different.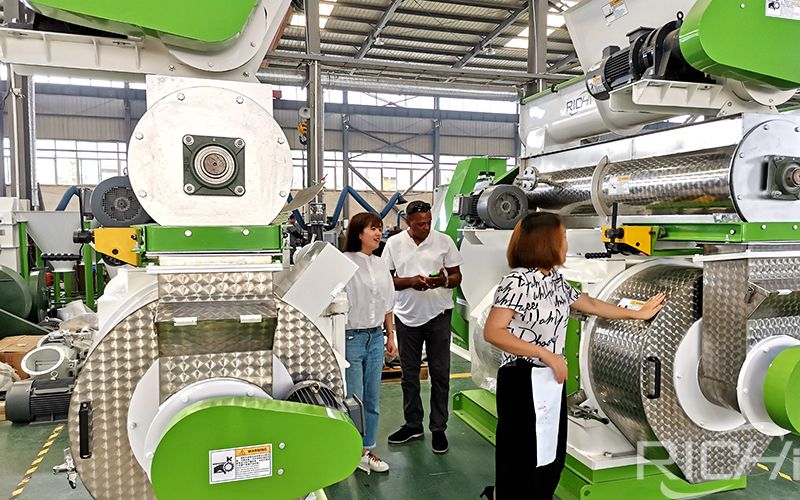 Grass pellet machine
I. What Are The Raw Materials Of Grass Pellet?
Grass is a very common plant that distributes around the word. You can see it almost everywhere, such as forest, farmland, square lawn, and even the sides of road. In the past, grass was often used as feed for livestock and poultry; but now it is widely processed into biomass grass pellets.
Grass pellets have been proven to be one of the hot sale fuel pellets. Compared to other traditional fuel resources, grass pellet production line is generally cheap as well as very environmental friendly. Suitable Grass Materials for Making Pellets :
Cereal grass
Timothy
Orchardgrass
Weeds
Switch grass
Unwanted hay
Alfalfa
Straw
etc.
Our pellet dies is customized with different compression ratio to meet the demand of different grass types.
II.What Are The Production Equipment For Grass Pellets
Crushing machine – Cut the grass into small pieces by a hammer mill. The use of hammer mill can increase greatly the production efficiency.
Drying machine – Control the moisture content of grass within a proper range, too high or too low would both influence the density. If the moisture content is too high, you could put grass in a rotary dryer or just in the sun.
Pelletizing machine – Put the grass with proper moisture content into a pellet mill. In the mill, grass would be extruded by die and rollers, and then shaped in pellets at last.
Cooling machine – Cool down the grass pellets to room temperature. After getting out of the grass pellet mill, the temperature of grass pellets is very high.
Packing machine – Pack the grass pellets in bags and store them in cool, dry and ventilated locations under normal temperature. Keep them far away from fire, sunshine and rain.
III. How To Make Grass Into Pellets
How to make grass pellets? This is a six steps procedure of pellet production plant that is followed to make awesome and very high quality pellets with exceptionally good output. The process involves the use of pellet making machine that take the following production stages.
The first stage involves collecting the mowed grass. It is after collecting the materials that one is supposed to lay them in the sun for drying, while laying them in a thin layer after which pilling is done.
The second step is starting the pellet making mill and preheating it for some minutes. This is done to ensure that ones the grass is put inside the machine, the little left moisture is dried. It is also done to melt the lignin part of the grass to allow for gluing which makes the resulting pellets to come together.
Thirdly, a container is put under the chute of pellet making mill.This container serves as a collecting pit for the resultant pellets.
The fourth step involves adjusting of the moisture content depending on the finished pellets. This process involves accessing the ready pellets where by, if the pellets are crumbly, then the implication is that the pellets are very dry and thus the grass should be mixed with some water. Mushy pellets thus imply that the pellets have high moisture content and so the grass has to be dried longer in the sun.
The fifth step is to cool the cool the pellets in the air before storing. This step prepares them for burning and thus one can comfortably use them as fuel.
The last step is generally collecting the unspent pellets and parking them in bags for future use.
Following the above steps, high quality pellets will be generated. These pellets can be applied in many fields such as cooking, heating among other areas.


What Are The Production Equipment For Grass Pellets
IV. What Are The Advantages Of Grass Pellets
1. Hay pellet fuel generate 90% less greenhouse gases than fossil fuel like coal, only 1/10 that of EPA requirement.
2. Hay pellets have the heat value of nearly 8000 BTUs, almost equal to hardwood and close to that of coals. Its energy transformation ratio is as high as 20:1, compare with 10:1 of wood, and 5:1 of biodiesel. So hay pellets are an ideal heat source.
3. Hays are a common waste on the farm and in forestry. They are cheap and easy to get. It only takes 70 days to grow a crop of grass, much quicker than the growth of wood and crops.
4. Thanks to low cost of raw materials and production, hay pellet fuel has price advantages over traditional fuels. The pellet price is 225USD per ton, while petroleum takes about 1000USD per month. Using hay pellets for heating and cooking can greatly save your fuel cost.
5. Hay pellets can be used as mulch and soil conditioner in garden and farmland. They can expand to 4 times their original size when wet. And their ash after burning can be used as fertilizer.
The above is the article for you: Can grass be made into fuel pellets?.
If you are interested in our products or project solutions, please contact us. We will give you the best product quality and the best price. Email: enquiry@pellet-richi.com
---