Development status of animal feed production industry in South Africa
The South African animal feed industry is about 87 years old. The industry came into existence after severe droughts and depression that transpired during the 1930's. The industry produces a variety of feed for various segments including poultry (layer and broiler breeders), dairy, beef and sheep and pigs. The quality standards of South African feeds are high and up to international levels.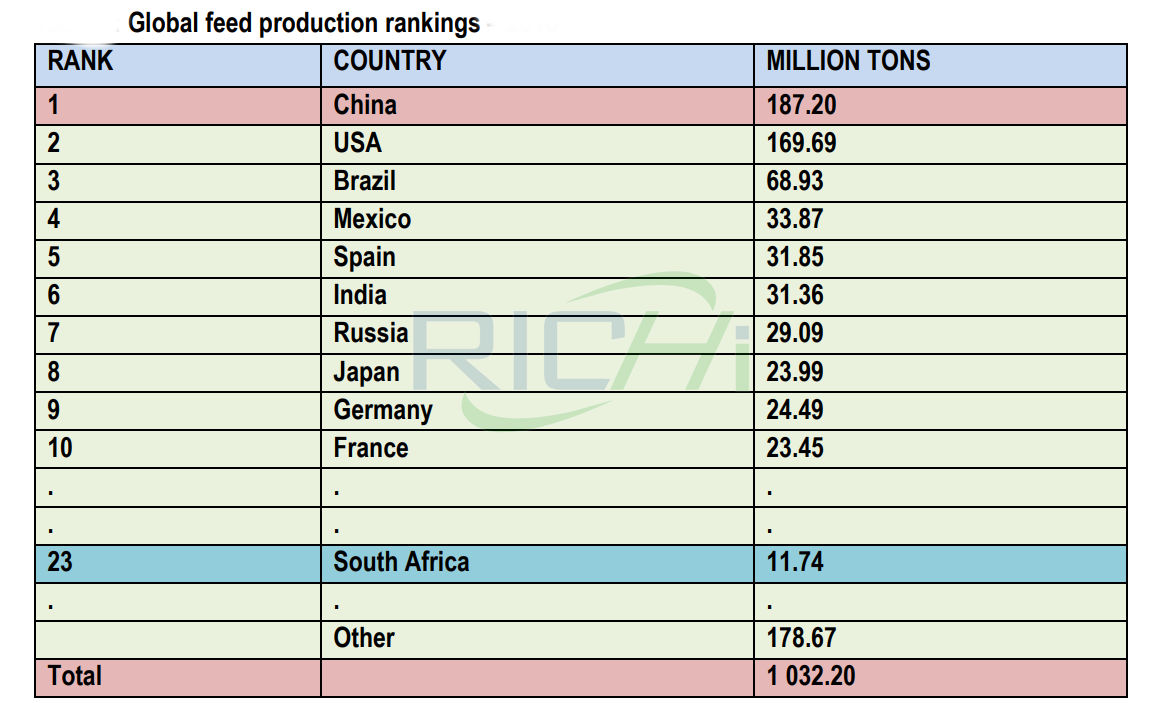 Raw materials for animal feed production to some extent are adequately available in South Africa particularly maize, the major ingredient in many of the manufacture animal feeds. The industry's production on average is about 3.5 million tons per annum. South African animal feed industry is dominated by major role players that mainly use modern computerized animal feed plants and latest animal feed equipment for analytical procedures and least cost formulation and use the latest feed manufacturing technology.
The South African animal feed industry is primarily classified into five major categories (pig, beef and sheep dairy, broilers, and layers) and all the remaining types of animal feeds are considered under the group other. The segmental shares of animal feed production for the year 2020 are presented in Figure below.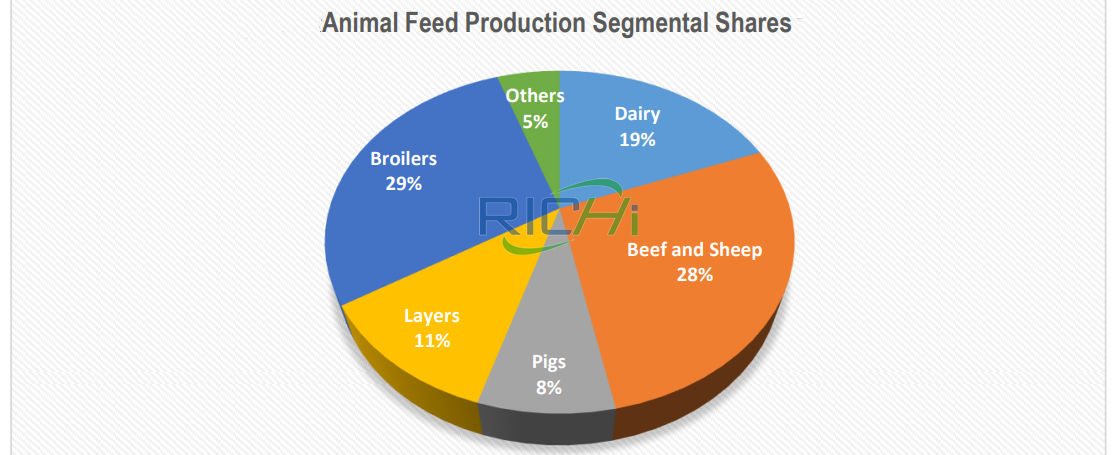 Overview of 10 tons per hour automatic cattle feed mill plant for sale South Africa
How to start cattle feed business in South Africa? The 10 tons feed mill project is a full-computer automated cattle feed production line that produces 10 tons per hour of cattle feed. RICHI not only builds the most advanced, reasonable and energy-saving automatic cattle feed plant for customers, but also selects complete sets of cattle feed machine with excellent quality and performance, and arranges construction strictly according to the schedule.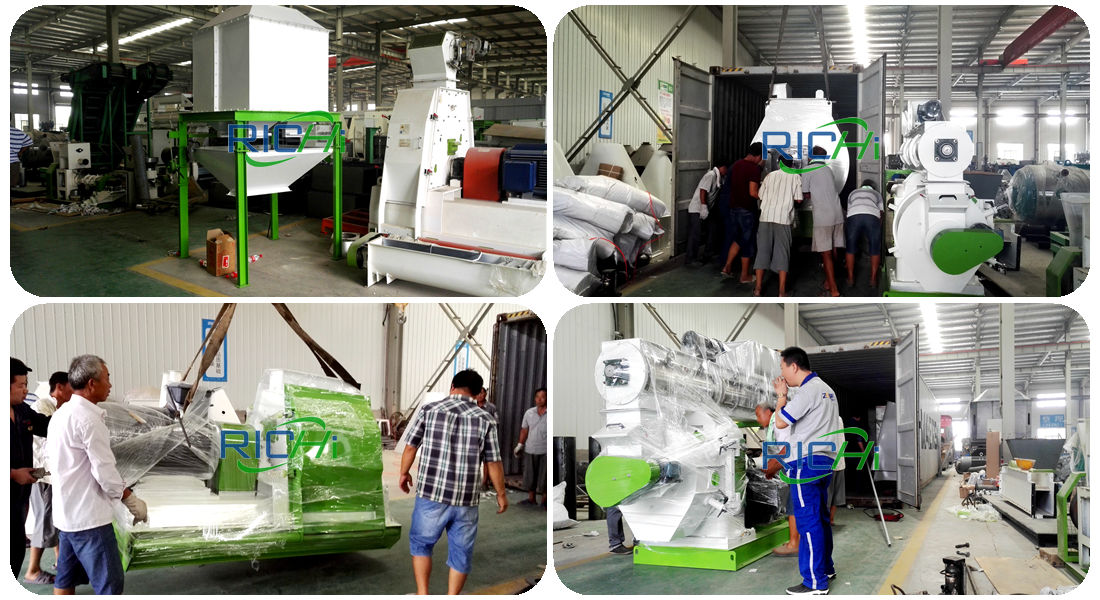 South Africa 10t/h cattle feed plant euqipments delivery
In the construction process of the 10t/h commercial cattle feed plant in South Africa, Richi proceeded from reality to meet the needs of users as a standard, rationally planned and standardized construction, and completed all sections smoothly on the premise of ensuring the quality of the South Africa 10 tons cattle feed factory project. The raw material for cattle feed plant in South Africa is corn, soybean meal, 50% grass and other grain, the main purpose is to process powder, 3 mm pellets, 5 mm pellets, 8 mm pellets.
Before the start of the South Africa 10tph fully automatic cattle feed plant project, Richi Machinery has fully researched and optimized the cattle feed processing plant project plan, using the customer's existing production area (19m*6m*25m) to achieve a compact overall cattle feed plant layout, smooth cattle feed manufacturing process flow, minimize production links, multiple expected effects of feed mill engineering investment, etc.

South Africa 10t/h cattle feed plant project site
How to make cattle feed in South Africa with the 10t/h cattle feed mill?
The bulk of raw materials are stored in the silos and the lower volume dense materials are in flat storage on the cattle feed mill floor. The cattle feed milling process is illustrated in Chart below. The grains from the silos are transported to the cattle feed grinders in the cattle feed factory where it is grinded to a suitable coarseness depending on the type of feed manufactured.
Thereafter the raw materials that do not require grinding is included as well as the prescribed premixes of vitamins, minerals and medications and they are mixed together. The mixed feed is then incorporated with steam to raise the heat and moisture of the feed. The mixed raw material, vitamins and minerals go through the cattle feed pellet making machine where it is forced through a small opening to form a cattle pellet.
Post pelleting by cattle feed pellet machine, pellets then require to be cooled. The pelleted cattle feed passes through a shaker to get rid of unwanted fines and is now ready to be bagged or loaded in a bulk storage bin.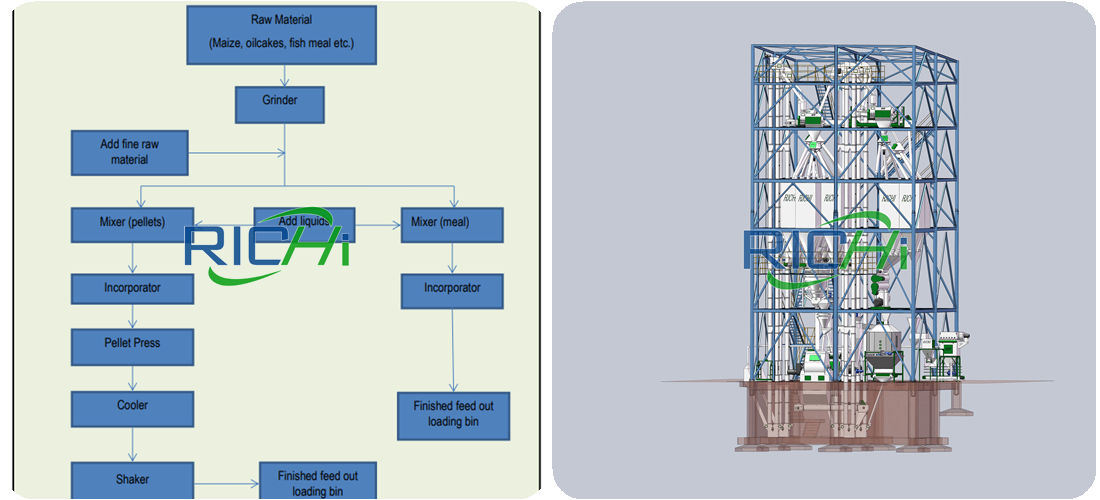 Animal feed milling process in the South Africa 10 tons cattle feed production business
This South Africa 10tph cattle feed manufacturing unit project is currently the most advanced ruminant feed pellet production line in the customer's local area. This complete automatic cattle feed plant project is fully computer-controlled and replaces the customer's previous manual packaging, manual handling, manual baching, and manual operations, allowing customers to experience the efficiency, energy saving, and safety of automated cattle feed production.
At the same time, the 10t/h cattle feed processing plant project uses a first-class cattle feed factory process plan, the rumination process uses the most advanced cattle feed making machine in South Africa, which greatly improves the production efficiency of customers and creates economic value for customers.

South Africa 10t/h cattle feed plant project signing site
Main machine for making cattle feed in 10 tons per hour cattle feed pellet plant in South Africa
Cattle feed machine in this feed mill
Cattle feed grinder machine*SFSP66*80
Screw conveyor (air locked)*TLSS25
Cattle feed mixer machine*SLHY2.5L
Powder precleaner*SCQZ60*50*100
Rotary distributor*TFPX6
Batching scale*PLC1.0A
Bucket Elevator*TDTG36/28
Cattle feed pellet machine*SZLH420
Cooling Machine*SKLN20x20
Pellet Crumbler*SSLG15*150
Screening machine*SFJH125*2C
Cattle feed bagging machine*DCS-50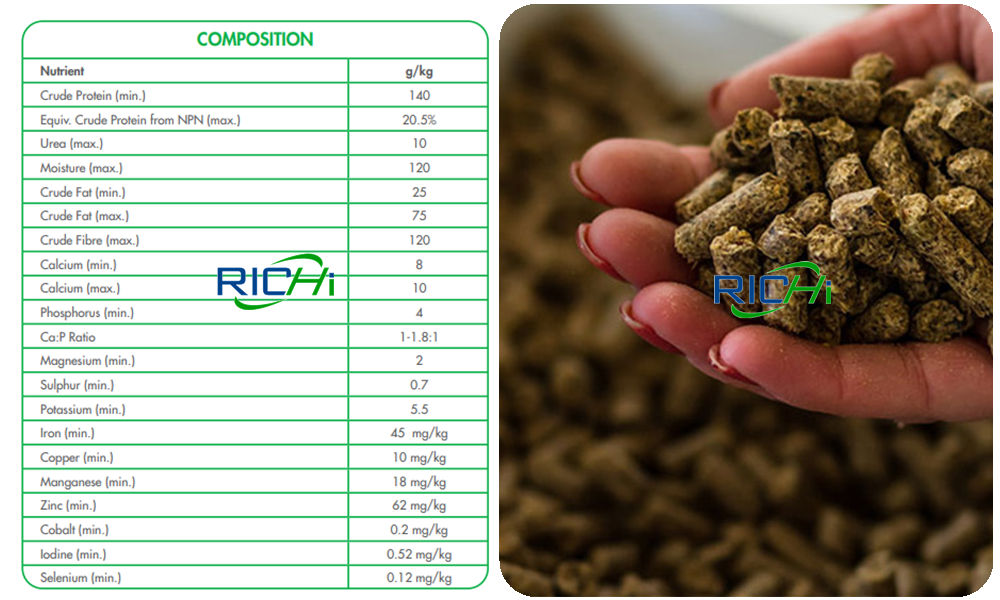 South Africa 10t/h cattle feed plant project pellets product and nutritional composition
It is very worth mentioning that the South African customer who cooperated with Richi this time is a very rigorous person. In addition to repeatedly inspecting the cooperative cattle feed plant manufacturers when the 10t/h cattle feed mill factory project is signed, the customer visits for the second time when the cattle feed machine is shipped and supervises the whole process test and delivery of the entire cattle feed plant machine.
The successful commissioning of this South Africa 10 ton per hour cattle feed plant project will help the customer achieve the integration of large-scale local feed research and development, cattle feed production, breeding and sales, and further increase its market share and competitiveness in the South Africa cattle feed production market.