NEWS
Industry News
Follow Richi Machinery trends, collect industry information, and discuss market focus.
Prospects for the development of pet feed mill factories in Thailand
Date: 2021-07-14 10:03:16
From: www.pellet-richi.com
Clicks:
Recently, according to Thai media, the Department of Animal Husbandry of Thailand intends to promote Thailand to become the world's third largest pet feed exporter.
The current status of processing in pet feed mills in Thailand
During the new crown pneumonia epidemic, people all over the world have changed their original lifestyles, and living at home and working (WFH) have greatly increased. Under such circumstances, everyone has chosen to raise pets such as dogs and cats to dispel loneliness, which makes the pet feed industry soar.
In 2021, Thailand's pet feed export has a clear recovery momentum. From January to April, it exported 240,000 tons, valued at 16.73 billion baht, accounting for about 40% of the entire pet feed industry's revenue in 2020, which is entirely in line with the current COVID-19 epidemic. Thailand's cat and dog feed production is growing well, and Thailand is expected to enter the top 3 global pet feed exports this year, bringing considerable economic benefits to the country.

In 2020, Thailand exported 535,000 tons of pet feed, valued at 44.8 billion baht, compared with 465,000 tons of pet feed exported in 2019, valued at 36.65 billion baht, an increase of 22.21%. Export pet feed includes block feed, pellet feed, canned feed, pet snacks and other auxiliary feeds. The most popular one is canned feed, which accounts for 73% of the total pet feed exports.
The top five countries that import pet feed are Germany, the United States, France, Thailand, and the Netherlands. The United States' imports of pet feed from Thailand accounted for 31% of the total export share, EU countries accounted for 25.38%, and Japan, the Philippines, Indonesia, Australia and The Middle East and other markets.
As a pet feed mill production system development and standard certification unit, the Department of Animal Husbandry of Thailand is responsible for the management of export pet feed factory production and processing, export pet feed production factory certification, feed factory standard certification, GMP certification, HACCP certification, pet feed company production process supervision, pet feed hygiene standard certification, etc.
The purpose of carrying out various tasks in accordance with the rules and regulations of trading countries is to win the trust of trading countries. As of April 2021, there are 82 pet feed mill plants that have obtained pet feed production certification.

How to build your own pet food manufacturing plant in Thailand?
There are many things you need to pay attention to when you open a pet feed factory. For example, you need a site to build, have your own investment budget, conduct geological surveys, understand the hydropower situation, and then find a specialized manufacturer to plan the feed plant layout and design, process design, manufacture and install animal feed equipment.
Richi Machinery is such a manufacturer. We provide a full set of pet food produciton line services from preliminary consultation, plant design, process design, equipment processing to project installation and commissioning.
The pet food production line has two type, one is dry type pet food line, the other is wet type pet food production line, wet type is equipped with a boiler which can continuously providing hot steam. It can produce all kinds of feeds and foods like processing floating feeds for aqua, catfish, goldfish, shrimp, crab, loach, bullfrog, etc., and pet food like dog food, cat food, etc. (related post: Difference between dry pet food and wet pet food)
Richi Machinery pet food plant adopts high puff degree corn powder cereal as a basic raw material, supplemented bone meal, meat, protein, vitamins, fiber and other nutrients, with a screw extruder machine through strong squeeze instantaneous puffing molding to produce different shapes of pet food pellets like dog food, cat food etc, flavoring coating after drying enhance the taste of the final products, and one set of automatic packaging finally.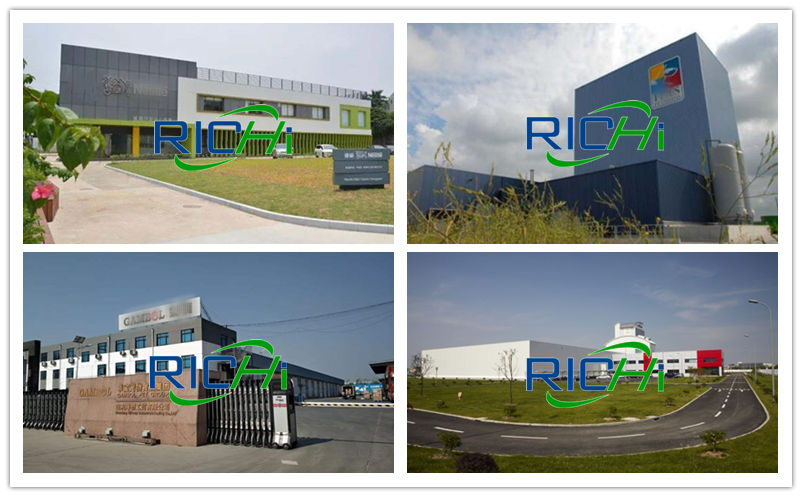 Pet food production process and food making machinery needed in Thailand pet food factory
There are many dog food making machine and cat food making machine in the feed plant machinery, mainly including animal food crushers, animal food mixers, food pellet making machine, food extruder machine, pellet coolers, screening machines, packing scales, etc.
Pet Food Crushing Section
Raw material ingredients should be grinded to the required size by pet food grinder. We supply two types of animal feed grinding machine to meet your different requirements: Fodder Hammer Mill is suitable for small or medium sized extruded feed mills; SPSF Feed Hammer mill is used for grinding raw materials by large and medium livestock feed mills, poultry feed plants, cattle feed plants and aqua feed mills.
Pet Food Mixing Section
Pet food mixing process is a key process in pet food production line. The basic process is to weigh the raw materials in different weight according to pet food fomula, then pour them in the crusher to decrease size, and later all materials are temporarily stored in the storage silo. Then all matrials are ready, feed them in the animal feed mixing equipment for mixing.
Extruding/Pelleting Section
Extruding section in pet feed making plant is a heat treatment process with high temperature and in short time. It can not only reduce the degradation of food nutrients, improve the digestibility of protein starch, but also destroy the anti nutrient components and microorganism. All shapes of pet dry food such as round, triangle, flower shape and bone shape can be produced through different molds (templates) of the pet food extruder machine.
In pet food produciton plant, fat is usually added to improve pet food palatability, and this is carried out in conditioning process. Besides, to give different colors to pet food tablets, feed extruder machine manufacturers usually add pigmented water in extruding chamber.
Pet Food Drying Section
The drying section in pet food processing line is mainly used for removing water in the extruded pet food. After extrusion, the texture of the pellets is relatively soft and water content reaches 20~30%. After the drying process, the finished product moisture is controlled at 8%~10%, which can ensure that the material is stored in a certain period of time.
Our mesh belt dryer is a continuous convective belt dryer. Pellets formed through the extruder are stacked in layers on a wire mesh or perforated plate belt conveyor and conveyed continuously through drying chambers.
During this feed pellet plant process, the drying air is passed repeatedly through the products layer until pellets have the optimum moisture content before leaving the dryer. While if you choose wet type cat dog food making machine, we recommend the gas type pellet dryer.
Oil And Fat Spraying Section
In this pet food pellet making process, oil and fat are the best source of energy, so 2%~40% of oil and fat can be added to formula according to pet growth needs. We suggest that the content of the fat in the cat or dog food formula, that is the content of the total oil in the extruder be kept within 12%. If the content of the oil is required over 12% and the firmness of the pet pelletsl will be significantly reduced.
If the extruded pellets needs more than 12% oil content, the extra oil is suggested to be added in the way of external spray after drying. It can be used at normal pressure or vacuum spray depending on how much oil is added. The external spraying will make the pet food tablets appearance more tempting. In addition to oil, some powdered attractant is also sprayed to increase pet feed palatability.
Cooling & Sieving Section
The main purpose of the cooling section is to cool the dried material from high temperature to near room temperature and take away part of the moisture content. Also, in this process, the ineligible food tamblets will be separate from eligible ones.
Pet Food Packaging Section
Some pet food manufacturers package the pet food of same shapes in one bag, but some would blend several pet food tamblets in different shapes and colors together and pack them in one bag. The conventional weight include: 5kg, 1kg, 500g, 20g, and also 20-50kg large package. To make the finished pellets easy to store, transport and catch the clients' eyes, they should be packed properly.
With our automatic weighing and packing machine, the finished pellets can be packed into bags, weighed, conveyed, and sealed automatically, which saves labor and time greatly and meet the requirements of large scale production. For this packing machine, automatic heat typing code, automatic bag sewing and automatic thread cutting can be optional functions.
The above is the article for you: Prospects for the development of pet feed mill factories in Thailand.
If you are interested in our products or project solutions, please contact us. We will give you the best product quality and the best price. Email: enquiry@pellet-richi.com