The role of rotary distributors in the production of feed pellets
We know that the most commonly used in
feed pellet production lines
are crushers, mixers and granulators.However, we must know that the operation of a production line is inseparable from the main equipment, but also from auxiliary equipment.For example, it is a rotary distributor for transportation, cyclone dust collector and a fan that are often equipped with a counterflow cooler, and an iron remover that is used with a feed crusher.
Rotary distributor is a device that can automatically adjust the position and use the material's self-flow to transport to a predetermined location. It is a remote control device that supplies materials from one point to multiple points. It has the characteristics of compact structure, fast and accurate positioning, fast material input and output, mechanical self-locking structure, small footprint, stability and reliability. It is widely used in raw materials entering warehouse and intermediate products entering batching warehouse. It is an ideal supporting equipment for feed and flour milling industries.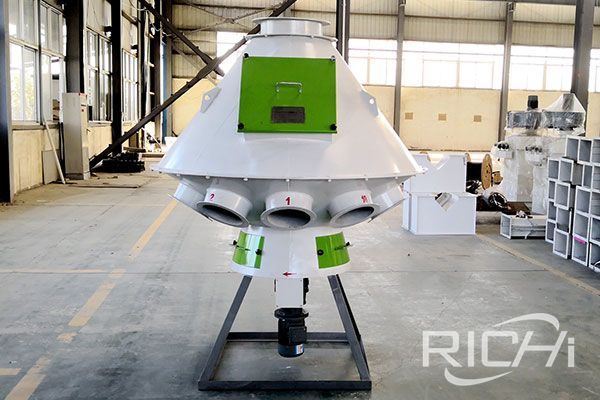 The role of rotary distributors in the production of feed pellets
Performance characteristics of TFPX series rotary distributor
1. The TFPX series distributor is easy to operate and convenient to install and maintain;
2. The transmission adopts a cycloidal pinwheel reducer directly connected to the transmission. The structure is compact and the discharge tube rotates smoothly;
3. The positioning of the discharge pipe is accurate and reliable, which avoids material channeling;
4. After the discharge pipe is positioned, it is reliably sealed with the distribution plate;
5. It is suitable for distributing powdery and granular materials in grain and feed processing plants, oil plants and starch plants.
Technical parameters of TFPX series rotary distributor
| | | | | | |
| --- | --- | --- | --- | --- | --- |
| Model | TFPX4 | MTFPX6 | TFPX8 | TFPX10 | TFPX12 |
| Capacity(TPH) | 30-40 | 30-40 | 40-60 | 40-60 | 40-60 |
| Power(kw) | 0.55 | 0.55 | 0.55 | 0.55 | 0.55 |
The above is the article for you: The role of rotary distributors in the production of feed pellets. If you are interested in our products or project solutions, please contact us. We will give you the best product quality and the best price. Email: sales@cnrichi.cn