Cat Litter Pellet Machine Turns Waste Paper Into Cat Litter Pellets
Cat litter pellet making machine, cat litter pellet mill and cat litter pellet production line are all equipment that can produce cat litter pellets. The raw materials of cat litter particles are very rich, including wood, paper, grain, corncobs, citrus, and grass etc.. Waste paper cat litter pellet mill are a good way to turn waste paper into treasure.The natural absorbency of paper makes it a viable alternative to traditional cat box fillers. To produce "paper" litter, post-consumer newspaper is re-pulped, de-inked, and screened. During the re-pulping process, long fibers are processed back into paper, but short fibers are considered waste. The short fibers are de-watered, pelletized, dried, combined with an odor-control agent, and packaged as cat litter. Like those made from wood, paper litter is also lightweight, about 40% less than clay-based litters. This paper-based litter is also flushable in small quantities.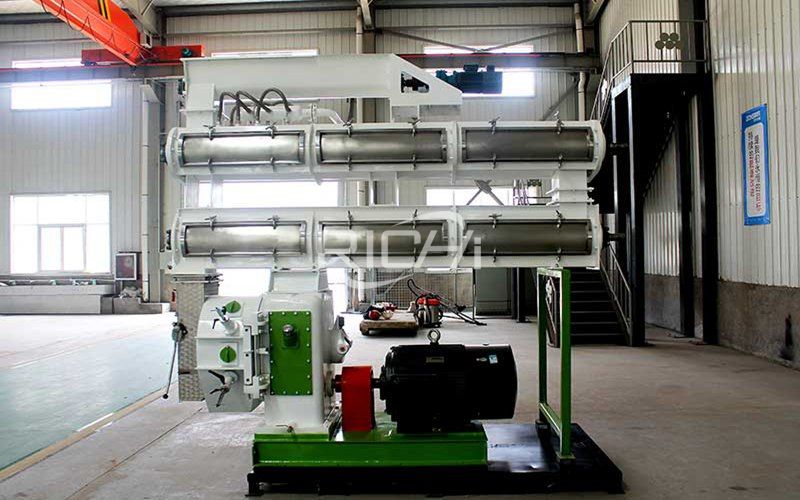 cat litter pellet making machine
How to make paper cat litter pellets?
If you want to make cat litter by yourself at home, just choose a cat litter pellet machine. However, the general cat litter production is large-volume and commercial production. At this time, cat litter pellet production line equipment must be used. A complete cat litter pellet production line includes host equipment such as crushers, cat litter pelletizers, dryers, coolers and balers. Whether you choose a cat litter pellet machine or a pellet production line, we will provide you with design plans, drawings and quotations for free, and the employees of Richi Machinery will serve you wholeheartedly!

How to make paper cat litter pellets
Crush the wood waste, crop waste, and waste papers and put them into the pellet machine, and you can get molded pellets. A pellet machine can help you deal with wastes and save your cost for cat litter.
A. Paper pellet cat litter is made of waste papers like newspapers. Some of them contains active carbon.
B. Paper pellet cat litter is a kind of soft litter. Paper pellets are similar with bentonite cat litter in size and hardness. Some paper pellets cat litter contains active carbon, which can improve the deodorization effects.
C. Paper pellet cat litter are less easy to cake. Although some paper pellets can cake in use, it will become a mass of paste. However, the paper pellets would turn gray after wet by urines, which are easy to recognize and clear away.
Name: Cat Litter Pellet Mill
Country: UK
Capacity: 5-6T/H
Date: Dec 17th,2016
Installation cycle: 2 Days
Pellet Size: 2-10mm
We exported a cat litter pellet machine to the UK. The output of this cat litter pellet machine is 5-6T/H. We designed a ring die pellet machine with a two-layer conditioner for our customers. After a test machine, the finished cat litter particles are very effective.
Advantages Of Waste Paper Cat Litter Pellet
Eco-friendly cat litter is made with 95% post-consumer recycled paper, and has non-clumping pellets that combat odors without any chemicals or added fragrances.
Absorbs messes 3X faster than other paper litter to help keep the litter box fresh and help guard against lingering odors, with daily scooping.
Dust-free means less mess when it comes time to scoop and clean the litter box. Plus, it comes in a resealable bag for easy storage.
Added baking soda boosts this litter's odor-protection power instead of just covering them up.
Perfect for single or multi-cat homes.
The above is the article for you: Cat Litter Pellet Machine Turns Waste Paper Into Cat Litter Pellets. If you are interested in our products or project solutions, please contact us. We will give you the best product quality and the best price. Email: sales@cnrichi.cn