NEWS
Industry News
Follow Richi Machinery trends, collect industry information, and discuss market focus.
Lucerne Pellet Machine South Africa For Sale
Date: 2020-08-21 08:29:37
From: www.pellet-richi.com
Clicks:
Lucerne Pellet Machine, also known as alfalfa pellet machine, is the same equipment, but the name is different. Lucerne Pellet Machine is more popular in Africa.
Lucerne Pellet Machine For Sale Cost
| | | | | | | |
| --- | --- | --- | --- | --- | --- | --- |
| Model | MZLH320 | MZLH350 | MZLH420 | MZLH520 | MZLH768 | MZLH858 |
| Anti-caking Feeder Power | 1.5KW | 1.5KW | 1.5KW | 2.2KW | 3KW | 3KW |
| Forced Feeder Power | 0.55KW | 0.55KW | 0.55KW | 0.75KW | 1KW | 1KW |
| Capacity | 600-800kg/h | 800-1000kg/h | 1.5-2t/h | 3-4 t/h | 5-7 t/h | 8-10t/h |
| Pellet Machine Power | 37kw | 55kw | 90kw | 110/132kw | 250/280kw | 280kw |
| Final Pellet | 6-12mm | 6-12mm | 6-12mm | 6-12mm | 6-12mm | 6-12mm |
Significance Of Using Animal Feed Pellet Machine
1. Making feed materials into compressed feed pellets can combine together all the nutritional ingredients that animal growth needs, prevent picky animals, in order to maximize the economic benefits.
2. In addition, making into feed pellets can also save feeds. For example, if you feed sheep with powder fodder, it is easily scattered, which can make sheep picky eaters. What's more, the wind will also blow up the powdery feed, causing waste, and the utilization rate of feed is only 92%. But if made into pellets, the sheep are not able to choose what they'd like to eat, thus the utilization rate of feed can reach 99%, which makes a 7% Utilization Rate of Feed Increase. Other animals are the same.
3. By producing your own feed pellets with feed pellet machine, you can save a sum of money on purchasing the made-up feed pellets, and you can adjust the feed pellets components in accordance with animal growth phases.
Saudi Arabia 5-6T/H & 10T/H Lucerne Alfalfa Pellet Production Line
Name: Lucerne Alfalfa Pellet Production Line
Country: Saudi Arabia
Capacity: 5-6T/H & 10T/H
Date: March 30th,2018
Installation cycle: 60 Days
Pellet Size: 1-6mm pellet
The main raw materials of customers are grass, alfalfa, corn and soybean meal. We have customized solutions for customers' raw materials. This alfalfa pellet production line is used for production chicken feed,cattle feed and sheep feed.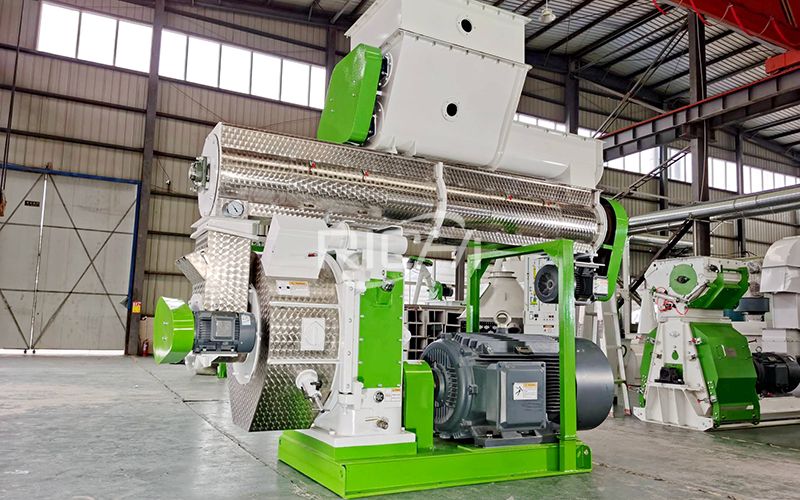 Lucerne Pellet Machine South Africa For Sale
Main Machines in this complete line
1. feed hammer mill*90KW;
2. feed mixer*3500kg/batch;
3. feed pellet machine*160kw;
4. cooling machine;
5. crumbler machine;
6. screen machine;
7. automatic packing machine and other equipment, It's one set full automatic contral system.
Benefits Of Lucerne Pellets
High in protein – 16-18%
The most universal feed on the market and suitable as a basic feed, concentrated feed replacement or as a supplement to the grain ration
Dust extracted – suitable for animals with respiratory tract problems
Natural source of vitamins, calcium and trace minerals
No added sugar and low in starch
High in raw fibre – helps to maintain healthy intestinal flora to ensure the optimal horse nutrition
They can be fed soaked, making it ideal for older animals who struggle to chew
Alfalfa Pellets are perfect for use in a snack ball to help reduce boredom and provide a more natural 'trickle' feeding rate
Effortless – easy to store and handle.
Related News
Reasons why the grass/alfalfa pellet machine oil pump is not oiling
Alfalfa Feed Pellet Plant Build Alfalfa Pellet Production Line
The above is the article for you: Lucerne Pellet Machine South Africa For Sale.
If you are interested in our products or project solutions, please contact us. We will give you the best product quality and the best price. Email: enquiry@pellet-richi.com