NEWS
Industry News
Follow Richi Machinery trends, collect industry information, and discuss market focus.
300,000 Chickens In Chicken Farms Need Feed Pellet Production Line Equipment
Date: 2020-07-24 08:35:40
From: www.pellet-richi.com
Clicks:
Recently, a customer in the UAE consulted on the poultry feed pellet production line. He says: "I start my own layer farming business around 300K birds, now i need to prepare the feed for 300k birds for that want to setup small plant to feed my chicken, i need that plan in Pakistan. Please send me quotation will all the details."
What Type Of Feed Pellet Machine Or Production Line Do 30,000 Chickens Need?
After calculation by our engineers, one chicken is calculated with 120g of feed a day, and 300,000 chickens are 36 tons of feed a day, with an average of 3-5t/h feed pellets per hour. Users can consider a 3-5t/h feed pellet machine, or 3-5t/h feed pellet automatic production line equipment.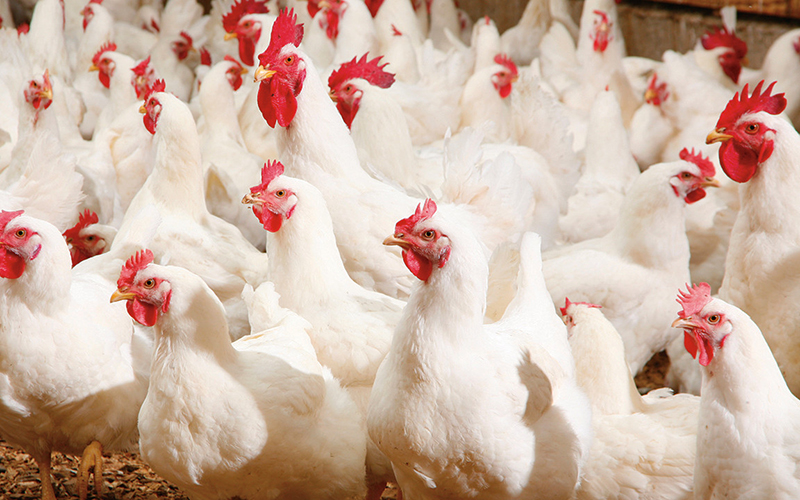 Chicken Farms
SZLH320 3-5 ton feed pellet machine for chicken duck goose, is applied for processing grains such as corn, wheat, beans, etc. into animal feed pellets and aquatic feed pellets. Our SZLH ring die feed pellet mill has a good market worldwide and enjoys a high reputation with professional installation guidance and technical support. Need large scale poultry(chicken ,duck ,goose, bird) feed pellet production? SZLH250 feed pellet mill is specially designed for you!
3-5t/h Feed Pellet Machine Manufacturer
Henan Richi Machinery Co., Ltd. was founded in 1995. After more than 20 years of development and growth, RICHI has grown into a modern enterprises engaged in independent research and development, production and sales, Including feedpellet machinery and engineering, biomass pellet machinery and engineering, organic fertilizer machinery and engineering, conveyor equipment and engineering, steel structure engineering, silos, automation control technology and engineering product development and manufacturing, design and installation. The company has passed ISO 9001 international quality management system certification and CE certification!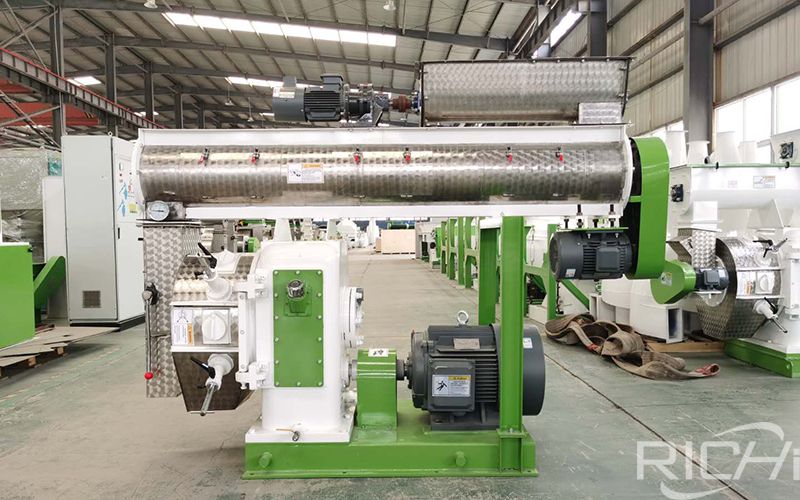 Chicken Feed Pellet Machine
Chicken Feed Pellet Machine Case
Uzbekistan 3-5T/H chicken Feed Pelleting System
Name: 3-5T/H small baby chicken Feed Pelleting System
Country: Uzbekistan
Capacity: 3-5T/H
Date: Dec 13th,2017
Installation cycle: 5 Days
Feed Pellet Size: 1-2mm small baby chicken feed, 3mm,4mm,6mm chicken feed
Main Machines List1. Pellet machine * 37 kw ; 4. Cooling machine* 1.5kw and other subsidiary equipment, It's one set pelletizing system and cooling system.
The Advantages Of Using Pelleted Feed Are:
1) The heat generated in conditioning and pelleting make the feedstuffs more digestible by breaking down the starches.
2) The palatability of the feed is increased.
3) The segregation of ingredients in a mixing, handling or feeding process is prevented. By feeding a pelleted feed, the animal is more apt to receive a totally mixed ration than one that has separated through these processes.
4) Waste during the eating process is minimized. When pelleted feed is fed, each animal receives a well-balanced diet by preventing the animal from picking and choosing between ingredients.
5) Bulk density is increased, which enhances storage capabilities of most bulk facilities. Shipping facilities are also increased, thereby reducing transportation costs.
6) Feed in pellets forms reduces natural losses because it reduces the formation of dust.
7) The time and energy consumption for the prehension of the food is decreased.
By combining moisture, heat and pressure on feed ingredients, a degree of gelatinization is produced which allows animals to better utilize the nutrients in these ingredients. Consequently, feed conversion will be improved. These advantages are particularly noticeable in the broiler industry, but the feeding merits of pelleted feeds over the mash form have also been repeatedly demonstrated in the feeding of swine. Compared to the feed in a mash, the + 25% fine pellets guarantee + 7% of nutrient efficiency, instead of the pellets without fine stand at + 14%.
Related Artical
8-10 tons cattle horse pig chicken bird pellet feed granulator model
1 ton chicken feed pellet production line case highlights
Features of RICHI 1-2 tph poultry chicken feed pellet machine
The above is the article for you: 300,000 Chickens In Chicken Farms Need Feed Pellet Production Line Equipment.
If you are interested in our products or project solutions, please contact us. We will give you the best product quality and the best price. Email: enquiry@pellet-richi.com