How Does the Poultry Feed Pellet Machine Produce 8-10 Tons of Poultry Feed Pellets in One Hour?
Q: Hello. I would love to purchase a poultry feed machine of capacity 8-10 T/H or 10-12 T/h. I am located in Tanzania and I want to know the whole purchasing, installation cost of the poultry feed machines here in Tanzania. Looking forward to hear from you.
A: Hello, friends from Tanzania. Glad to receive your letter. Whether you want to buy an 8-10 T/H or 10-12 T/h poultry feed pellet machine, you can choose the SZLH 420 model feed pellet machine from Richi Machinery. The output range is 8-12 T/H, and the price of this equipment is around 28000USD-34000USD. Of course, the price of each manufacturer will fluctuate, and the price of big brands will be higher. After all, product quality and brand effect are there.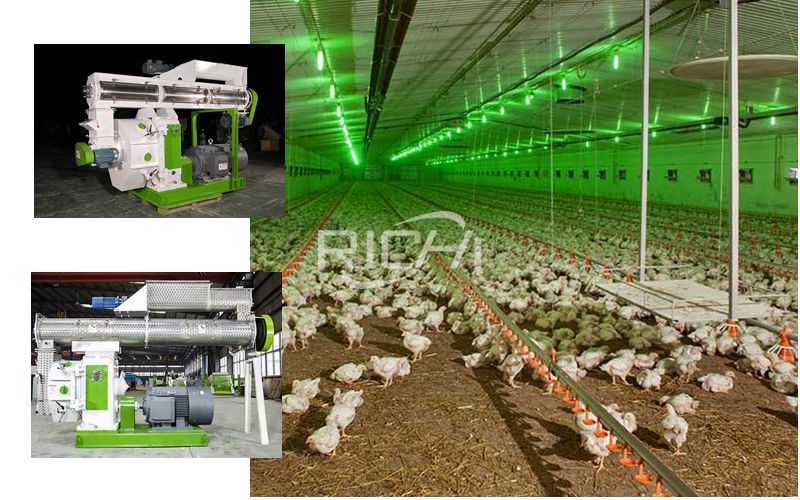 Poultry Feed Pellet Machine
Model: SZLH420 one-layer conditioner pellet mill
Capacity: 8-12 TPH
Main Motor Power: 110kw
Feeder Motor Power: 1.5kw
Conditioner Power: 7.5kw
Dia.of Ring Die: 420mm
Final Pellet: 2~12mm
Certification: CE & SGS & ISO
Application: Can be used in pig, rabbit, poultry, horse, cow, sheep, chicken, pigeon, bird, sinking fish, floating fish, shrimp, crab feed pellet production line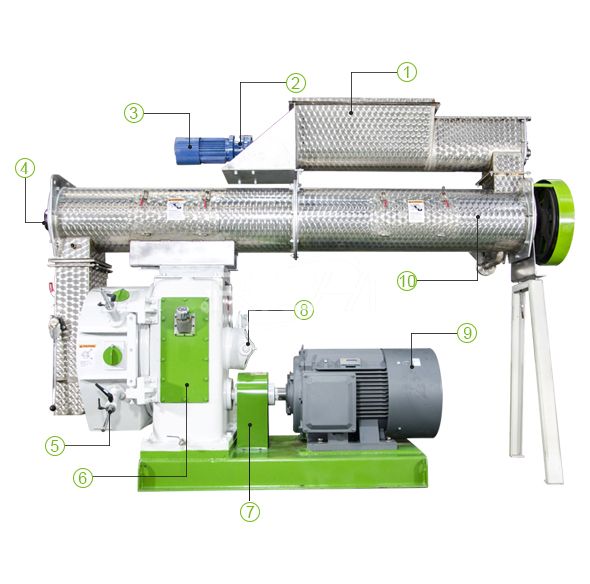 1. Stainless Steel Feeder
2. Gear Reducer
3. Frequency Conversion Motor
4. SKF Bearing
5. Cutter Assembly
6. Gearbox
7. Shaft Coupling
8. Safety Assembly
9. SIEMENS Motor
10. Stainless Steel Conditioner
Why You Need Feed Pellet Machine
As the number of commercially raised livestock, poultry and other animals continues to increase, the need for food has also grown and the use of pellets is becoming more widespread. Animals like cattle, goats, rabbits, pigeons, pigs, chicken, sheep and fish can all be fed with pellets, and these pellets are considered to be a great source of balanced nutrients for the animals. If you have a large poultry farm, or a large feed factory. It is necessary to buy a feed pellet machine. In the long run, it can reduce the feed cost of poultry farms. Can increase the income of feed mills.
If you want to know about our feed pellet machine equipment, welcome to contact us. We have various output animal feed pellet machines, the output and models are as follows:
| | | | | | | |
| --- | --- | --- | --- | --- | --- | --- |
| Model | Capacity(TPH) | Main Motor Power(kw) | Feeder Motor Power(kw) | Conditioner Power(kw) | Dia.of Ring Die(mm) | Final Pellet(mm) |
| SZLH250 | 1-2 | 22 | 0.75 | 1.5 | 250 | 2~12 |
| SZLH320 | 3-4 | 37 | 1.5 | 2.2 | 320 | 2~12 |
| SZLH350 | 5-7 | 55 | 1.5 | 3 | 350 | 2~12 |
| SZLH420 | 8-12 | 110 | 1.5 | 7.5 | 420 | 2~12 |
| SZLH508 | 10-18 | 160 | 2.2 | 11 | 508 | 2~12 |
| SZLH558 | 15-25 | 180/200 | 2.2 | 11 | 558 | 2~12 |
| SZLH558D | 14-22 | 160/180/200 | 1.5 | 7.5 | 558 | 2~18 |
| SZLH678 | 20-30 | 220/250 | 2.2 | 11 | 678 | 2~12 |
| SZLH678D | 15-25 | 200/220/250 | 2.2 | 11 | 673 | 2~18 |
| SZLH768 | 25-40 | 280/315 | 2.2 | 11 | 768 | 2~12 |
| SLZH858 | 25-42 | 280/315 | 2.2 | 15 | 858 | 2~18 |
The above is the article for you: How Does the Poultry Feed Pellet Machine Produce 8-10 Tons of Poultry Feed Pellets in One Hour?. If you are interested in our products or project solutions, please contact us. We will give you the best product quality and the best price. Email: sales@cnrichi.cn