NEWS
FAQ
Follow Richi Machinery trends, collect industry information, and discuss market focus.
How to Make Pig Feed Pellets in Large Feed Plant
Date: 2020-10-30 08:49:31
From: www.pellet-richi.com
Clicks:
---
Overall feed production is projected to rise during the remainder of 2020 and into 2021 as the swine herd continues to recover from African swine fever (ASF) and the poultry sector expands to meet growing demand. Referencing statistical data from China's feed industry association, the authors reported that, in July, the country's swine feed production increased 10.3% month-over-month and 36.8% year-over-year. Sow feed production witnessed a 77.8% increase year-over-year.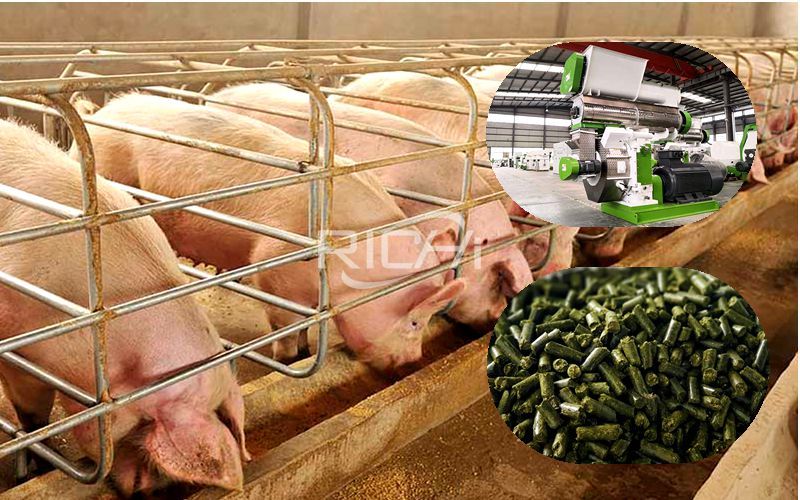 How to Make Pig Feed Pellets in Large Feed Plant
Then, the demand for pig feed increases, whether it is a feed plant or a pig farm is a good thing. The feed plant needs to produce more pig feed pellets to meet the needs of the pig industry. Then, do you know how large feed factories make pig feed pellets ? The production of pig feed is inseparable from pig feed pellet production line equipment. How does the pig feed pellet production line produce feed pellets?
Raw Materials for Pig Feed Pellets
Cereals: corn, wheat bran, rice bran, sorghum, millet, vinasse, etc.
Proteins and fat: fishmeal, bone meal, soybean meal, peanut cake, cottonseed cake, rapeseed cake, etc.
Additive: spices, sweeteners, molasses, fat, mineral elements, vitamins, etc.
Pig Feed Pellets Diameter: 3.5mm
Compressing Ratio: 7-8
Why Do Pig Feed Plant Choose Ring Die Pellet Machines?
1. The ring die pellet machine has large output and is suitable for commercial pellet production.
2. The ring die pellet machine is equipped with a modulator, which needs steam heating to disinfect and sterilize, which is more healthy for animals.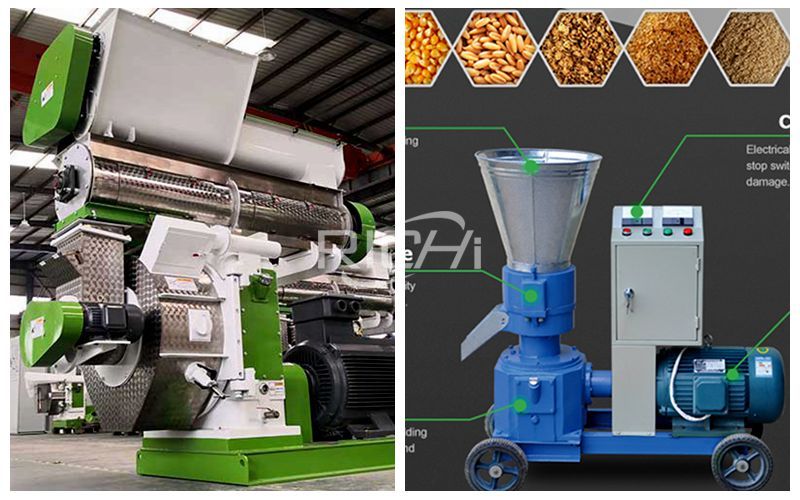 Ring die pellet machine VS flat die pellet machine
Why Not Choose a Flat Die Pellet Machine
1. Soft pellets, large percentage of pellets will break into powder when delivery.
2. Low compression ration of die, means the nutrition in single pellet is low, the speed of growth of animal is much slower .
3. The materials can not be cooked by steam, means can not kill bacteria and can not cook the materials.
Lead :
The illness can not be controlled, and the digestion can not be fully by animals.
Usually suitable to family farm use, not for commercial use in market.
Raw materials crushing: Raw materials need to be crushed first before pelletizing. As to the materials grinding, you can weigh the raw materials according to the formula and then ground them in feed hammer mill, or you can ground them separately and then mix. This two methods are both OK and you can choose according to your self condition. Fineness of raw materials have a significant effect on the feed use efficiency. The smaller the size of ground raw materials, the easier the gelatinization of materials, thus easier pellets to be formed. For pig feed pellets making, the screen sieve diameter of feed hammer mill is less than 1mm, while for weaned piglet is only 0.3mm.
Raw materials mixing: Mixing is an essential operation for the whole pig feed pellets production line. Grounded raw materials should mix evenly before sent to be pressed.
Pig feed pellets pressing: Pressing is the core process for pig pellets producing. Moisture content, temperature and steam pressure during this process has great influence on the final pellets quality. Pellets hardness will increase if the moisture content of raw materials is higher than 8-10%. Most suitable moisture content is 16-17%.
Temperature requirement is not higher than 88% which can range from 82℃ to 88℃ according to the pellet formation status and moisture content of the pellets. If pelletizing temperature is low, the starch gelatinization is not sufficient, then pelletizing effect is lower; however if the temperature is too high, the nutrient will lose seriously.
Steam pressure has direct relation to moisture content and pelleting temperature. Generally speaking, proper steam pressure—between 394 KPa and 490 KPa will generate good pelleting effect.
Pig feed pellets cooling and packing: Pig feed pellets are soft and hot after processed by feed hammer mill, so transfer them into the feed cooling machine to remove heat and moisture contained in the pellets becomes necessary. After cooling, pellets are dry and hard, then can be transport to the packing machine to be packed in bags, which then become convenient for storage and transportation.
Why Choose Pig Feed Pellets?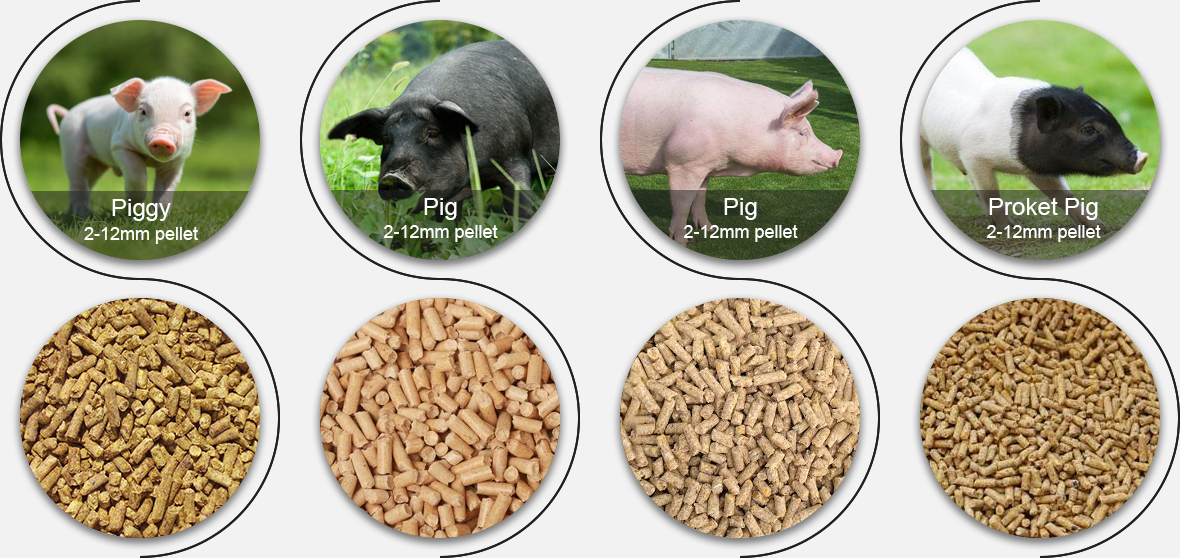 Pellet feed first appeared in Europe, and account for most of today's feed market in America, Japan, Germany, etc. Average level of world's feed pellets using is about 60%. Then why choose feed pellets for breeding? Generally speaking, there are two types of pig feed: powdery feed and pellets feed. Powdery feed has two major feeding methods: dry feeding and wet feeding. Wet feeding is mixing the feed with water, which is not suitable for scientific feeding because of the reduction of food intake. As to dry feeding, if powder is fine, it would affect pig food intake to some extent, while if the powder is coarse, pig food utilization rate may be influenced. Pellets feed has some superior advantages for pig breeding compared with powdery feed.
The above is the article for you: How to Make Pig Feed Pellets in Large Feed Plant.
If you are interested in our products or project solutions, please contact us. We will give you the best product quality and the best price. Email: enquiry@pellet-richi.com
---