NEWS
FAQ
Follow Richi Machinery trends, collect industry information, and discuss market focus.
2 Tph Automatic Poultry Feed Complete Line Machinery
Date: 2020-09-16 08:40:38
From: www.pellet-richi.com
Clicks:
---
The poultry feed pellet production line is one of the best-selling production lines, because every country and region has chicken farms, chicken feed is needed if there are chickens, and large chicken farms cannot do without the chicken feed pellet production line. Yesterday a customer from Afghanistan needed a 2-ton fully automatic chicken feed pellet production line. He said:"I am Yahya from Kabul/Afghanistan. i need a 2 tph automatic Poultry feed complete line machinery, for grinding and pelletizing corn, wheat, rice, barely and etc. please provide me quotation for this Line asap."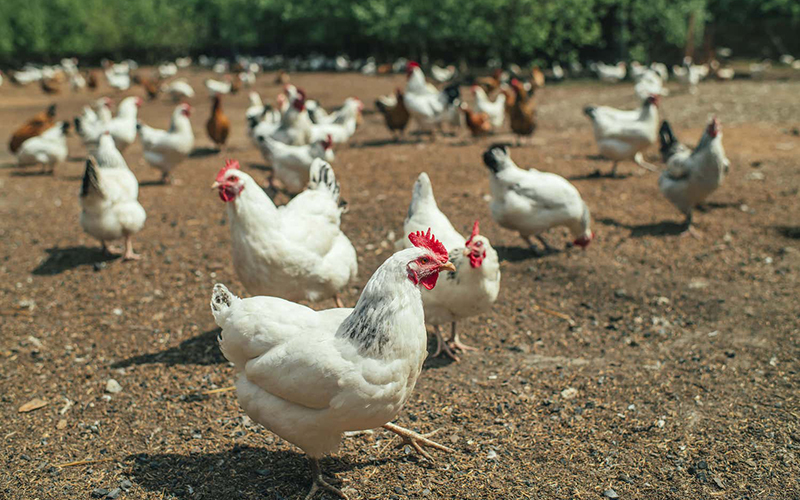 2 Tph Automatic Poultry Feed Complete Line Machinery
Manufacturing Process of 2 Tph Automatic Poultry Feed Production Linet
Raw materials → Feed Grinding → Batching → Mixing → Pelletizing → Pellet Cooling → Pellet Crushing → Screening & Grading → Pellet Packing
Chicken Feed Production Process
Raw materials for chicken feed pellets can be soybean, cottonseed cake, corn, brown rice, paddy, sorghum, soybean meal, fish meal, bone meal, etc.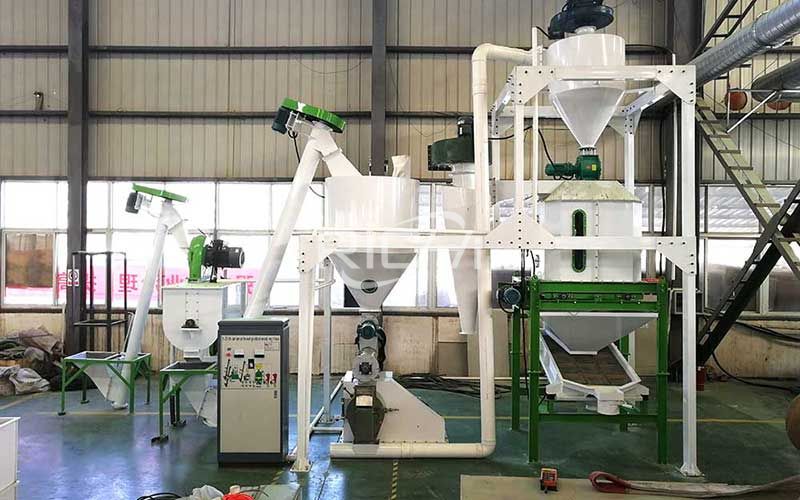 Chicken Feed Production Process
Feed Grinding
The feed grinder is suitable for grinding the raw material ingredients to the required size for pelletizing. Three types of feed grinders can be chosen. The hammer mill is suitable for small-sized or medium-sized feed pelletizing plants. The wide chamber fine grinder and water drop hammer mill are usually used in large-sized and medium-sized feed pelletizing factories.
Batching
Feed batching is necessary in chicken feed pellet production, which can insure the chickens receive the correct amount of nutrients and feed additives. If the feed contains fewer ingredients than target, it will not provide the proper level of nutrients to the chicken. Conversely, the addition of ingredients above the target weight can significantly increase the cost of feed. Since chicken in different growth stages need different nutrients, the feed mill manager should batch the ingredients according to the formula strictly.
Mixing
Mixing is considered to be one of the essential operations in feed pellet processing. Various ingredients can be blended sufficiently in our feed mixer, ensuring every bite of finished feed pellets can have balanced nutriments.
Pelletizing
Pelletizing is the core process of the whole chicken feed pellet production. We supply two kinds of feed pellet machines: ring die feed pellet machine and flat die feed pellet machine. Ring die feed pellet mill is ideal for chicken feed pellets production in large farms or feed pellet factories. In the conditioner of ring die feed pellet mill, the materials can be mixed and cooked fully and uniformly to meet special needs and ensure high quality of final chicken feed pellets.
Pellet Cooling
The pellets from feed pellet mill are soft and moist, and they will shock without cooling. Counterflow pellet cooler is used here to remove pellet heat as well as the moisture content to ensure pellets quality and shelf-life.
Feed Pellet Crushing
Feed pellets with different sizes for chicken in different stages. The double roller crusher is designed to break large-sized pellets into small ones as required by the customer. Crushed pellet has a length range of 0.6-1.5mm or 1-2.5mm.
Feed Pellet screening & Grading
The crushed feed pellets are in different sizes, and there may be some powders. The rotary sieve is designed to sifting and classifying the pellet feed. After processing, you can get the qualified feed pellets without fine powder.
Feed Pellet Packaging
The final chicken feed pellets should be packaged for transporting, storing or selling. Automatic weighing and packing machine plays the indispensible role in improving chicken feed pelletizing efficiency.
Advantages of Feed Pellets for Chicken Feeding
* Decreased feed wastage
* Reduced selective feeding
* Decreased ingredient segregation
* Destruction of pathogenic organisms
* Improved palatability
* Easy transportation and storage
Name: 1-2T/H Poultry Feed Powder Production Line
Country: Tanzania
Capacity: 1-2T/H
Date: Dec 30th,2016
Installation cycle: 10 Days
Feed Pellet Size: powder feed
Workshop size(L*W*H):2.3m*1.5m*3m
Main Raw material:Corn, wheat,Soybean Meal, and other Grain.
Our company provides drawing details is flow chart , pit drawings, install drawings, operating instructions. The operate worker in this line: 2 person Problem in the during installation: Customer have enough experience, but didn't know how to adjust the hammer mill , so our after-sales technical team very positive to guidance them how to install, and help them to solve these problem in the process of install. Our company provides drawing details is flow chart , pit drawings, install drawings, operating instructions.
For the 2 ton poultry feed pellet production line or the 2 ton poultry feed pellet machine, we have many poultry cases for reference. There are 1-2t/h for small ones and 20-30t/h for high-volume ones. If you have a poultry feed pellet machine or production line, please contact us!
Related News
5-7 Tons Per Hour Poultry Feed Pellet Production Line Price and Case
5 T/hr Floating Fish Feed Extruer And Poultry Feed Production Line
How To Make Grass Pellets For Poultry Cattle Sheep And Pig
1-50 t/h Aquatic Cattle Poultry Feed Production Line
The above is the article for you: 2 Tph Automatic Poultry Feed Complete Line Machinery.
If you are interested in our products or project solutions, please contact us. We will give you the best product quality and the best price. Email: enquiry@pellet-richi.com
---