NEWS
RiChi News
Follow Richi Machinery trends, collect industry information, and discuss market focus.
Delivery information for pellet production lines projects in April
Date: 2022-04-24 14:08:50
From: www.pellet-richi.com
Clicks:
---
Recently, a number of pellet production line project of Richi Machinery have been successfully delivered, and these feed production line and biomass wood pellet line equipment will go to Uzbekistan, New Zealand, South Korea, El Salvador, Senegal, Macedonia, Cuba, Oman and other countries.
Meanwhile, construction is ramping up on our latest projects in Malaysia, Indonesia, Australia, Canada, Japan, Thailand, the United States and China.

10-15T/H poultry feed production line for sale Uzbekistan
This Uzbekistan customer is our old customer. From the early order of 1-2t/h small feed production line to the SZLH420 computerized automatic batching complete feed production line purchased, after a long-term comprehensive inspection and comparison of many domestic companies, finally Richi Machinery was chosen.
The customer personally went to the company to communicate and negotiate in detail and signed a complete project contract, and hoped to become the exclusive agent of Richi Machinery in Uzbekistan through the construction of this poultry feed production line project. This process fully reflects the customer's recognition and affirmation of Richi Machinery's product quality, technical level, comprehensive service and comprehensive strength of the company.

The SZLH420 poultry feed production line shipped this time contains 2*1000-ton silos. The whole poultry feed line adopts the production process of first crushing and then batching, and a single poultry feed pellet making machine can produce about 8-12t/h poultry pellets. All operations from raw grain receipt to finished product distribution are mechanized and automated, and each building sub-item is closely connected, so that the overall feed production line occupies a small area and the conveying line is short, which helps customers to save the total investment cost to the greatest extent.
In the later stage, we will do our best to provide installation guidance and commissioning services for the 10-15t/h poultry feed line project, so as to make all-round preparations for the smooth commissioning of the project. Richi Machinery, as always, focuses on internationalization strategy, leads intelligent development with technology, and is committed to creating higher-value granulation system solutions for global customers.
1T/H extruded aquafeed production line for sale Senegal
This extruded aquatic feed production line is designed with an hourly output of 1T/H, and the total aqua feed line equipment power is about 124KW. It specializes in the production of tilapia feed. The process mainly includes: receiving, cleaning, coarse grinding of raw materials, primary batching and mixing, secondary crushing, secondary mixing, conditioning and puffing, granulation and spraying, product grading and packaging and other processes. The whole aqua feed production line has reasonable design, compact structure, stable and efficient operation.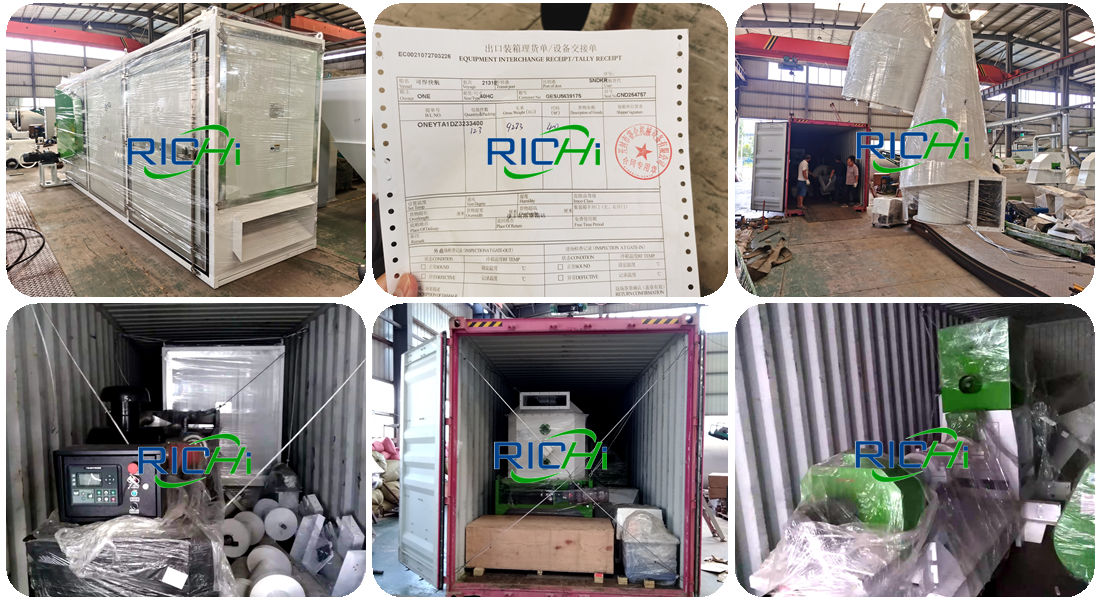 Richi Machinery specializes in the production of aqua feed machinery and engineering, and can provide customers with livestock feed (pig, etc.), poultry feed (chicken, duck, goose, etc.), ruminant feed (cattle, sheep, etc.), general aquatic feed (four major fish, etc.), Special aquatic feed (shrimp, crab, etc.), extruded aquatic feed (floating and sinking fish feed, shrimp, etc.), premix (including various additives, etc.), pet food (cat food, dog food, etc.) complete sets of pellet plant equipment solutions to meet the different needs of customers.
5-7T/H animal feed production line for sale Peru
Richi Machinery's Peru 5-7t/h animal feed production line project successfully completed the export shipment. The output of this animal feed line project is about 5-7 tons per hour. The complete set of animal feed equipment has undergone strict control in every step from design, procurement, production, inspection, packaging, etc., and the products meet international quality standards to ensure that every piece of feed equipment sent to customers is a high-quality work. The Peru customer established a friendly cooperative relationship with RICHI as early as last year, and signed a 1-2tph chicken feed production line in 2020.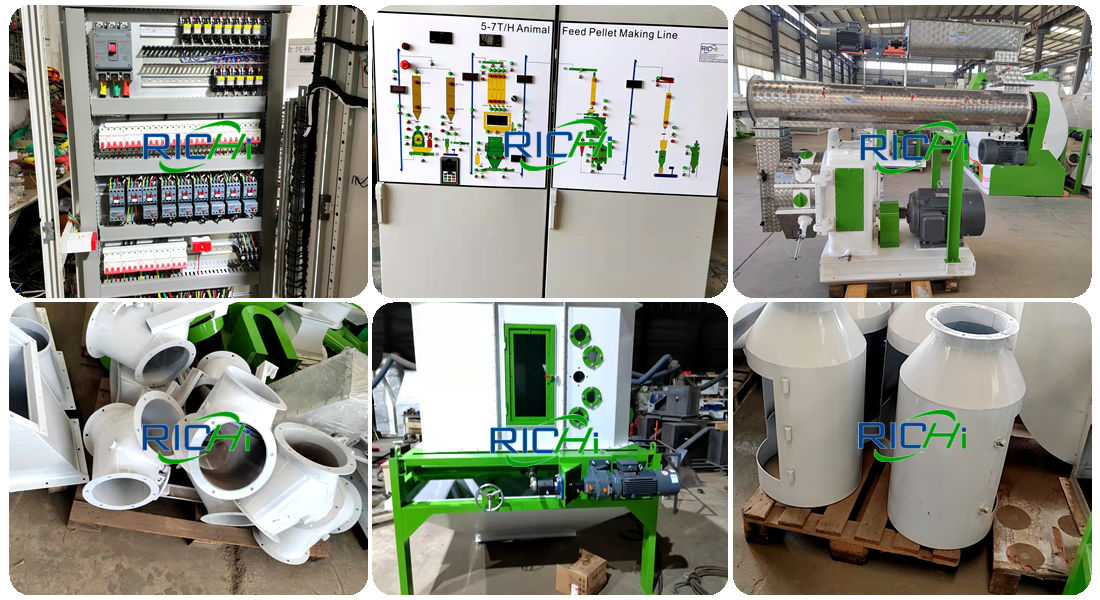 Due to the high trust in Richi Machinery's excellent product quality, professional technical services and rich installation experience, this year, in order to expand production capacity, a 5tph poultry feed production line has been added. A Peru customer said: "We trust Richi Machinery very much and will consider continuing to cooperate with fish feed production lines in the future."
The 5-7tph animal feed production line shipped a total of 2 containers of containers, which were successfully dispatched on April 22. In order to meet the individual needs of customers, all employees of Richi Machinery optimize the overall planning, make concerted efforts, and complete the production on time with high quality and quantity.
The animal feed production line project includes optimized and upgraded main equipment: SFSP series feed pulverizer, SHSJ.1 double-shaft paddle mixer, SZLH350 aquatic feed granulator, SKLN counter-flow cooler, SFJH rotary grading screen, and other supporting equipment with accessories.
New Zealand Aquatic Pet Feed Production Line Transformation Project
Richi Machinery also successfully completed the delivery of feed machinery to an old New Zealand customer. The main products shipped this time are SFSP feed crushers, bucket elevators and other host equipment and their auxiliary equipment.
The New Zealand customer was a customer of Richi Machinery's custom pet food dryer before, and this time it continued to replace the old equipment on the original basis. RICHI's advanced feed dryer quality has won the trust and recognition of customers, which gives us the opportunity to cooperate again.

The SFSP series water drop crusher purchased by the New Zealand customer is used by large, medium and small feed enterprises to crush raw materials; it is also suitable for crushing in the pharmaceutical industry. It can crush various granular feed materials, such as corn, sorghum, wheat, beans, crushed cake and other materials.
The feed grinder equipment adopts the design of enlarged and thickened heavy-duty base, the design of lowering the center of gravity of the spindle rotation, effectively improving the vibration phenomenon, and reducing the wear caused by friction between the components;
The wide-body crushing cavity has a larger crushing area and greatly improves the output; the model with a crushing chamber width of 800mm or more adopts a multi-cavity structure to reduce the breakage rate of the sieve plate;
The shaft end is used to enter the air laterally, which can effectively destroy the circulation and reduce the temperature rise of the bearing;
The material guide plate is driven by a cylinder, which is interlocked with the turning of the pulverizer, and has a high degree of automation;
The newly designed anti-loosening handwheel, shock-proof and anti-loosening pressing structure, is safer and more reliable than the traditional one;
The thickening design of the wall panel of the crushing chamber increases the durability and stability of the whole machine;
Equipped with SKF original imported bearings, stable operation and long service life.
MZLH520 biomass pellet mill for sale Korea
Just today, Richi Machinery sent another new customized biomass granulation equipment overseas. The model is MZLH520, which is used to process PET pellets, and the shipping destination is South Korea.
Since the outbreak of the new crown epidemic, Richi Machinery has overcome difficulties and coordinated various parties to ensure the quality and timely delivery of all overseas equipment orders.
The delivery equipment includes MZLH520 high-efficiency biomass granulator, pellet cooler, vibrating grading screen, belt conveyor, electronic control system, ring die, pressing roller and other supporting equipment. Among them, the MZLH520 biomass granulator is a new and upgraded PET special plastic granulator independently developed by Richi Machinery on the basis of the original 420 model. Good safety, high degree of intelligence, comfortable operation, energy saving and environmental protection.

The efficiency is 15% higher than that of the belt drive type. The transmission part of the whole biomass pellets making machine adopts high-quality imported bearings and oil seals, which are durable, reduce the follow-up use and maintenance costs of customers, and are more user-friendly.
With the continuous development of social productive forces, green and environmental protection has become an important issue that the world pays attention to. Combining the practical application in the field of renewable energy, Richi Machinery has taken the lead in developing a variety of high-quality high-performance products, which are widely used in various countries and regions around the world. With the core advantages of "high efficiency, intelligence and environmental protection", Richi Machinery creates a turnkey granulation system for customers.
35-50T/H poultry and livestock feed factory in China
Recently, the 35-50t/h poultry and livestock feed factory of Yunnan Tailong Feed Co., Ltd. constructed by Richi Machinery is under construction.
The large poultry and livestock feed factory project will be installed in March 2022 and is expected to be completed in July this year, and the project will be accepted in August. During the epidemic period, Richi Machinery will pay close attention to prevention and control and development, make overall coordination, make scientific arrangements, speed up the progress of project construction, ensure the quality of construction details, and help customers put into production at an early date and increase efficiency.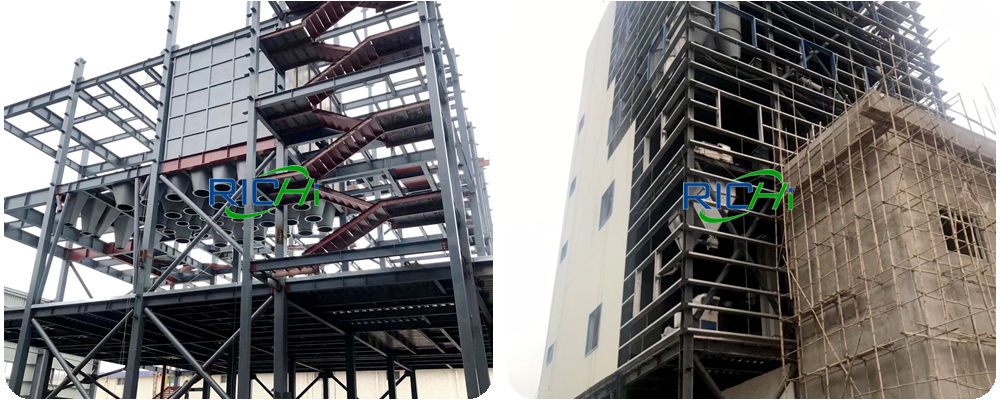 We are very confident that in terms of installation technology, electronic control system, paint construction, etc., Richi Machiney will be professionally recognized with the most professional construction level; The timely and efficient service system will be highly recognized and appreciated by customers. Richi Machinery will always put quality first, take customers as the center, take innovation and development as the main line, insist on excellence in equipment, design and installation, and continue to create high-quality pelletizing plant projects for customers!
40-50T/H Livestock and Poultry Feed Production Line in China
Richi Machinery designed a 4*SZLH420 poultry and livestock feed production line according to the customer's own development needs, using six crushing lines, three batching mixing production lines, four SZLH420 feed pelletizing lines, and five finished product packaging and stacking lines. Two lines are reserved for engineering installation, which is convenient for customers to expand production capacity in the future.
The entire poultry and livestock feed production line integrates advanced feed pelleting technology, and adopts Liangyou's efficient, environmentally friendly and stable equipment configuration and control system from crushing, mixing, pelletizing and other technological processes.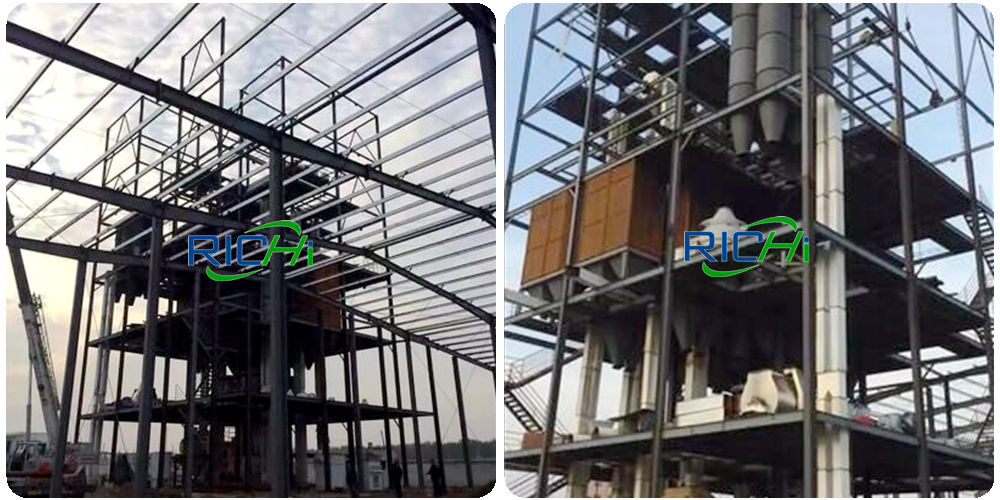 In order to reduce the area of ​​the finished product warehouse, Richi Machinery engineers designed the process of real-time online loading of finished products. The final feed pellets are smooth, uniform and beautiful, which is favorable for market sales and has been well received by customers.
The safety, quality, progress and standards during the construction of the feed factory are effectively guaranteed and controlled, and the whole animal feed line process is tailored to local conditions to help customers achieve differentiated competitive advantages.
Since the start of construction, Richi Machinery has been adhering to the concept of technology first, dispatched experienced project managers and skilled installation teams to strictly implement the design requirements, establish a sense of quality, and ensure scientific management while ensuring safety, quality and progress. , standardize the construction, and go all out to build high-quality projects. The project is expected to be completed and accepted in August 2022.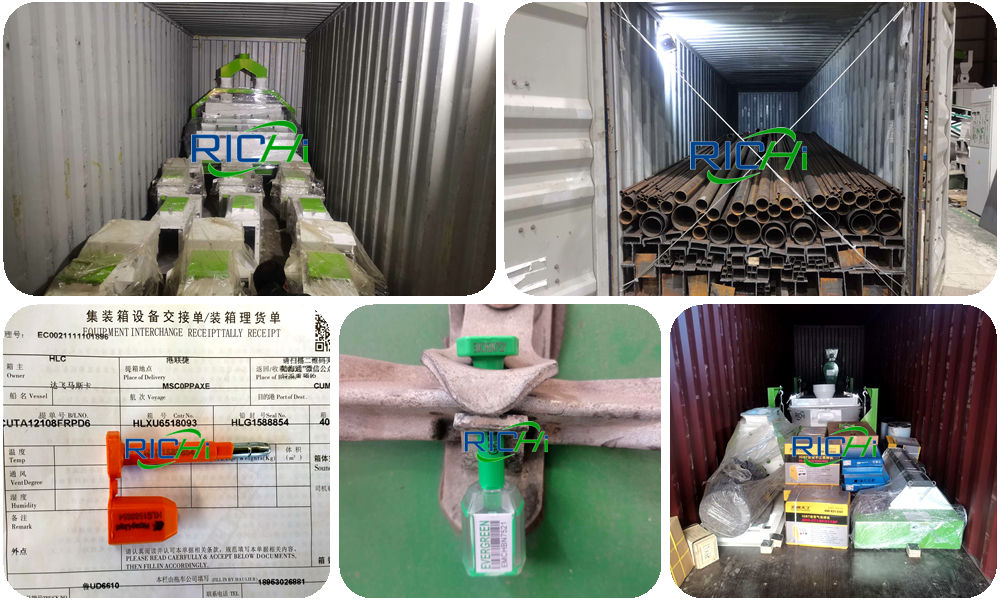 More item shipping information
5 T/H premix production line shipped to El Salvador
1.5-2T/H rabbit feed production line shipped to Cuba
4*350T steel silo & 10-14t/h feed production line shipped to Algeria
MZLH350 sawdust granulator shipped to Thailand
SZLH320 feed pellet machine shipped to France
2T/H wood pellet machine shipped to Albania
Wood shredder shipped to Spain
1T/H wood pellet machine shipped to Portugal
SZLH250 feed pellet machine shipped to Russia
If you would like to know more about the pellet production line and pellet machine projects, please contact Richi Machinery.
The above is the article for you: Delivery information for pellet production lines projects in April.
If you are interested in our products or project solutions, please contact us. We will give you the best product quality and the best price. Email: enquiry@pellet-richi.com
---