NEWS
RiChi News
Follow Richi Machinery trends, collect industry information, and discuss market focus.
Mexico 1-1.5 T/H Biomass Wood Pellet Project Goes Into Production
Date: 2023-11-06 15:04:37
From: www.pellet-richi.com
Clicks:
---
Recently, the 1-1.5t/h biomass wood pellet project built by RICHI for a Mexican customer was put into production.
The client of this project operates a paper mill, mainly engaged in the manufacturing and processing of tissue paper, corrugated paper, and cartons; waste paper acquisition, and plastic product manufacturing and processing enterprises. The total land use area is approximately 5212m². This project covers an area of approximately 1400m².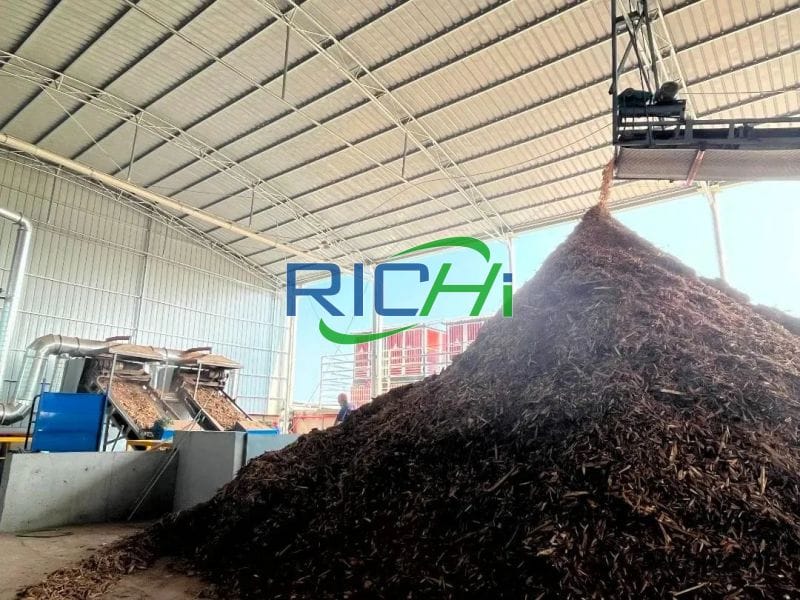 In October 2021, this Mexican customer consulted RICHI for information on the construction of a wood pellet production line. It invested US$90,000 to add a small biomass wood pellet production line to the existing factory and changed the original unformed wood burning method to biomass. Shaped pellet combustion is expected to produce 1,750 tons of biomass wood pellets annually. The main production processes include crushing, granulation, etc.
In March 2022, the project was successfully signed. The project construction content includes the main engineering (production workshop 1F: feed screening, crushing, screening, granulation, raw material stacking), public works, water supply system, drainage system, power supply system, and environmental protection engineering.
It is worth mentioning that the wood pellets from this project will be used as energy for the paper mill as an auxiliary supporting process for the original project, and the finished products will not be sold outside.
In this project, the customer's original equipment mainly includes fourdrinier multi-cylinder paper machines, vacuum pumps, paper cutters, refiners, split paper cutters, full-sheet automatic paper cutters, moistening machines, rewinders, super presses optical machine, mobile piston compressor, UV-type upflow pressure screen, micro reciprocating piston compressor, pulper, prototype slag remover, baler, paper reel, roots vacuum pump, water ring vacuum pump, micro Reciprocating piston compressor, 6t/h boiler, etc.
In order to build a new wood pellet mill line in the paper mill, the customer purchased equipment such as a discharging dragon, a belt conveyor, a finished product silo, a crusher, and a biomass pellet mill machine from us.
The main source of raw materials used in this project is 1980 t/a construction waste wood (the main ingredients include wood chips, shavings, waste wood blocks, etc.) with a moisture content of about 60%. The specifications of wood pellets for this project: moisture content ≤11.6%, size 6-10mm.
01
Production process design:
According to the customer's raw material and process requirements, the wood pellet production process designed by RICHI for the customer is as follows: the raw material (waste construction wood) is screened to remove the iron blocks in the raw material, and then crushed and screened.
The coarse particles are re-crushed, and the fine particles are carry out dense molding (no need to dry before granulation, granulation temperature is 75℃~95℃), and the granulated products are transported to a closed finished product silo using a conveyor belt for temporary storage.
This project uses an existing idle factory building for construction, and makes full use of the space to carry out a reasonable layout. The production workshop is located on the south side of the idle factory building, away from the nearest sensitive points, and the workshop is closed for processing to prevent unorganized emission of dust.
The production workshop area we designed for our customers is divided into: feed screening area, crushing area, screening area, granulation area, and raw material stacking area. In summary, from the perspective of functional zoning, production and environmental protection, the overall layout of this project is reasonable.
Nowadays, more and more people are investing in the field of wood pellet processing. There are many customers who are not specialized in wood pellet processing, but like the Mexican customer of this project, have sufficient waste resources that can be converted into The energy required by your own factory can greatly save the consumption of other fossil energy and obtain dual benefits of environmental protection and economy.
If you also have a large amount of idle waste or have channels to obtain low-cost agricultural and forestry waste, contact Richi Machinery to get a reasonable pellet production line plan and equipment quotation!
The above is the article for you: Mexico 1-1.5 T/H Biomass Wood Pellet Project Goes Into Production.
If you are interested in our products or project solutions, please contact us. We will give you the best product quality and the best price. Email: enquiry@pellet-richi.com
---