Overview of 250kg best quality poultry feed mixer for sale Georgia poultry farm
The animal feed mixer is one of the most important feed equipment in the process of animal feed production. The 250kg small animal feed mixing machine produced by RICHI is a horizontal feed mixer with high mixing uniformity and small footprint. It can be used to minerals, additives, premixes and other materials are mixed and diluted, and the mixing effect is good. It is the best choice for many farmers.


This project was signed on January 25, 2018. The Georgian customer is a poultry farmer who has his own poultry farm. He bought this hot sale chicken feed mixer to process powdered chicken feed to feed laying hens. The power of this poultry feed mixing machine is 4KW, and the power distribution is 380V, 50HZ, 3 phases.

Packing of 250kg poultry feed mixing machine for sale Georgia
RICHI MACHINERY is one of the earliest feed mixer manufacturers in China. In more than 20 years of development, it has accumulated experience in the production, installation, debugging and maintenance of professional feed mixers and supporting equipment. , Has become a well-known supplier of feed mixing equipment in China, and has been listed as a designated production procurement unit by many well-known animal feed factories.


Do you know the working principle of RICHI 250KG Double Ribbon Type Mixer For Poultry Feed?
This drum mixer for poultry feed is mainly made of stainless steel and carbon steel. The model has excellent sealing performance and no residue. The working principle of the chicken feed mixer machine is: when the mixture is fed from the chicken feed mixer machine material port enters the mixing chamber, and the rotor drives the stirring rod to stir the materials. At the same time, because the mixing chamber is continuously rotating and tumbling, all materials are constantly turning, shearing, and convection spreading, so as to achieve the purpose of uniform mixing.


In addition, when maintaining this small poultry feed mixer, pay attention to what kind of feed the farm feed mixer machine is suitable for. For example, the mixer cannot process some feed that is too rough. In addition, regularly check whether the parts of the transmission chain, sprocket, bearing, conveyor belt and other parts in the chicken feed mixer are worn out to ensure that each part can work normally.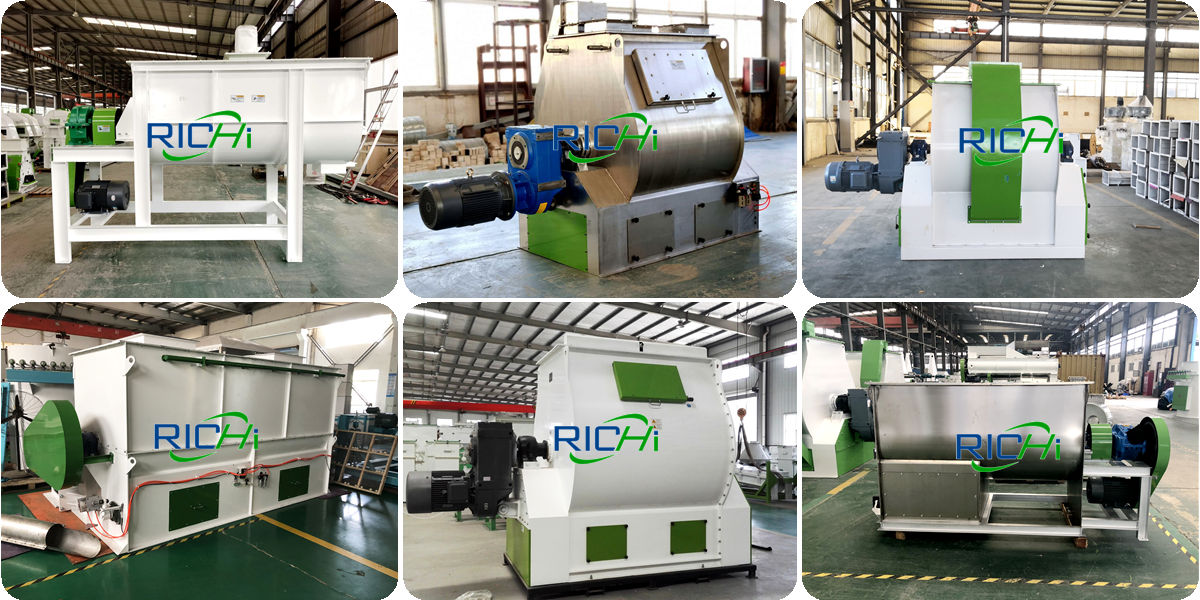 When the poultry feed mixer machine is used for a period of time, it is necessary to use lubricant for some parts. Lubricate to ensure smooth operation of the chicken feed mixer. Finally, after using the feed mixer to mix the feed, the poultry feed mixing machine needs to be cleaned in time to facilitate the next use and to protect the product loss.
| Chicken feed mixer model | Chicken feed mixer capacity(Kg/Batch) | Materials | Power (KW) | Volume (m³) | Time/Batch | Mixed Uniformity |
| --- | --- | --- | --- | --- | --- | --- |
| SLHY0.25 | 125 | Carbon Steel | 3 | 0.4 | 5 minuts | 95% |
| SLHY0.5 | 250 | Carbon Steel | 4 | 0.7 | 5 minuts | 95% |
| SLHY1.0 | 500 | Carbon Steel | 7.5 | 1.2 | 5 minuts | 95% |
| SLHY2 | 1000 | Carbon Steel | 15 | 2.5 | 5 minuts | 95% |
| SLHY2.5 | 2000 | Carbon Steel | 30 | 5.0 | 5 minuts | 95% |
How to choose best quality feed mixer machine for animal feed?
There are many types of feed mixer for sale: horizontal ribbon mixer, trough feed mixture machine, three-dimensional motion mixer, two-dimensional motion mixer, one-dimensional motion mixer, V-type mixer, double spiral cone Mixers, double cone mixers, coulter mixers, non-gravity double-shaft paddle mixers, etc.
The physical and chemical characteristics of the materials and their effects on the animal feed mixers, whether the materials have special processing requirements during the mixing process, and the installation space of the powder mixing machine for animal feed, etc., are limited due to various conditions. Therefore, it is difficult to have a clear standard. Here we can only make a brief analysis of the influence of the selection of the mixer of animal feed and its important structure according to the general working conditions:


For materials with finer particle size, special attention should be paid to the tightness of the production equipment, and the residual amount should also be carefully considered. For example, when mixing powder with a double-shaft paddle weightless mixer, it is best to use a 90° full-length door, a self-cleaning system, an oblique wedge discharge door and a shaft end air seal structure at the same time, so as to better ensure to seal and reduce residues.

It is better to use top cloth bag exhaust to replace the return air pipe, so as to avoid excessive powder ejection from the return air pipe mouth during animal feeds mixture machine mixing.
For materials with different specific gravities, in addition to the structural strength and power of the animal food mixing equipment, the discharge gate, rotor, body and other structural forms and even the performance parameters such as speed are often different.

They cannot be simply regarded as Local enhancement or power scaling. For example, the ribbon animal feed mixer machine is generally used to mix hops with a double-headed double-layer wide ribbon, while the mixed iron red powder is usually a single-layer interlaced spiral ribbon. The other structures of the two are also very different, and the speed difference is also very large.
Consider the influence of other special physical properties on the selection of animal feeds mixer equipment from multiple perspectives. If the fluidity is poor or the liquid is added more materials, the coulters, fly knives, crushing rollers and other mechanisms with strong shearing and mixing action can be reasonably selected according to the specific conditions.

The equipment that needs to be cleaned frequently due to material adhesion should be equipped with a self-cleaning device and a convenient and quick cleaning door; for materials whose shape or particle state does not allow damage, a container rotary mixer is suitable. Mainly rely on convection mixing and diffusion mixing, and the animal feed mixer mixing process is relatively gentle equipment, etc.
For the mixing of materials that need to be heated or accompanied by chemical reactions, in addition to selecting appropriate materials and temperature control structures, attention must be paid to the impact of temperature changes on the animal feed mixer itself. For example, it is best to use a small opening structure for the discharge door.

If a large opening structure must be used, an oblique wedge discharge door must be used with automatic compensation capabilities to prevent the discharge part from being thermally deformed and reducing the seal. At the same time, necessary linear expansion compensation measures should be taken when designing the main shaft and rotor of the animal feed mixer.
Installation space is also an issue that often needs to be considered when choosing animal feed blender. For example, horizontal animal feed mixing machines are generally suitable for occasions with large area and limited height, while vertical animal feed mixers are the opposite. Vertical feed mixers are suitable for occasions with small spaces.

Gravity-free animal feed mixing machines and v-type animal feed mixing machines are compatible with others of the same specification. Compared with hybrid animal feed blender, it generally occupies a much larger space, but it also has the advantages of being easy to move and arrange.
In addition to the installation dimensions of the feed mixing equipment itself, reasonable site layout and installation methods can also effectively improve the installation space conditions of the animal feed mixing machine. In the selection of animal food mixer machine, it is rare to determine the type of mixing equipment based on the quality of the mixture obtained in a series of independent experiments.
Generally, the compatibility of the mixture quality and the compatibility of different animal food mixer machine types to the process should be considered comprehensively. In the initial selection, the incompatible mixing equipment should be eliminated first. These compatibility mainly refer to the following:


In the selection of a hybrid confidential closed feed mixer, in addition to providing high-purity products, environmental issues such as dust spillage and environmental pollution must also be considered. From the perspective of health, safety and economy, dust spillage should be minimized, and all powder materials should be sealed in a closed mixing container for operation.

However, during the feeding and unloading operations, the closed container must be opened. At this time, some fine dust will overflow and diffuse into the surrounding air. Corresponding measures should also be taken to minimize pollution.
The purity of the product in many industrial processes, the purity of the product is the most important. To avoid contamination between batch operations, the animal food mixer machine must be thoroughly cleaned after each use. In order to adapt to this condition, the internal shape of the animal food mixer machine should be smooth, the internal designation should be high-precision polishing, and it should be easy to clean.

To avoid possible contamination of lubricating oil, bearings and seals should not be in direct contact with the mixture or placed on top of the mixture.