NEWS
RiChi News
Follow Richi Machinery trends, collect industry information, and discuss market focus.
Uzbekistan 3-5 T/h Chicken Feed Pelletizing Line Plant Project
Date: 2021-02-26 08:41:00
From: www.pellet-richi.com
Clicks:
In 2015, Uzbekistan had 60 million chickens, its poultry supply reached 80%, and its eggs reached 100%. In order to further develop the poultry industry and increase production, about 530 projects are planned to be implemented in 2016. Financial support for the new farm exceeds 62.4 million US dollars. The customer signed a contract with Richi in October 2015 to establish the first animal feed factory project in Uzbekistan. The first cooperation project between the two parties is a poultry feed device using Richi Machinery, with an output of 5 tons per hour. It was built in 2015, so far, there are no problems with the quality of the equipment. The products sold are favored by customers.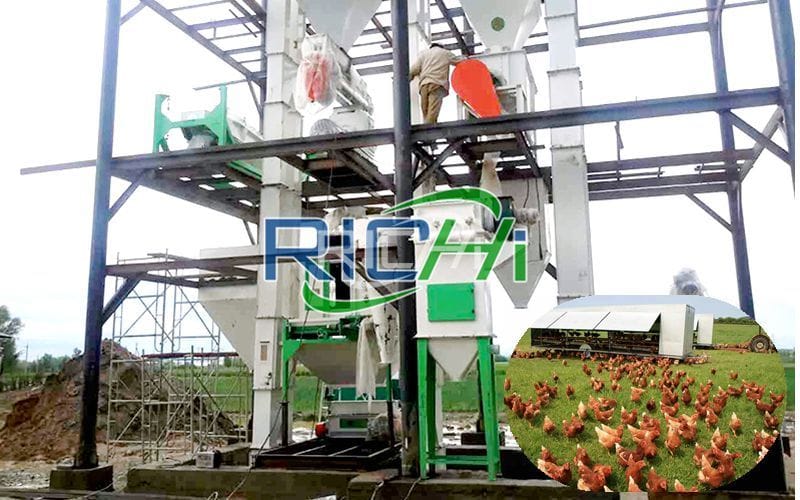 Uzbekistan 3-5 T/h Chicken Feed Pelletizing Line Plant Project
Although it is the first time for the customer to invest in the establishment of a chicken feed mill, the customer's needs have always been very clear. They want to buy a 3-5 ton per hour capacity chicken feed production factory to produce both broiler feed and layer feed. The customer is working with very experienced technicians. The visitors who visited, based on the preliminary negotiation, after the customer inspected our factory and feed mill project site in China, the customer directly signed the contract with RICHI.
This uzbekistan 3-5 t/h chicken feed pelletizing line plant project covers an area of 9*6*13m, and the main feed processing equipment includes: Corn Grain Grinder Machine For Chicken Feed*37KW, Mixing Machine For Chicken Feed*500kg/batch, China Factory Price Ring Die chicken feed making machine*37KW, Cooling Machine*SKLH14*14, Pellet Crumbler*SSLG15*80, Vibrating Screening Machine ,Packing Machine,500KG/H Electric Heating Boiler,etc.
Establish a complete poultry feed pellet production line in uzbekistan, can improve work efficiency, reduce feed costs, for users to increase profits. It can not only suppress chicken feed, but also can process pig, birds, duck and other feed pellets. When making your own feed particles, different materials can be added according to the different needs of animals to ensure the safety of feed and the comprehensive nutrition of animals. Feeding granulated feed can increase animal intake and avoid animal pickiness, which is conducive to digestion and absorption. It can shorten the growth period of animals, easy to transport, and can be kept for half a year.
The above is the article for you: Uzbekistan 3-5 T/h Chicken Feed Pelletizing Line Plant Project.
If you are interested in our products or project solutions, please contact us. We will give you the best product quality and the best price. Email: enquiry@pellet-richi.com