NEWS
Industry News
Follow Richi Machinery trends, collect industry information, and discuss market focus.
Global biomass wood pellet market outlook in 2020 - Future pellet prices
Date: 2020-01-30 09:02:28
From: www.pellet-richi.com
Clicks:
---
Future pellet prices?
The price of pellets will be severely affected by long-term contracts for wood pellets. In fact, as mentioned above, the volatility of the spot market increases because most markets are long-term contracts. Since such a large proportion of the market is already under a long-term "buy or pay" contract, when the market is in a period of oversupply or oversupply, most market adjustments must occur between 10% and 20% of the total market occupied by the spot trading market. Within the amount. In the long run, contract prices and spot prices should approach market equilibrium prices.
The inherent costs of producing and delivering pellets, including typical profit margins, will determine the market price of long-term supply contracts.
Many forecasting models use oil prices as an important factor in cost uncertainty. Harvesting and transporting wood to pellet mills, converting to pellets, and transporting logistics by truck, rail, and ship, all involve significant fuel costs (such as diesel and marine fuels). FutureMetrics uses the US Energy Information Administration's (EIA) forecast for oil prices (West Texas Intermediate Crude Oil or WTI). The chart below shows EIA's forecast for oil prices (assuming an annual inflation rate of 2% in U.S. dollars) and the range of actual price forecasts.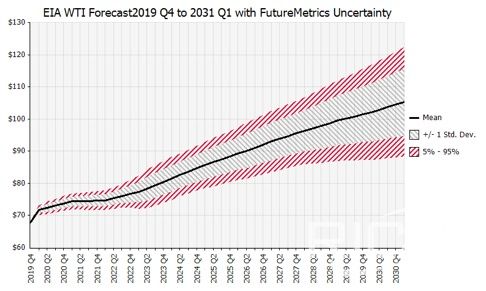 EIA's prediction of oil prices and the range of actual prices
Historical pellet shipping rates provide insight into the expected long-term market liquidation rates for ships of typical sizes from various pellet export terminals. FutureMetrics does not attempt to predict short-to-medium-term drivers of fluctuations in transportation costs.
The method of estimating the expected future CIF includes an independent forecast of each major component of the pellet cost:
1. Cost of wood delivered to pellet mill
2. Granulator conversion cost (excluding wood cost)
3. Expected profit rate of pellet manufacturers (using EBITDA per ton as a model input)
4. Inland transportation from factory to port, and port storage and loading costs
5.transport

The expected EBITDA / ton is based on historical data from two listed manufacturers (Pinnacle and Enviva, see table below), and future measurement data based on due diligence analysis of existing pellet mills.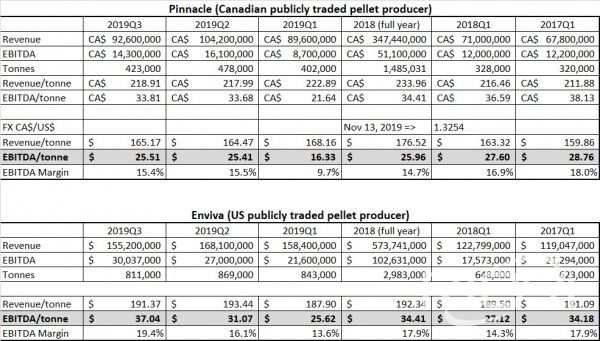 Based on several assumptions, the forecast price for the next 10 years is shown below.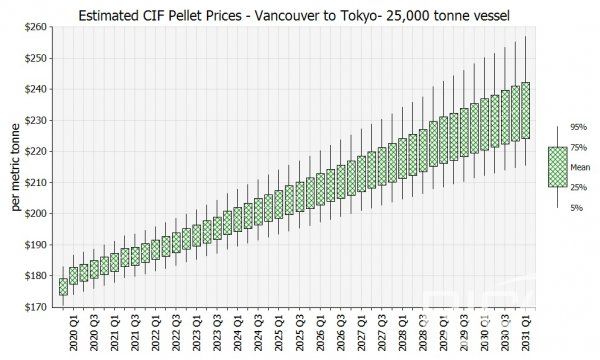 the forecast price for the next 10 years
The above is the article for you: Global biomass wood pellet market outlook in 2020 - Future pellet prices.
If you are interested in our products or project solutions, please contact us. We will give you the best product quality and the best price. Email: enquiry@pellet-richi.com
---