What is the process of organic fertilizer production line? What are the components of the equipment?
Organic raw materials fermentation is completed into the organic fertilizer mill grinding into powder, powder into the organic fertilizer blender after adding accessories to stir into granules.The particles enter the dryer, reducing the moisture content of the particles to 10—20%, and then enter the cooler to cool. After cooling, it is screened in the screening machine.after the completion of the screening of screening out the unqualified products using the belt conveyor to re-enter the crusher crushing screening out product packaging can be directly.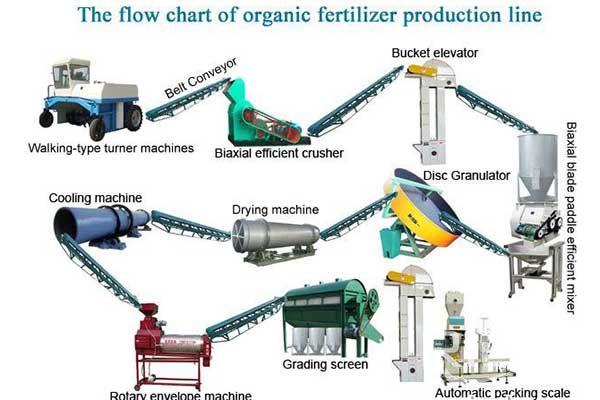 What is the process of organic fertilizer production line
Production process and equipment composition of organic fertilizer production line
1. Organic fertilizer fermentation turning throwing machine
Role: Fermentation of the materials in the fermentation process (overturning);
2. Organic fertilizer crusher
Role: crushing and pulverizing raw materials such as high-humidity materials in the production process;
3.Organic fertilizer mixer
Role: Stir and mix a variety of raw materials;
4.Organic fertilizer granulator
Role: granulate the mixed materials; easy to sort and seal;
5.Organic fertilizer dryer
Role: Dry granular materials with certain humidity;
6.Organic fertilizer cooler
Role: Quickly cool the dried materials and increase production efficiency;
7. Organic fertilizer screening machine
Role: Screening and grading the finished fertilizer;
8. film machine
Function: coating the granules to prevent the agglomeration of fertilizer;
9.Automatic weighing and packaging machine
Role: Quantitative bagging and packaging of finished products.

Organic Fertilizer Manufacturing Process: Making Method & Procedure, Production Equipment
The core link of organic fertilizer production line equipment is granulation, so granulators are essential. The choice of granulator model is determined according to the output of the user. If you have questions about the process and equipment of organic fertilizer production lines, please consult us!
The above is the article for you: What is the process of organic fertilizer production line? What are the components of the equipment?. If you are interested in our products or project solutions, please contact us. We will give you the best product quality and the best price. Email: sales@cnrichi.cn