Preliminary Investment Analysis of a 15,000 ton Cat Litter Pellet Making Machine Line
How much does it cost to invest in a tofu cat litter factory? The scale of cat litter plant is large or small, and the scale is the main factor that determines the investment cost. In addition, the market conditions of each country are different, so investment costs will vary from country to country. Take China as an example. How much does it cost to invest in a tofu cat litter plant with an annual output of 15,000 tons? Then you need to do a market analysis before investing. According to the annual working day of 300 days and the day shift production system, 10 hours a day is a 5 tons/hour cat litter pellet factory. Let's take a project example to analyze the 5 tons/hour cat litter pellet making machine line project.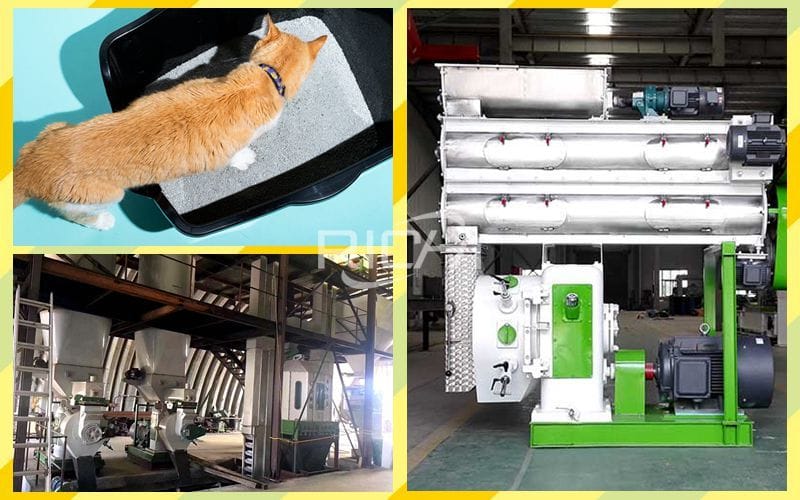 15,000 ton Cat Litter Pellet Making Machine Line Project
(1) Project investment: The total investment of the project is 2 million yuan, and the environmental protection investment is 50,000 yuan, accounting for 2.5% of the total investment.
(2) Area: The project covers an area of ​​2000m2, with a total construction area of ​​2000m2, mainly including workshops, warehouses, office areas and other public supporting facilities. The project purchases mixers, granulators, dryers, screening machines and other major production equipment. The project's product scale is to produce 15,000 tons of tofu cat litter and 10,000 sets of related supplies.
Table 1 List of main works of the project
project
Engineering composition
scale
Remarks
structural work
Plant
One 1F, building area of ​​900 square meters, steel structure,
Production areas
Auxiliary engineering
warehouse
One 1F, construction area of ​​1000 square meters, steel structure
With packaging area
Public
works
Heating and cooling
Electric heating is used in the production of this project. Electric heating or air-conditioning is used for office heating in winter, and air-conditioning is used for cooling in summer. There is no coal-fired boiler in the plant.
/
powered by
The electricity for production and living of this project is provided by the nearby power grid, and the electricity and voltage can meet the electricity demand of this project
/
Water supply
The water for this project is centrally supplied by the nearby water supply pipe network, and the water quality and quantity can meet the water demand of this project
/
Environmental Engineering
Exhaust
The particulate matter generated in the project's ingredients, mixing, cooling, and screening processes is processed by the built-in pulse dust collector and discharged by a 15m high exhaust cylinder
/
Waste water
No production wastewater is produced in this project; the produced wastewater is mainly domestic wastewater with a small amount of production, which is directly sprayed to suppress dust and not discharged.
/
noise
Priority is given to low-noise equipment, and noise-producing equipment shall be dealt with by measures such as plant insulation and foundation shock absorption.
/
Solid waste
General solid waste: the waste packaging generated during the production process of the project is collected and sold; the unqualified products and the dust collected by the dust removal equipment are recycled for production; the domestic garbage is collected and sent to the designated location of the sanitation department.
/
2. Production equipment of 15,000 ton Tofu Cat Litter Pellet Making Machine Line project
The project selects equipment that meets domestic and foreign advanced, energy saving, environmental protection, safety and health requirements, and the main equipment is shown in Table 2.
Table 2 List of main equipment of the project
| | | |
| --- | --- | --- |
| Serial number | Equipment name | Quantity (sets , sets, strips ) |
| 1 | Mixer | 3 |
| 2 | Cat Litter Pellet Mill | 1 |
| 3 | Hot air dryer | 5 |
| 4 | Conveying unit | 5 |
| 5 | Feeding unit | 2 |
| 6 | Packing Machine | 3 |
| 7 | Silo | 5 |
| | total | twenty four |
3. Consumption of main raw and auxiliary materials
The consumption of raw and auxiliary materials of the project is shown in Table 3.
Table 3 List of project raw and auxiliary materials consumption
| | | | |
| --- | --- | --- | --- |
| Serial number | name | Dosage ( t/a ) | Storage method |
| 1 | Tofu Fiber | 5250 | Bagged, stored in raw material area |
| 2 | starch | 6750 | Bagged, stored in raw material area |
| 3 | corn starch | 2250 | Bagged, stored in raw material area |
| 4 | Guar Gum | 750 | Bagged, stored in raw material area |
| 5 | Additives and pigments | 200 | Bagged, stored in raw material area |
| 6 | Cat litter accessories | 10,000 sets | Purchased finished products, not processed |
4. Production process of 15,000 ton Tofu Cat Litter Pellet Making Machine Line project
Process description: The raw and auxiliary materials are mixed in proportion according to the requirements of the formula, and then transported from the elevator to the mixer for mixing. A small amount of fresh water needs to be added during the mixing process, and the mixed materials are transported to the granulation by the elevator The machine performs granulation. The granulator is heated to 20℃ for easy granulation. The granulated material is transported from the conveyor to the dryer for heating and drying. The dryer adopts electric heating, and the dried material is transported by the conveyor. It is cooled by the cooler, then enters the silo after being screened, and finally transported to the packaging area for sub-package storage.
5. Cat litter pellet Making Machine Equipment Manufacturer
Richi Machinery is a well-known cat litter pellet making machine line equipment manufacturer in China, which mainly produces feed production line equipment, Biomass Pellet Mill equipment and organic fertilizer Pellet Making Machine Line equipment. Cat litter pellet production is a kind of biomass pellet production. If you want to know more about cat litter products, pictures, videos and quotations, please contact us!
The above is the article for you: Preliminary Investment Analysis of a 15,000 ton Cat Litter Pellet Making Machine Line. If you are interested in our products or project solutions, please contact us. We will give you the best product quality and the best price. Email: sales@cnrichi.cn