NEWS
Industry News
Follow Richi Machinery trends, collect industry information, and discuss market focus.
10,000 Tons/year Large-scale Sawdust Rice Husk Pellet Machine Production Line Project
Date: 2020-11-30 08:24:43
From: www.pellet-richi.com
Clicks:
---
10,000 Tons/year large-scale sawdust rice husk pellet machine production line project, that is, 4t/h rice husk sawdust biomass pellet production line project. Only one is calculated based on annual output, and one is calculated based on hourly output. The project's raw materials are also very abundant, including wood chips, rice husks, branches, leftovers and waste. Of course, such a large-scale project requires a lot of equipment, among which the host equipment includes a grinder, a crusher, a biomass pellet machine, a drum dryer, and a belt conveyor.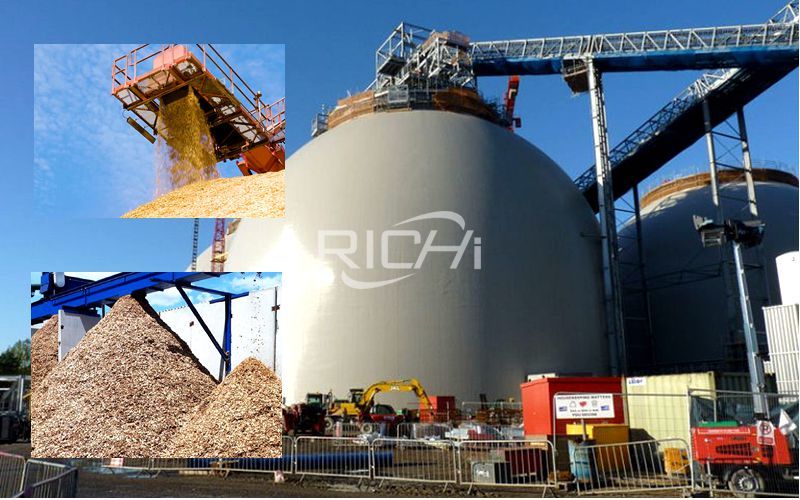 10,000 Tons/year Large-scale Sawdust Rice Husk Pellet Machine Production Line Project
Biomass solidified compact molding fuel uses wood chips, rice husks, etc. as raw materials. After pressurized molding, the volume decreases exponentially, the combustion is fierce, the combustion time is long, the amount of combustion pollutants is small, and the residue after combustion is still used to produce potash fertilizer The raw materials are basically free of residue. The product of the project is a solid briquette with an annual output of about 10,000 tons and a diameter of about 12mm.
I. Project Construction Overview
The project covers an area of ​​5000m2, with a total construction area of ​​1500m2. The main construction content includes production workshop, warehouse workshop, raw material storage yard, and office area. The main structures of the project are shown in Table 1, and the main equipment of the project is shown in Table 2.
Table 1 List of project composition
Serial number
Types of
name
scale
unit
Remarks
1
structural work
Production workshop
900
m2
Frame structure, 1 room
Built
2
warehouse
600
m2
Metal frame structure, fully enclosed
Built
3
Raw material storage yard
1500
m2
Semi-open frame structure, equipped with wind and rain shelter
Built
4
Auxiliary engineering
Workspace
30
m2
Brick structure
Built
5
Public works
powered by
/
/
Township grid access
6
Water supply
/
/
Township water supply network connection
7
drain
/
/
The sewage of the project is treated in a tertiary septic tank and used as agricultural fertilizer without being discharged
8
Environmental Engineering
Waste water
Three-stage septic tank
/
/
After being treated by a tertiary septic tank, it is used as fertilizer for surrounding farmland and vegetable fields
9
Exhaust
/
/
/
Crushing: cyclone + cloth bag dust removal, unorganized discharge; drying furnace: cyclone plus cloth bag + 15m exhaust cylinder discharge; granulation: cloth bag dust removal, unorganized discharge.
10
noise
/
/
/
Choose low-noise equipment, install vibration isolation pads on main production equipment, strengthen management, and arrange work time rationally, etc.
11
Solid waste
Garbage collection bin, general solid waste temporary storage room (50m 2 )
Table 2 List of main facilities and equipment of the project
| | | | |
| --- | --- | --- | --- |
| Serial number | Equipment name | Quantity (unit) | Remarks |
| 1 | grinder | 1 set | 1000 type |
| 2 | Crusher | 1 set | 1000 type |
| 3 | Granulator | 2 sets | MZLH520 |
| 4 | Dryer | 1 set | |
| 5 | Belt conveyors | 1 set | |
Consumption of raw and auxiliary materials
Table 3 List of raw and auxiliary materials of the project
Serial number
Material name
source
Dosage
1
Sawdust
Nearby towns
2,000 t/a
2
Rice Husk
Nearby towns
5 million t/a
3
Branches
Nearby towns
2,000 t/a
4
Leftovers
Nearby towns
3 million t/a
5
Waste material
Nearby towns
2,000 t/a
The moisture content of the raw materials is 38%, and the raw materials cannot use paint plates and formaldehyde-containing plates.
Table 4 Project material balance table unit: t/a
Order No.
Invest in
output
name
Quantity t
name
Quantity t
1
Sawdust
2000
product
Biomass pellet fuel
10000
2
Rice Husk
5000
Exhaust
dust
3.31
3
Branches
2000
Moisture
Moisture
3,996.69
4
Leftovers
3000
5
Waste material
2000
total
14000
total
14000
Note: The moisture content of raw materials is 38.55%, and the moisture content of products is 10%.
Table 5 List of project energy consumption
| | | | | |
| --- | --- | --- | --- | --- |
| Serial number | Energy name | source | Annual consumption | Remarks |
| 1 | Electricity | Township power supply line | 6,000 degrees | / |
| 2 | water | Township water supply network | 90t | Only the staff's domestic water, no production water |
| 3 | Biomass fuel | Production of this project | 100t | Water content 10% |
II. Brief Description of Production Process
(1) Crushing: Due to the large size of various types of raw materials, they need to be crushed to 600mm by a crusher, and then directly transported to the airtight molding machine to be directly pressed into shape by pressure. This process generates dust G1 and noise N.
(2) Drying: Because the moisture in the raw materials may not meet the production requirements, the raw materials need to be dried. The drying process of this project uses biomass pellet fuel as energy. This process produces particulate matter, SO2, and NOXG2.
(3) Press molding: The dried straw material and saw foam are fed into the biomass pellet machine in a certain proportion, and compressed into the pellet shape in the pellet machine without any additives. The pellet machine is sealed. This process produces noise.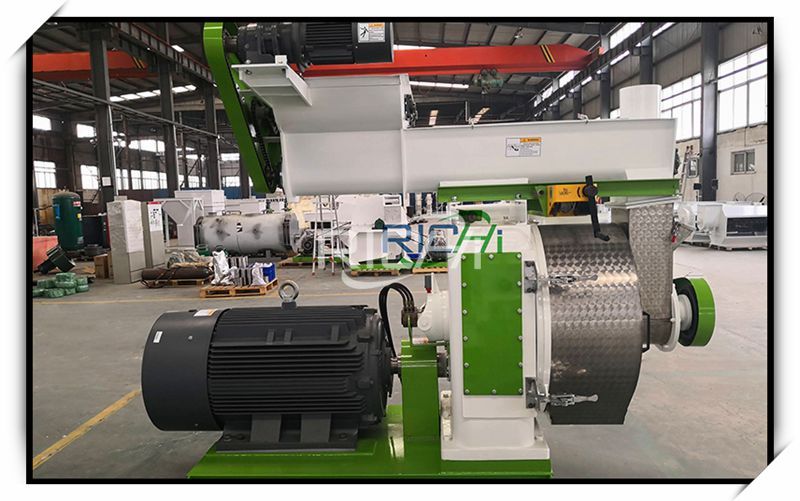 biomass pellet machine
(4) Packing and storage: the qualified finished products produced are bagged and weighed, then packed, and stored in storage.
III. Number of Employees and Work System
Labor quota: The project has a labor quota of 6 people, none of whom live in the factory. The production shift is a one-shift system with 8 hours of work per shift and 300 days of work per year.
The above is the article for you: 10,000 Tons/year Large-scale Sawdust Rice Husk Pellet Machine Production Line Project.
If you are interested in our products or project solutions, please contact us. We will give you the best product quality and the best price. Email: enquiry@pellet-richi.com
---