Feed Pelletizer Uses Waste Food to Produce Cattle, Sheep, Poultry and Fish Feed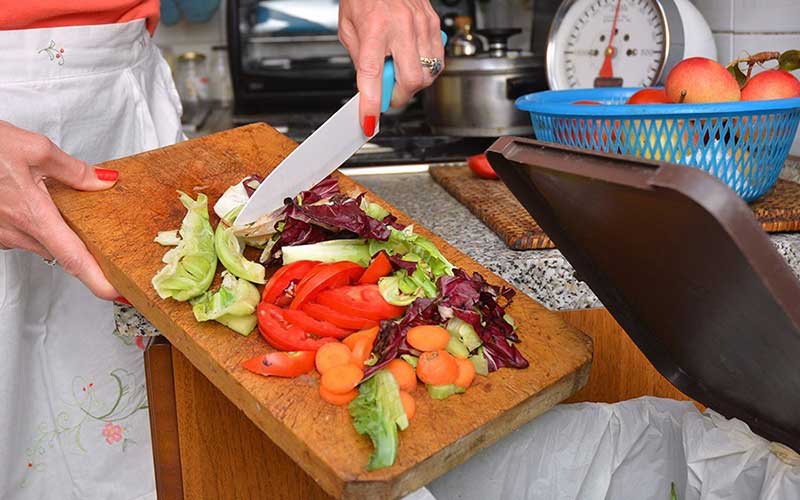 Under competitive conditions, reducing costs is one of the main concerns for companies from every sector. In fact, even a precaution that will reduce the costs by 1 percent makes a significant difference for large scale companies. In such a period, there is another very economical way that is proceeding slowly but taking firm steps forward as an alternative to compound feed production: organic feed milling. With this method based on the recycling of waste foods, it is possible to produce feed for cattle, sheep, poultry and fish.
In terms of profitability, we have the chance to get the raw material at a very cheap price or even for free. This factor also brings a good profit to the business. On the other hand, waste food is recycled to the food chain through this method and organic feed milling is also very beneficial for the protection of the environment.
Reduce Feed Plant Costs Through Waste Food Recycling
In our daily lives, we take a piece of the food we eat and feed the animals around us with that. I have observed that some animals eat many foods that people consume. I dreamed of something and started to think in my own way. I started experimenting with waste food using household appliances. I started getting very positive results when I fed the animals. Then I decided to do projects on this subject and started to manufacture corresponding machines. Nowadays, almost everything is recycled. Such as metal, electronics, and plastic… A substantial industry has formed in the world in these areas. I also believe that waste foods would be a significant industry.
Organic feed and all feeds manufactured from natural wastes appeal to all animals in nature, but, of course, our priority is animal food. We can list our target group as cattle, sheep, poultry and fish. There is no harm to the environment. On the contrary, we clean the environment and nature from waste and turn them into products. Regarding profitability, we have the chance to get the raw material at a very cheap price or for free in this system. This factor also brings a good profit to businesses.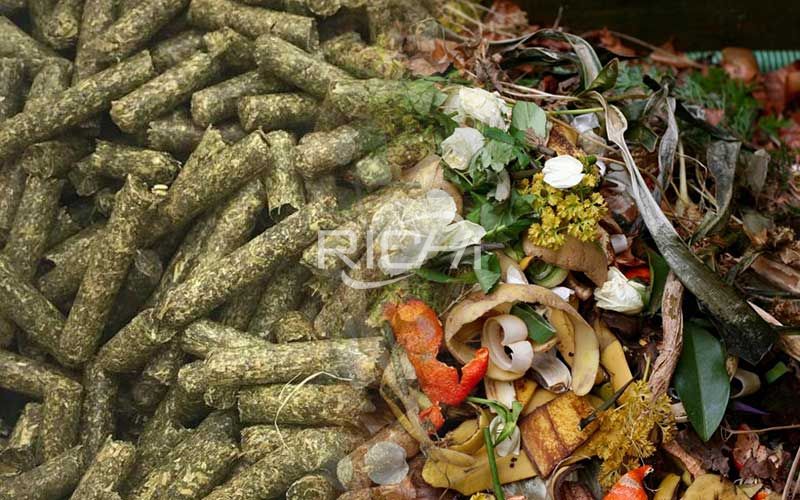 Waste Food Pellet
Standardizing the Feed is Not Hard
Considering the types of waste products, the most important wastes needed as ingredients are wastes such as fruits, vegetables, spices, legumes, and seafood. These are enough for us to produce standard feed. The variety of raw materials should be a bit abundant. Accordingly, it is possible to adjust the recipe as we want according to the target animal group. We do not have any difficulties to produce standard feed. In this process, feed ingredient options are sufficient anyway.
Organic Feeding Must Be Supported
Since this is a new topic, there is no support or special incentive in Turkey. However, it needs to be quickly covered by a special incentive. Our meetings with government officials continue on this matter. In some of the governments we met, officials have included this form of production under special incentives. There are countries that give almost all of the investment as a grant. Carbon emission is a serious issue today and we can produce lower carbon feeds compared to other feeds. I think we have made a serious contribution to nature and the environment with the feed we produce. Our extensive work on this subject continues.
Feed Pelletizer Uses Waste Food to Produce Cattle, Sheep, Poultry and Fish Feed
There are advanced machine manufacturers in feed milling in our country. The concept "process" is very important in waste feeds. If you know which machines you will be processing variable raw materials, it is generally possible to conduct this process on already manufactured machines. Only a small number of different machines are used for some products. Our company produces these machines. Our R&D studies continue uninterruptedly. We have no difficulty in converting waste products into feed, also in machinery and process. We made a lot of effort in this regard and have a high level of experience.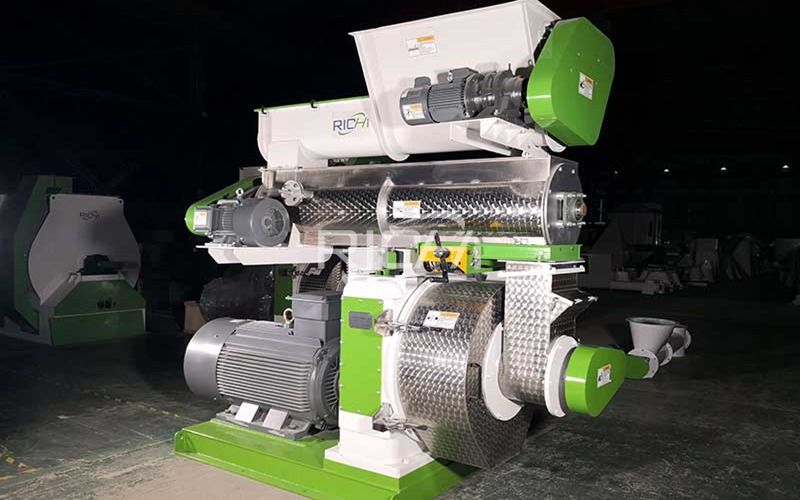 Feed Pelletizer
Waste Food Pellet Machine Parameters
| | | | | | | |
| --- | --- | --- | --- | --- | --- | --- |
| Model | Capacity(TPH) | Main Motor Power(kw) | Feeder Motor Power(kw) | Conditioner Power(kw) | Dia.of Ring Die(mm) | Final Pellet(mm) |
| SZLH250 | 1-2 | 22 | 0.75 | 1.5 | 250 | 2~12 |
| SZLH320 | 3-4 | 37 | 1.5 | 2.2 | 320 | 2~12 |
| SZLH350 | 5-7 | 55 | 1.5 | 3 | 350 | 2~12 |
| SZLH420 | 8-12 | 110 | 1.5 | 7.5 | 420 | 2~12 |
| SZLH508 | 10-18 | 160 | 2.2 | 11 | 508 | 2~12 |
| SZLH558 | 15-25 | 180/200 | 2.2 | 11 | 558 | 2~12 |
| SZLH558D | 14-22 | 160/180/200 | 1.5 | 7.5 | 558 | 2~18 |
| SZLH678 | 20-30 | 220/250 | 2.2 | 11 | 678 | 2~12 |
| SZLH678D | 15-25 | 200/220/250 | 2.2 | 11 | 673 | 2~18 |
| SZLH768 | 25-40 | 280/315 | 2.2 | 11 | 768 | 2~12 |
| SLZH858 | 25-42 | 280/315 | 2.2 | 15 | 858 | 2~18 |
The waste food feed pellet machine produced by Richi Machinery can not only make waste food into pellets, but also make grains, grass plants, etc. into feed for animals. At present, many cases we have done are cattle feed, chicken feed, pig feed or multiple animal feed lines coexisting. If you are interested in our products, please leave a message or contact us!
The above is the article for you: Feed Pelletizer Uses Waste Food to Produce Cattle, Sheep, Poultry and Fish Feed. If you are interested in our products or project solutions, please contact us. We will give you the best product quality and the best price. Email: sales@cnrichi.cn