NEWS
Industry News
Follow Richi Machinery trends, collect industry information, and discuss market focus.
Can Wood Pellets Be Made From Steamed Wood Dust And Leaves?
Date: 2020-07-29 08:27:05
From: www.pellet-richi.com
Clicks:
Dear Sirs We are an Essential Oil producer. We are making essential oil from Eucalyptus Leaves and lemon grass. We have daily an output of 12 ton of eucalyptus and lemon grass leaves boiled in steam (since we distill the leaves to extract the essential oil). We are now starting up with a unit to distill tree wood dust (Brachylaena huilensis – Hard wood) 8 ton /day. We need to make wood dust of this tree (trunk <= 30 cm) to use in the distillery. Is it possible to make wood pellets with wood dust and leaves after steaming? Can you supply us the shredder to make wood dust from hard wood tree.
This is the inquiry we received from an Angolan customer in January. At the same time, this customer also compared several other wood pellet machine production line manufacturers and chose Richi Machinery on June 1, 2020. The following is the flow chart of our customized program for customers.

1-1.2t/h wood dust production line flow chart
Production Flow of 1-1.2t/h Wood Dust Production Line
Crusher → conveyor → large dryer (not necessary if the raw material has a 12-18% moisture content) → elevator → silo → ring die pellet mills → larger cooler → finished products warehouse → automatic weighting system.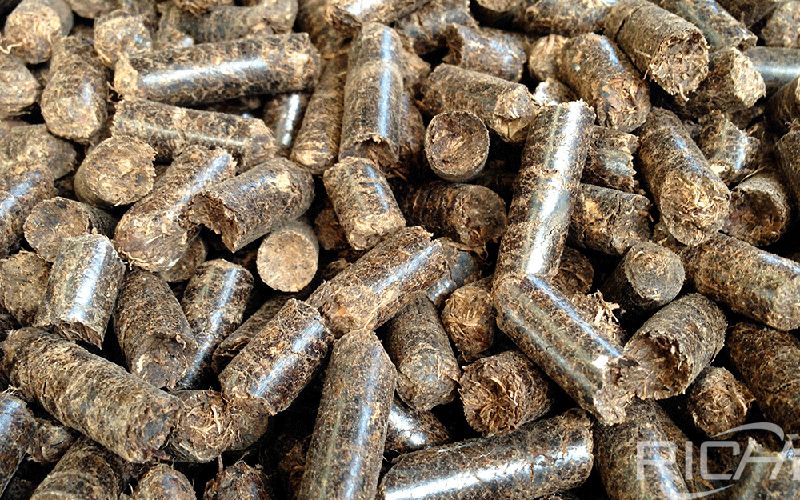 wood pellets
1-1.2t/h Wood Dust Production Line Cases
1.Indonesia 1-1.5t/H Wood Pellet Production Line
Name: Wood Pellet Production Line
Country: Indonesia
Capacity: Wood Pellet Production Line
Date: June 15th,2018
Installation cycle: 30 Days
Pellet Size: 8mm Wood Pellet
The Indonesia customer's main raw material is wood sawdust, and he wants to make 8 mm wood pellets. According to the customer's raw materials and output requirements, we customized a small-capacity wood chip production line for him, and the installation process was relatively smooth. RICHI Machinery provides detailed engineering flowcharts, installation drawings, foundation pit drawings and instructions.
2.Congo 1-2t/H Wood Pellet Line
Name: wood pellet plant Production Line
Country: Congo
Capacity: 1-2 t/h
Date: March 28th,2017
Installation cycle: 30 Days
Pellet Size: 6mm wood pellet
The main raw materials of customers are all kinds of wood, waste logs, sawdust, wood chips, furniture waste. Customers' raw materials are relatively common, so the standard 1-2 t / h wood pellet Production Line is designed for customers.
Richi Machinery is a well-known wood pellet machine manufacturer in China. No matter what your raw materials are, we can analyze and design solutions for you. You can leave a message or consult online, we will contact you as soon as possible!
The above is the article for you: Can Wood Pellets Be Made From Steamed Wood Dust And Leaves?.
If you are interested in our products or project solutions, please contact us. We will give you the best product quality and the best price. Email: enquiry@pellet-richi.com