NEWS
Industry News
Follow Richi Machinery trends, collect industry information, and discuss market focus.
Feed Value of Ruminants
Date: 2020-06-16 10:03:35
From: www.pellet-richi.com
Clicks:
The feed value of a foodstuff is a measure of its main nutritional components. For cattle (and other ruminants), the worth of any fodder depends mainly on the concentration of energy and protein in the dry matter of that feed. Other nutritional components of a foodstuff can greatly influence cattle production. For example, production can be significantly restricted by a number of mineral and vitamin deficiencies, such as calcium, magnesium, phosphorus, copper, cobalt, vitamins A or D, and so on.
On the other hand, excesses of particular substances in foodstuffs can cause lowered production and even death, for example, copper toxicity, nitrite poisoning (from some grasses and weeds), cyanide poisoning (from immature sorghums and some weeds), and alkaloid poisoning (from immature phalaris).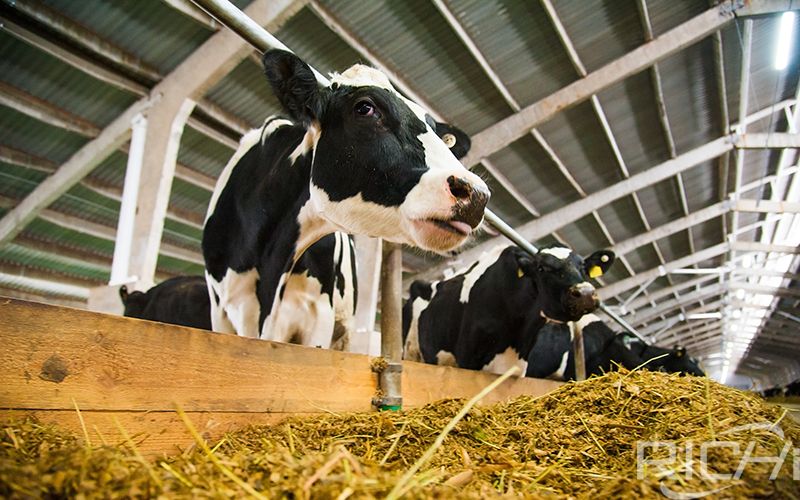 This Agriculture Note outlines the main nutritional components of a range of foodstuffs that are commonly fed to cattle. Ideally, feeding should be managed to adequately provide the nutritional, requirements of cattle according to the level of production desired. The nutritional components tabulated in this Agriculture Note are dry matter, metabolisable energy, and crude protein. The data presented should be considered as a guide only, hence it is advisable to have a sample analysed by a feed analysis service such as FEEDTEST at the Department's Pastoral and Veterinary Institute at Hamilton.
Over the years, there have been a number of different systems used for defining the energy value of foodstuffs for livestock. The Starch Equivalent system and the TDN (Total Digestible Nutrients) system, are two examples. No system has proved entirely satisfactory in practice. The ME (Metabolisable Energy) system has been adopted as the standard system for defining the energy value of ruminant (sheep and cattle) feeds in Australia. The ME value of a foodstuff is the amount of energy that the ruminant is able to use, per unit of dry matter of foodstuff eaten. (The metabolisable energy value is the digestible energy value less the amount of energy lost in the urine and the belched gases). The units of ME are megajoules (MJ) per kg of DM of the particular foodstuff.
There are several reasons why farmers might be interested to know the relative energy values of foodstuffs. Two important reasons are:
to satisfy the energy demands of various forms of production, the diet of a ruminant must have an average energy value above a particular level. Some feeds are simply too low in energy (they have low energy concentrations) and ruminants are incapable of eating enough of them to meet the energy demands of, say, moderate to fast growth, late pregnancy, or lactation.
When feed is in short supply, or when any feeding management is being planned, it is useful to cost out each of the foodstuffs on its monetary value per unit of ME. For example, the ME value of oats is 12 and that of medium quality hay is 8 so oats can cost up to one and-a-half times that of hay per kg of DM and still be a better buy if the feeds are being compared on their energy values alone.
Protein
The protein requirements of cattle vary according to the weight and type of beast as well as the level of production (growth, reproduction and lactation). It is important to know the protein levels of various foodstuffs so that feeding management can match the protein available in an animal's diet with the animal's needs. Crude protein values give a good indication of whether or not a particular foodstuff will satisfy the protein needs of a beast, but two points should be realised.
The crude protein value of a foodstuff is determined by the quantity of nitrogen-containing substances in contains. These substances do not have to be proteins. Therefore the crude protein concept relies on microbes of the rumen (first stomach) being able to synthesise microbial protein from all the nitrogen containing substances the ruminant eats.
In general terms, at least two-thirds of a beast's crude protein intake should be provided as true (natural) protein. That is, not more than one-third of the crude protein should be represented by non-protein nitrogen (NPN) - such as urea and biuret NPN should not be included in levels above 2% of the diet.
Research has shown clearly that ruminants don't digest all dietary protein in the same way. Proteins vary in the extent to which they are broken down (fermented) in the first stomach (rumen).
In general, sheep or cattle use proteins that resist rumen fermentation (but which are digested lower down the digestive tract) much more efficiently than those that are readily fermented in the rumen.
Dry matter
It is important to have some idea of the dry matter (DM) content of foodstuffs because cattle usually consume a fairly predictable quantity of dry matter per day, if feed is readily available. (Cattle generally eat a quantity of dry matter each day equivalent to two or three per cent of their bodyweight). Obviously, on a freshweight basis, a beast would eat a lot more silage (20 per cent to 30 per cent DM) than hay (80 per cent to 90 per cent DM) per day, even though both feeds may have similar energy and protein values on a DM basis.
Energy
Whole versus processed grain
Cattle only derive the full ME value from grains such as wheat, triticale, rye, sorghum, barley, lupins and peas if they are rolled or coarsely milled. This will increase the digestibility of grain by approximately 30%.
Related information
See Agriculture Note AG0469: Livestock fodder from crop wastes, the risks of chemical contamination.
Feed
Approximate dry matter (DM)%
Metabolisable energy (ME)
(MJ/Kg DM)
Crude protein % dry matter
(ME/kg DM)
GREEN FORAGES
Grasses
Cocksfoot -
young, immature
mature

23
32

11
9

12
8
Phalaris -
young, immature
mature

20
35

10
7

17
7
Ryegrass, Wimmera -
young, immature
mature

18
40

12
7

11
5
Ryegrass, Perennial -
young, immature
mature

20
30

11
10

12
8
Grass-dominant pasture -
immature
mature

20
40

11
5

8
2
Legumes
Clover, subterranean -
pre-flowering
late bloom

15
30

11
8

17
9
Clover, white -
young, immature
mature

18
23

12
9

15
15
Lucerne -
Young, immature
full bloom

17
24

11
8

15
15
Lupins -
flowering

18

9

14
Clover - dominant pasture -
immature
mature

15
30

11
4

18
7
Cereals
Barley -
early vegetative
post-bloom

19
21

9
10

10
5
Oats -
early vegetative
post-bloom

18
23

10
10

14
8
HAY
Grasses
Ryegrass, perennial/clover -
cut at flowering
cut two weeks after flowering

80
85

10
9

9
8
Ryegrass, Wimmera/sub clover -
cut at flowering
cut two weeks after flowering

80
85

10
9

9
8
Legumes
Clover (sub dominant)* -
cut at flowering

80

9

13
Lucerne* -
pre flowering
flowering

85
90

9
8

15
14
Cereals
Oaten -
cut at flowering
milk stage
ripe seed

90
85
87

9
8
8

7
5
3
Wheaten -
cut at flowering
dough stage
ripe seed

90
85
87

8
8
7

5
4
3
SILAGES
Grasses
Annual grass dominant
90
10
9
Ryegrass (perennial) dominant
20
10
6
Legumes -
Annual clover dominant
Lucerne
Lucerne(wilted)
Perennial clover dominant

20
25
30
22

10
9
10
10

14
13
10
13
Cereal
Oats
24
9
4
STRAWS
Barley straw
90
7
1
Oaten straw
90
7
2
Wheaten straw
90
6
1
CEREAL GRAINS AND SEEDS
Barley
90
13
11
Lupins
90
13
30
Maize
90
15
9
Oats
90
12
9
Peas
90
13
23
Rice(dehulled)
90
15
7
Rye
90
14
11
Sorghum
90
13
11
Triticale
90
13
12
Safflower seeds
90
13
15
Wheat
90
13
12
OIL CAKES AND MEALS
Cottonseeds (mech. extd.)
90
10
33
Linseed (mech. Extd.)
89
13
33
Peanuts, witdout hulls (mech. extd.)
93
14
46
Rapeseed (mech. extd.)
92
11
32
Safflower seed (mech. Std.)
91
11
21
Soybean (mech. extd.)
90
12
46
Sunflower seeds (mech. Extd.)
90
12
30
FISHMEAL
Fish meal, min 50% C.P.
87
13
63
Fish meal, min 65% C.P.
87
13
68
BY PRODUCTS
Barley bran
88
12
11
Barley pollard
89
14
11
Brewer's grains, dry
92
9
22
Oat bran
90
9
4
Rice polishings
91
14
11
Sugar cane molasses
76
13
1
Wheat bran
89
10
18
Wheat pollard
87
12
13
The above is the article for you: Feed Value of Ruminants.
If you are interested in our products or project solutions, please contact us. We will give you the best product quality and the best price. Email: enquiry@pellet-richi.com