NEWS
Industry News
Follow Richi Machinery trends, collect industry information, and discuss market focus.
Twin Screw Floating Fish Feed Extruder
Date: 2020-04-09 08:54:28
From: www.pellet-richi.com
Clicks:
---
Twin Screw Floating Fish Feed Extruder:
1. Gear driving, high efficiency, flexible operation control.
2. Lower energy consumption and longer service life.
3. Wide adaptability of raw materials: high viscosity, low viscosity, high moisture, etc.
4. Fewer restrictions on the particle size of the raw materials: fine powders, coarse aggregates,etc
5. Better mixing averages, higher particle uniformity.
6. Better ripening degree, usually reaching 95%.
7. Higher yields with same power
8. Self cleaning and easy to maintain.
9. Wider diversity and adaptability of the final products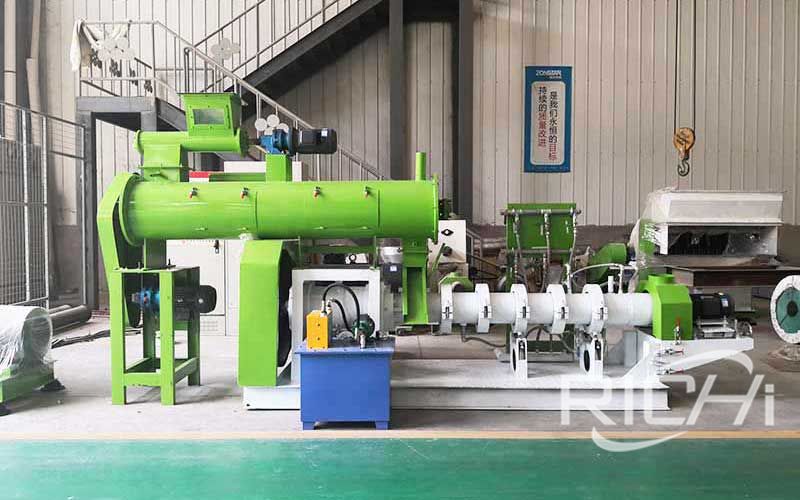 Twin Screw Extruder Features
1. Stainless steel DDC with 12 steam injectors and 6 liquid nozzles.
2. The gearbox can stand strong torque and thrust up to 400hp.
3. Circled tunnel design barrel with liner can achieve heating/cooling function. Steam and water can also be injected directly into the barrel.
4. Screw is made of special anti-wear alloy with L/D ratio up to 19.5:1 that assures smoothly production for all kinds of sinking/floating feed.
5. It can deal with different formulation. It can produce pellet with die diameter from 0.5 mm to 10 mm.
6. Fast replacing mechanism for die and screw and on-line adjustment for cutter.
Main Technical Parameters
Model
DT98×2
DT128×2
DT150×2
DT170×2
Main power
(kw)
110/132
160/200
250/315
400
Feeder power
(kw)
1.5
2.2
2.2
3.0
Cutter power
(kw)
4
5.5
7.5
11
Conditioner power
(kw)
11
18.5
22
30
Capacity
(t/h)
1.5~3.5
3~8
6~12
10-15
The above is the article for you: Twin Screw Floating Fish Feed Extruder.
If you are interested in our products or project solutions, please contact us. We will give you the best product quality and the best price. Email: enquiry@pellet-richi.com
---