Dual-purpose scale for feed mill granular powder——DCS-A50-Z model
The packaging scale is the last operation in the pellet production line or powder production line in the feed factory. The RICHI Machinery Factory is equipped with different packaging scales according to the customer's production line needs. For example, the DCS-A50-Z packaging scale is a dual-use scale, which can be used as a granule scale or a powder scale. Why use DCS-A50-Z packaging scale, what are the advantages of using this scale?
DCS-A50-Z computer quantitative packing scale, this machine mainly consists of four parts: automatic weighing device, conveying device, sewing package device and computer control system. It has the characteristics of reasonable structure, beautiful appearance, stable operation, energy saving, easy operation, fast weighing and accurate measurement.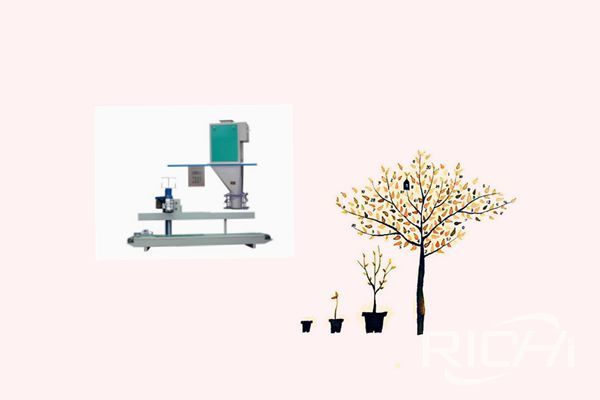 Dual-purpose scale for feed mill granular powder——DCS-A50-Z model
DCS-A50-Z model parameter
Model: DCS-A50 / Z
Power 3KW
Feeding method belt
Package weight: 20-50kg / bag
Packing speed: 6-8bags / min
Packing accuracy static: ± 0.1%; dynamic ± 0.2%
Display resolution: 10G
Temperature range: -10 to 40 ° C
Voltage: 380V / 50HZ & tailored
Air source pressure: 0.4-0.65MPa
Steel frame size: height 2800 × width 1000mm
Belt conveyor: length 3000 × width 400mm
Scope of application: quantitative packaging of granular and powdery material in chemical fertilizers (composite fertilizers, organic fertilizers, urea, BB fertilizers, etc.), chemical industry, grain, feed and other industries.
If you are interested in animal feed pellet production line, biomass pellet production line, aquatic pellet production line or single product, please contact us!
The above is the article for you: Dual-purpose scale for feed mill granular powder——DCS-A50-Z model. If you are interested in our products or project solutions, please contact us. We will give you the best product quality and the best price. Email: sales@cnrichi.cn