NEWS
Industry News
Follow Richi Machinery trends, collect industry information, and discuss market focus.
Difference between feed pellet machine and wood pellet machine
Date: 2022-11-06 10:25:18
From: www.pellet-richi.com
Clicks:
---
1. Different raw materials
Feed pellets are mainly made from corn meal, grass meal, straw meal, cottonseed meal, soybean meal and rice husk etc. These materials are relatively soft and moist so they can be processed directly with a small amount of liquid. When the feed pellet machine working, there will be a heating process, after that, the feed pellets will be even more soft and smooth. Feed pellet machine can be divided into many types: poultry feed pellet machine, chicken feed pellet machine, pig feed pellet machine, cattle feed pellet machine, sheep feed pellet machine, etc.

Biomass pellets are made from more various and harder materials. Logs, wood chips, waste wood, sawdust, sunflower stalk, cotton stalks, bamboo dust, coffee husk, wheat straw, palm husk and almost all the biomass waste you can think of can be processed in to pellets. Biomass wood pellets mills deal with raw materials contain more fiber, so the process is more complex than making feed pellet machines.
pellet machine with different raw materials
2. Different shapes
Because of the reason we mentioned above, feed pellet machines and biomass pellet mills are different from the appearance. Generally speaking, feed pellet is smaller and thinner. The largest feed pellet mill is about 1 meters high and weighed several hundreds kilograms. While the smallest biomass pellets mill, for example, the wood pellet mill is more than 2 meters high and weighed around 5 to 6 tons. What's more, biomass raw materials are hard to process, so you may need a complete biomass pellet production line to help you from chipping and crushing the raw material till packing the pellets.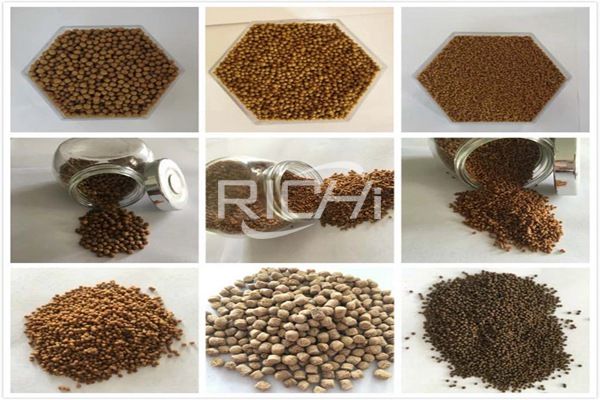 pellet machine have different shapes
3. Different input costs
If it is a pellet production line with the same output, for example, the pellet production line that is also 1t / h, the animal feed production line has a lower investment cost than the wood pellet production line.
Richi machinery produces a variety of animal feed pellet machines and wood pellet machines. If you need a large amount of pellets, you need to set up a pellet production line. We can provide you with a complete solution from the early design to the later equipment installation and training.
RICHI feed pellet machine for sale
There are many kinds of feed pellet machines and equipment. Feed pellet machine is used to convert dry-grinding powder into small and medium-sized particles for animal consumption. This process makes the feed delicious and easy to digest, which is very beneficial for cattle. Here, RICHI Machinery provides a complete guide on the production of animal feed pellets.
We can provide compact solutions for animal feed pellet production lines as well as single feed pellet making machine. We have various types of animal feed machines that can suitable small, medium and large scale animal feed mill projects! If you have any questions, please contact us directly!


Several biodegradable materials can be used to make this powder, such as grass, wheat, corn, soybeans, straw, nut shells, bagasse (leftover sugarcane material) etc. In addition, steam or molasses is used to incorporate moisture into the mix. This creates larger, compact particles known as pellets.
Pelleting has distinct advantages over mashed feed. Varying the ingredients and temperatures can improve the quality of the pellet feed and the manufacturer can control the nutritional value. This increases the overall profitability of your animal feed plant. It reduces food wastage. Not only is it preferred by animals, it increases nutrient utilization. The pellets made by feed pellet machine can be stored and transported with relative ease.
Large scale feed pellet machines use ring dies. The entire machinery can be set up like a feed production line. This used to produce large amounts of animal feed. A small scale feed pellet machine simply processes dry powder into pellets using a flat die, it does not grind and mix. This kind of feed pellet machine can produce anywhere between 80 to 1000 kilograms of pellets per hour.

Stainless steel feeder, equipped with Danfoss inverter imported from Denmark, accurate feeding.
All stainless steel modulator device, modulato spindle and blade, beautiful and generous, corrosion resistance;Large open access port, easy cleaning and maintenance;Single or double layer configuration is optional.
Stainless steel feeding tube, stainless steel lining plate of granulating chamber, corrosion resistant.
Add pressure roller lubrication grease function without stopping the machine.
High strength SPB narrow type V belt drive, stable and reliable transmission, low noise, low maintenance cost.
Model
Capacity(TPH)
Main Motor Power(kw)
Feeder Motor Power(kw)
Conditioner Power(kw)
Dia.of Feed Pellet Mill Die(mm)
Final Pellet(mm)
Feed Pellet Mill Price
SZLH250 feed pellet mill
1-2
22
0.75
1.5
250
2~12
7000-100000USD
SZLH320
3-4
37
1.5
2.2
320
2~12
SZLH350
5-7
55
1.5
3
350
2~12
SZLH420
8-12
110
1.5
7.5
420
2~12
SZLH508
10-18
160
2.2
11
508
2~12
SZLH558
15-25
180/200
2.2
11
558
2~12
SZLH678
20-30
220/250
2.2
11
678
2~12
SZLH768
25-40
280/315
2.2
11
768
2~12
SLZH858
25-42
280/315
2.2
15
858
2~18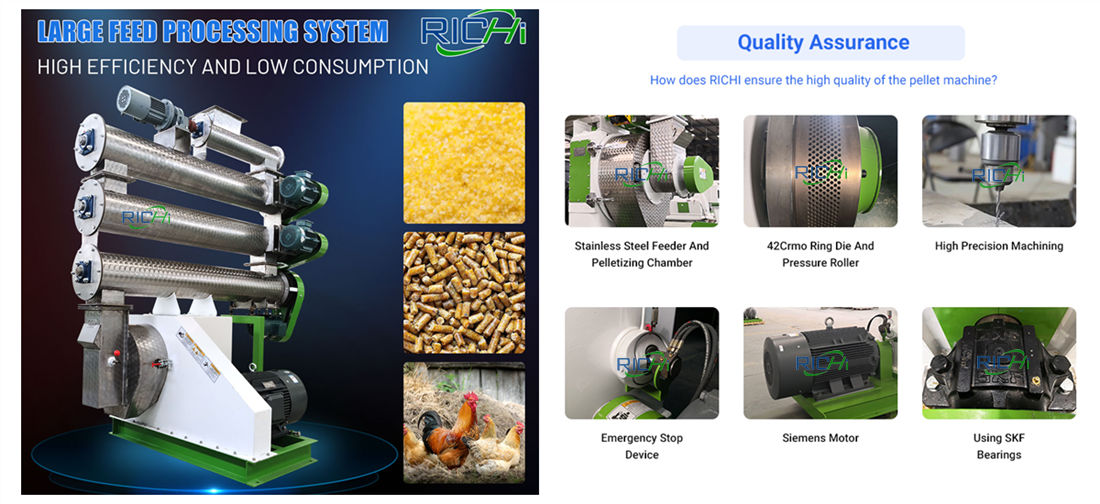 Why did you choose Richi Machinery?
Our feed pellet machines are simple in structure, easy to operate and reasonable in design.
Feed pellet machine low noise, energy saving, high quality.
High quality with CE&ISO certifications for all feed pellet machine plans.
You can customize your own pellet ring dies according to your raw materials and needs.
Professional business personnel to provide free online consulting services.
There are professional and technical personnel to guide the feed pellet machine and whole feed pelleting process, can be door-to-door guidance installation and debugging and training.
The above is the article for you: Difference between feed pellet machine and wood pellet machine.
If you are interested in our products or project solutions, please contact us. We will give you the best product quality and the best price. Email: enquiry@pellet-richi.com
---