NEWS
FAQ
Follow Richi Machinery trends, collect industry information, and discuss market focus.
How to make rabbit pig feed with a pellet mill
Date: 2020-03-17 09:00:20
From: www.pellet-richi.com
Clicks:
rabbit & pig feed pellets are a type of feed with a combination of several raw materials including cereals, seeds, various forms of straws, legumes, minerals and vitamins and additives for preservation and making the feed palatable. There are many ways to make rabbit pig feed pellets, but the most easy and convenient is using the pellet mill machine. Below is detailed process of how to make rabbit pig feed with a pellet mill.
1. Preparation of raw materials
Raw materials are prior stored in silos or tanks for effective preservation. This stage involves assembling, weighing, crushing and mixing of ingredients. Note that the choice of ingredients should be guided by the need of your rabbit pig and nutritionists input. Weigh the ingredients according to the formula given, design and the size of the pellet mill machine.
2. Initial crushing
The second stage involves mixing of ingredients in a pellet mill. The materials are crushed using a feed hammer pellet. The process results in ingredients reduced in size. The materials are also aerated and additives mixed with other raw materials.
3. Preparation of mixture of molasses
This is a continuation of the initial crushing. Liquid molasses mixture is blended into the other materials.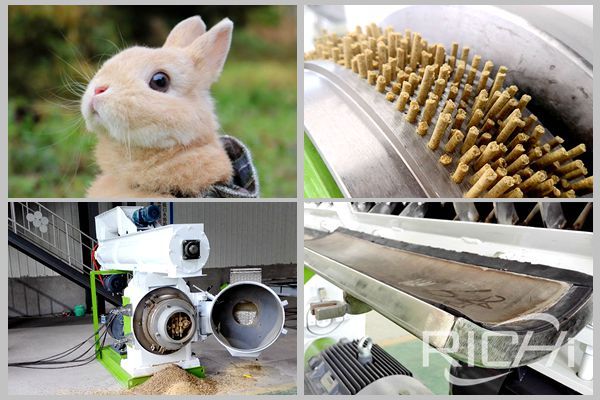 How to make rabbit pig feed with a pellet mill
4. Second and final crushing
Materials are crushed to fine powder. This is done using a feed pellet mixing machine.
5. Pellet making
Involves production of small pellets. To extract the pellets, the fine powder is passed through a die and roller. The pellets are allowed to dry before being packaged.
6. Packaging
This is the last stage of pellet making process. packing is done by a weighing and packing machine. It involves weighing the pellets, putting them in desired packages, taping , coding and sealing the packages. This is followed by storage in bins and distribution of the feed to supply points.
This website also introduces a pig feed pellet production line. If you are interested in our equipment, please send us an email. We have more product introductions and cases to share with you!

Rabbit feed granulator and feed formula
Why do rabbit, pigeon, duck, and goose feed pelletize?
The above is the article for you: How to make rabbit pig feed with a pellet mill.
If you are interested in our products or project solutions, please contact us. We will give you the best product quality and the best price. Email: enquiry@pellet-richi.com