NEWS
Industry News
Follow Richi Machinery trends, collect industry information, and discuss market focus.
Animal Feed Production Business Plan For Animal Feed Factory Project With An Annual Output Of 180,000 Tons
Date: 2022-05-29 17:29:45
From: www.pellet-richi.com
Clicks:
Today RICHI will share you an animal feed factory project proposal its objectives, this is a project proposal on flour & animal feed factory in China, a livestock poultry ruminant fish feed mill factory project we have done in 2018.
Origin of the animal feed factory with an annual output of 180,000 tons
The animal feed industry is the most industrialized industry in agriculture. It is the link that connects planting, breeding, livestock, poultry, and aquatic product processing industries, and plays a pivotal role in agriculture. With the acceleration of industrialization and urbanization, the urban population continues to increase, the living standards of urban and rural residents continue to improve, and the consumption demand for livestock, poultry and aquatic products continues to increase.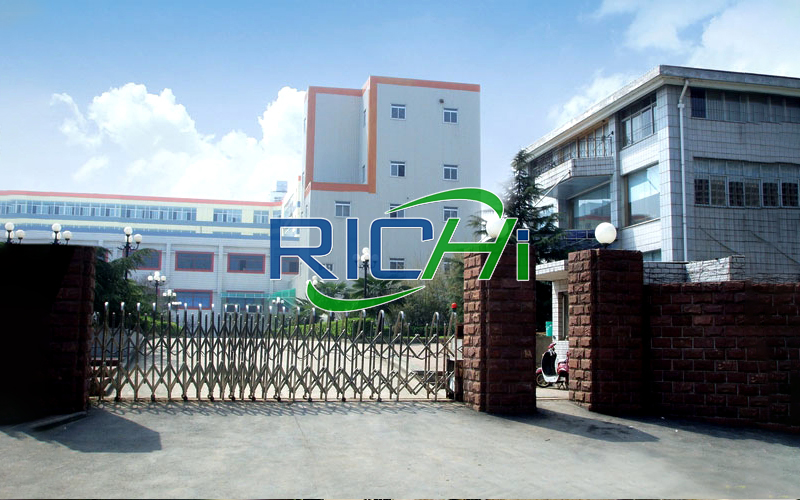 In particular, the increase in farmers' income will greatly increase the consumption of livestock, poultry and aquatic products. In addition, the new round of consumption upgrades has increased the demand for high-quality livestock, poultry and aquatic products, which has promoted the development of the animal feed industry.
Basic situation of the 180,000T/A animal feed mill factory project
Basic situation of 180000 tons per year animal feed factory
Project Name: Construction of an animal feed production line with an annual output of 180,000 tons
Construction nature: new build
Animal feed company: Dali Gaopu Feedstuff Co., Ltd. (established in September and December 2018)
Construction site: Changpoling Industrial Zone, Midu County Industrial Park, Dali Bai, Yunnan Province
Large high quality animal feed mill project construction content
Construction content: construction of production workshops, shift rooms, office buildings, power distribution rooms, boiler rooms, guards, ground fire-fighting pools and pump rooms, etc.
Construction scale: Build 3 animal feed production lines, including 2 high-end livestock and poultry feed production lines and 1 high-end ruminant feed production line, forming an annual production capacity of 180,000 tons of feed.
Labor quota and work system: The total labor quota of this large poultry ruminant livestock animal feed mill project is 50 people, working 330 days a year. The new build large capacity animal feed factory project employees are implemented in three shifts, and the management, logistics and sales personnel are implemented in one shift with 8 hours per shift.
Animal feed factory production capacity: 22 Tons per hour, 15000 tons per month, 545 tons per day
Total animal feed production factory project investment: 130 million yuan, of which environmental protection investment is 220,665 USD, accounting for 1.14% of the total investment.
180,000T/A animal feed manufacturing factory project product proposal
Name
Type
Capacity
Feed production lines
High-end livestock and poultry feed
Pig feed
58800 tons/year
2
Fish feed
5400 tons/year
Poultry feed (chicken, duck)
79800 tons/year
Total
144000 tons/year
High-grade ruminant feed
Cattle and sheep feed
36000 tons/year
1
Total
180,000 tons/year
3
Project composition and content-proposal
The total investment of the new technology animal feed factory project is 19409000USD, and the total area is 20003.43㎡. The three animal pellet feed production lines of the animal feed company project are mainly located in the No. 1 main workshop.
After the three animal feed lines of the turnkey project feed factory are completed, according to market demand, when the production capacity is less than 180,000 tons, the first and second workshops can meet the storage capacity of the big feed mill project.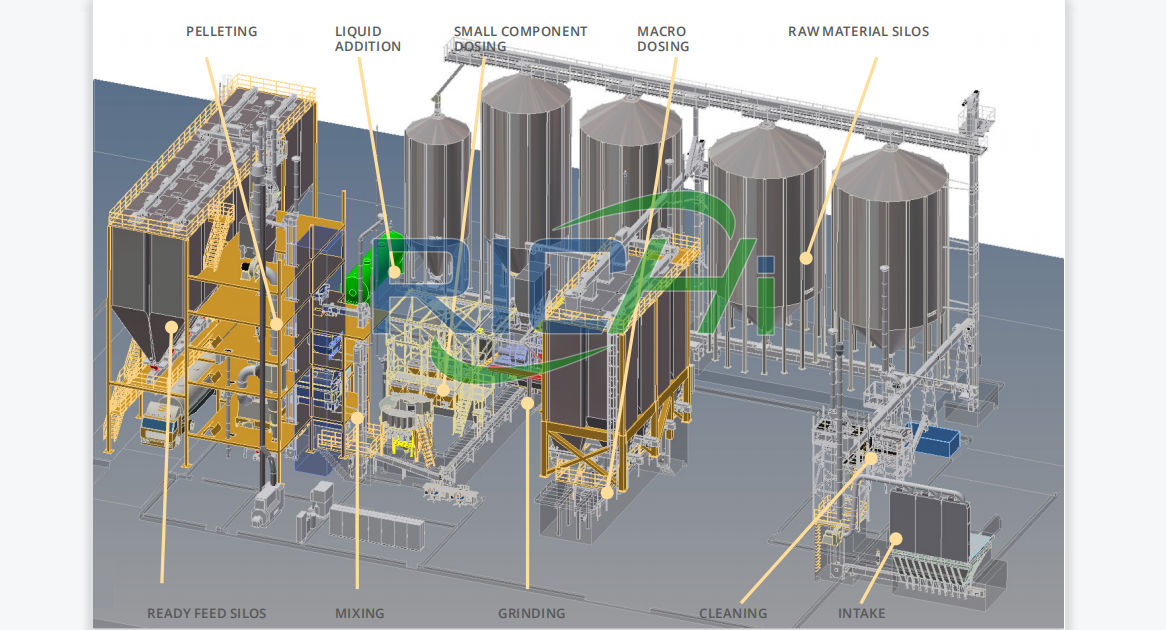 When the production capacity reaches 180,000 tons, It is necessary to build three workshops to increase storage capacity. Therefore, the full automatic animal feed factory production project is gradually started and will be constructed in phases.
Engineering nature
Project name
Construction content and scale
Main project
Phase I and Workshop
An area of ​​2061.93㎡, finished product warehouse
The first phase and the second workshop
Occupying an area of ​​2872.55㎡, raw material warehouse
Phase I, Main Workshop No. 1
An area of ​​2458.8m2, 3 production lines are mainly built in the main workshop
Phase II and Third Workshop
Occupying an area of ​​3947.6㎡, raw material warehouse
Auxiliary project
Office building
Occupied area 356.66㎡
Staff lounge
Occupied area 1015.37㎡
Boiler room
Site area of ​​73.44㎡
Guardian Room
Occupied area 72.2㎡
Power distribution room
Site area of ​​73.37㎡
Above-ground fire-fighting pool
Site area 113.18㎡
Public Works
Water supply
Supplied from deep water wells
Power supply
Supplied by the local municipal grid
Boiler
The boiler fuel is biomass fuel
Greening
Green area 2808.44㎡
Animal feed milling machine used in the animal feed factory
Process
Animal feed mill machine name
Specifications and technical performance
Quantity
Raw material receiving system
Pulse dust collector
Unique cloth bag disassembly mechanism
4
Self-cleaning buried scraper
Head and tail plate δ=4.0mmQ235A3
4
Self-cleaning bucket elevator
There is a sealing device at the bearing, so materials and dust cannot escape
4
Small pulse dust collector
Unique cloth bag disassembly mechanism
7
Smashing system
New micro animal feed mill grinder
With explosion-proof motor
3
High pressure fan
9-26No5.0A, cicada nest muffler
3
Pulse dust collector
TMMBCa type
3
Sealing screw conveyor
3.0kw×1 unit
3
Self-cleaning bucket elevator
5.5kw~7.5kw×1 unit
3
Small pulse dust collector
0.75kw×1 unit
3
Ingredient mixing system
Small pulse dust collector
0.75kw×1 unit
3
Three-layer paddle high-efficiency mixer
1000~2000kg/batch F series hardened gear reducer
3
Self-cleaning scraper
TGSU 25 type, 3.0kw×1 unit
4
Self-cleaning bucket elevator
5.5kw~7.5kw×1 unit
3
Pelletizing and cooling system
Animal feed pellet machine
Model: SZLH
3
Cooling fan
22kw×2 sets, cicada nest muffler
3
Three-roller crumbler
SSLG220x 1500 type, 0.75kw + 1lkw
1
Stainless steel cyclone dust collector
D=1400~1500mm
3
Self-cleaning bucket elevator
5.5kw~7.5kw×1 unit
3
Finished product packaging system
Quantitative packaging scale
LCS-50-BZ
2
Sewing bag conveyor
/
2
Circular pulse dust collector
TBLY.16 type
2
Radio assistance setting system
Grease adding machine
SYC1. 5KW+3
3
Fat scale
/
2
Air compressor
W-3/10
2
Air freeze dryer
/
2
Raw and auxiliary materials and energy consumption
Raw and auxiliary materials and energy consumption——180000t/a animal feed factory manufacturing proposal:
Material name
Consumption
Remarks
Corn
75,160 tons/year
Outsourcing
Flour
54 tons/year
Soybean meal
63932 tons/year
Cotton meal
7990 tons/year
Rapeseed meal
2710 tons/year
Wheat middling and red dog
18264 tons/year
Fish Meal
3560 tons/year
Auxiliary materials
8740 tons/year
Auxiliary materials include soybean meal, beer meal, meat and bone meal mixed oil, hydrogen powder, stone powder, etc.
Water
17490m3/a
Supplied from deep water wells
Electricity
5.4 million kw·h
Supplied by the local municipal grid
Biomass fuel
2017.6 tons/year
Outsourcing, biomass fuel is shaped pellets, mainly compressed from sawdust

Material balance of the 18000t/a animal feed processing factory
Raw materials
Dosing amount (t/a)
Consumption (t/a)
Amount of finished product (t/a)
Raw material dosage
Total
Corn
75,160 tons/year
180410
410
180000
Flour
54
Soybean meal
63932
Cotton meal
7990
Rapeseed meal
2710
Wheat middling and red dog
18264
Fish Meal
3560
Auxiliary materials
8740
Remarks: The destination of raw material consumption is: dust generated during raw material loading and unloading, feeding, screening, crushing, ingredient mixing, granulation cooling, quantitative packaging, etc., unqualified products, screening impurities, of which dust and unqualified products are returned used in the animal feed mill factory production process, the impurities are sorted and collected, the ones that can be recycled are sold to related units for recycling, and the other impurities that cannot be recycled are sent to the sanitation department for regular removal and disposal.
Animal feed manufacturing process of the animal feed factory project
Note: There are two high-end poultry and livestock feed production lines, one high-end ruminant feed production line, and the process flow of the three animal feed pelleting lines is the same.
Raw materials preparation

The animal feeds raw materials required for animal feed factory production are divided into powdery and granular raw materials. Among them, powdery raw materials (raw materials that do not need to be crushed) such as flour, wheat middling, etc., and granular raw materials such as corn, soybean meal and other materials.

Feeding port section

The animal feeds raw materials are put in from the feeding port, and after being lifted by the bucket elevator, the large debris and small debris, such as corn stalks, soil, sand and other impurities, are screened out by the initial cleaning screen. The granulated raw materials are screened and then enter the crushing bin, and the powdered raw materials are screened directly into the batching bin group.

Crushing section of animal feed factory

After the granular animal feeds raw materials enters the crushing bin, it is controlled by the pneumatic gate to enter the impeller feeder and uniformly fed into the animal feed mill factory grinder for crushing. The crushing fineness is determined by the sieve and reaches the specified fineness. The pulverized fines are sent to the bucket elevator, and after being lifted, they are guided by the prescribed distributor and then enter the prescribed batching bin.

Mixing of ingredients section

After the raw materials that reach the specified fineness enter the set bin number batching bin through the special dispenser, the personnel in the central control room will input the formula data into the computer strictly according to the formula requirements. Transport to large and small weighing hoppers to realize automatic batching.

Small material additives are automatically weighed by the hopper weighing sensor connected with the computer and enter the animal feed mixer through the weighing door. If there is a need to add grease, the computer automatically controls the grease addition system.

Granulation and cooling section

The material enters the pelletizing bin, and is pelletized by the saturated steam of two animal feed pelletizer machine. Different types of feed are produced. If the pellet size is different, the corresponding pellet ring die must be replaced to produce different high-quality feeds, and enter the counter-flow cooler to cool down through the fan.

After reaching the room temperature and reducing the moisture, the feed pellet cooler automatically discharges the material according to the time or the position of the pellets, and determines whether the pellets are broken through the animal feed pelletizing machine according to the breeding habits and actual production.

<

The finished products after the pellets meet the specified requirements enter the finished product warehouse. The sprayed material on the surface of the pellets enters the spraying device by bypass, the sprayed pellets enters the finished product warehouse, and the classified powder enters the waiting-granulation warehouse and is granulated again by the animal feed pellet making machine.

The steam required for granulation is provided by the biomass boiler.

Quantitative packaging of animal feed processing plant

After the whole grain finished pellets is automatically measured and packaged by two electronic units, it is automatically sewn by two flat belt conveyors and then transported to the finished product warehouse. The finished product is issued by the quality inspection department before the finished product is qualified. Affix a sign that allows the factory to be shipped.
Analysis of rationality of 180,000 tons animal feed mill factory layout
The planned plant area of ​​the automatic running animal feed factory project is rectangular, with the northwest part of the plant area as the production area, and the southeast area as the office and living area. The office and living areas are mainly office buildings, shift rooms, and guards. Green belts are set around the factory area.
The general layout of the best design animal livestock poultry fish feed mill project is arranged in accordance with the production process, transportation, environmental protection, fire prevention, safety, and sanitation, and strives to achieve a reasonable layout, clear zoning, convenient transportation, clean and beautiful.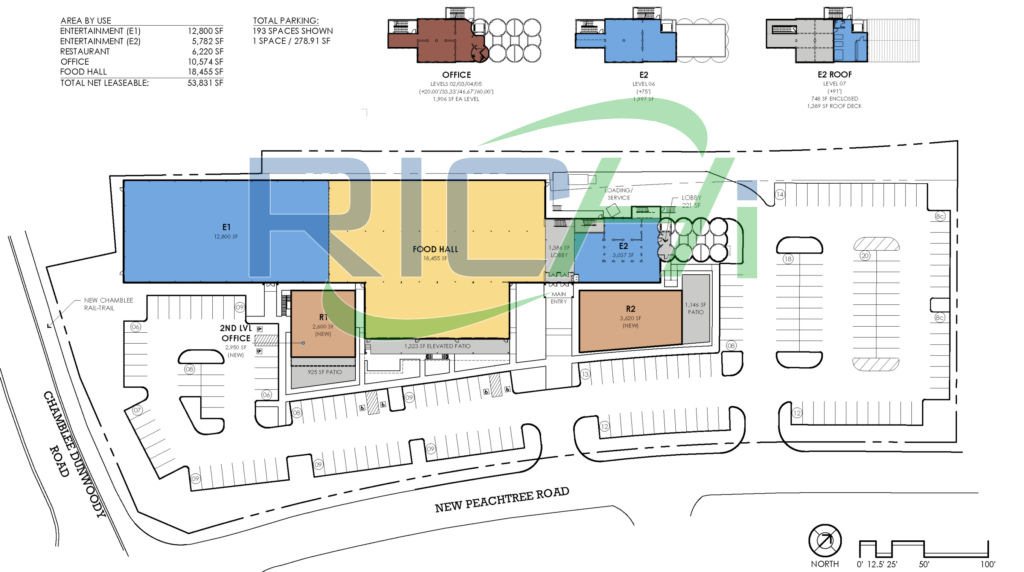 Let the buildings in the 22t/h poultry animal livestock feed factory area be compactly arranged but separated to a certain extent, although they are closely connected, they will not interfere with each other. On the whole, the general layout of the new build animal feed factory project can meet the needs of animal feed production, while minimizing the impact on the surrounding environment, which is generally reasonable and feasible.
Setting up an animal food factory is not easy, but as a professional animal feed factory manufacturer from China, we can help you to order all the procedures for establishing a best solution customized animal feed mill factory, and provide you with the most reasonable, economical and most suitable your plan and feed equipment. Feel free to contact Richi Machinery at any time.
The above is the article for you: Animal Feed Production Business Plan For Animal Feed Factory Project With An Annual Output Of 180,000 Tons.
If you are interested in our products or project solutions, please contact us. We will give you the best product quality and the best price. Email: enquiry@pellet-richi.com