NEWS
RiChi News
Follow Richi Machinery trends, collect industry information, and discuss market focus.
Pakistan 10T/H organic fertilizer production project is about to be put into operation
Date: 2023-11-06 15:23:03
From: www.pellet-richi.com
Clicks:
---
Recently, the organic fertilizer project in Pakistan undertaken by RICHI is about to be put into production.
The project can process 150,000 tons of livestock and poultry manure annually, create related jobs for about 100 people, and is expected to achieve an output value of millions of dollars. The project mainly constructs solid product production bases, laboratories, warehouses, etc.
At present, the project is progressing smoothly. The construction of the production workshop and the installation of the organic fertilizer production line have been completed. It is expected to be officially put into production by the end of 2023.
The raw materials used in this project are mainly animal manure and agricultural waste. It adopts a double drying and one cooling process.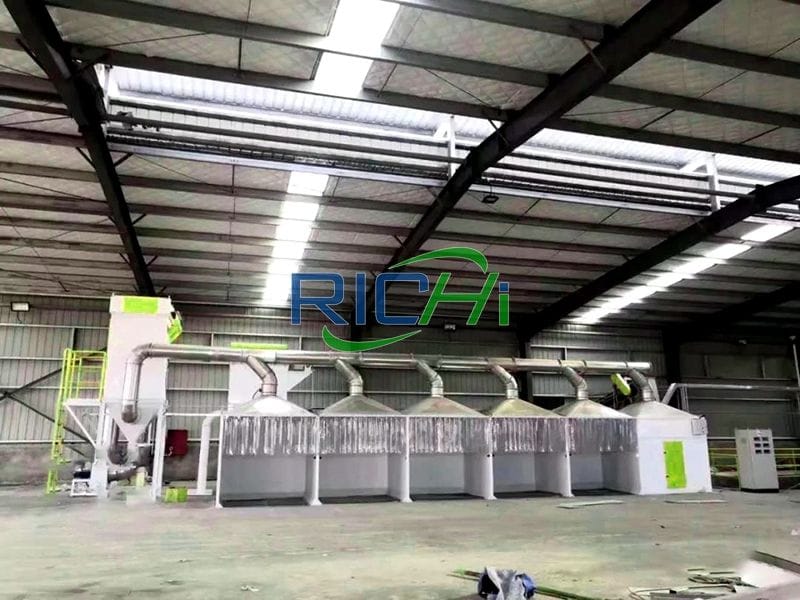 The raw materials are first subjected to two high-temperature aerobic fermentations in the fermentation tank to complete the purification of the raw materials, and then the decomposed raw materials are screened out and sent Enter the production workshop.
Depending on the product, different proportions of organic matter or inorganic matter are added, followed by two granulations and two dryings. After selecting qualified products and wrapping them in moisture-proof packaging, they can be packaged and ready to leave the factory.
The organic fertilizer production line can not only produce organic fertilizer, but also produce a variety of compound microbial fertilizers according to customer needs to meet the nutrient supply of different varieties and types of crops such as fruits, vegetables, and field crops.
The characteristics of compound fertilizer are high nutrient utilization rate, high production capacity, low cost, less pollution, and precise application. In sync with production, soil testing and formulation will be carried out, organic fertilizer comparison test fields will be built, and scientific proportions will be carried out according to different regions and different needs, so that plants can be replenished with what they need and whatever the soil is lacking can be replenished.
Organic fertilizer production is the link between planting and breeding. After the completion of this project, it can effectively break the bottleneck of livestock and poultry breeding pollution from "treatment" to "use".
Through the implementation of ecological breeding methods such as "livestock-fertilizer-grass", "livestock-fertilizer-fruit" and "livestock-fertilizer-vegetables" ,integrate the two major industries of planting and breeding, forming an industrial chain, value chain and supply chain for the utilization of local manure resources in Pakistan, and building a green environment that integrates agriculture and animal husbandry, and integrates planting and breeding, laying the foundation for circular agriculture.
The above is the article for you: Pakistan 10T/H organic fertilizer production project is about to be put into operation.
If you are interested in our products or project solutions, please contact us. We will give you the best product quality and the best price. Email: enquiry@pellet-richi.com
---