20T/H poultry feed mill factory project overview
Construction scale: annual production 50,000 tons (20 tons per hour) of high-quality poultry feed. Among them, duck feed is 40,000 tons and broiler feed is 10,000 tons.
Poultry feed manufacturing plant cost: The 20t/h poultry feed processing plant project investment is 32 million yuan(4,953,600USD), including fixed assets investment of 17 million yuan(2,631,600USD) and circulating funds of 15 million yuan(2322000USD). Based on this poultry feed mill design, the price of 20t/h poultry feed mill machinery alone is about 950,000 US dollars.
Project area: The total area is 27 acres (18000m²), the area of ​​buildings (structures) is 5763m², the area of ​​open-air storage and drying yard is 1300m², the area of ​​green area is 6666m², the construction coefficient is 32%, and the green area rate is 37%.
Source of funds: The poultry feed company raises 20 million yuan(3,096,000USD) by itself and plans to use bank loans of 12 million yuan.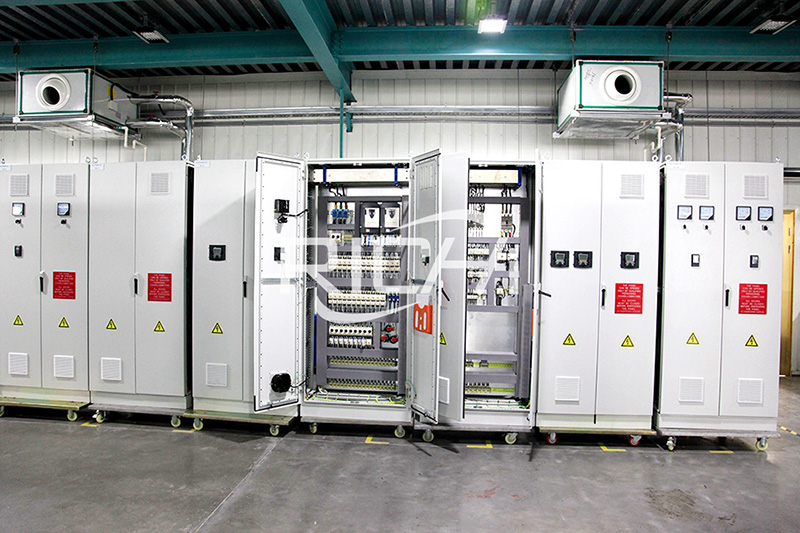 Electric control cabinet of the poultry feed mill plant
The 20 tons per hour poultry feed mill plant project is used for chicken feed production (broiler feed production) and meat duck feed production. The main products are complete pellet feed for ducks and chickens. Its products mainly meet the needs of local industrialized production of meat ducks and broilers.
The raw materials required for the 20t/h poultry feed manufacturing plant project are mainly corn, soybean meal, wheat, secondary meal, bran, rapeseed meal, cotton meal, fish meal, etc. Each batch of raw materials has passed the quality inspection by the quality inspection department, and can enter the production workshop after passing the test. After the product is manufactured, it must be inspected by the quality inspection department. The product can only be put into the warehouse and loaded into the car after it is qualified.
Poultry feed manufacturing process in this 20 t/h poultry feed line: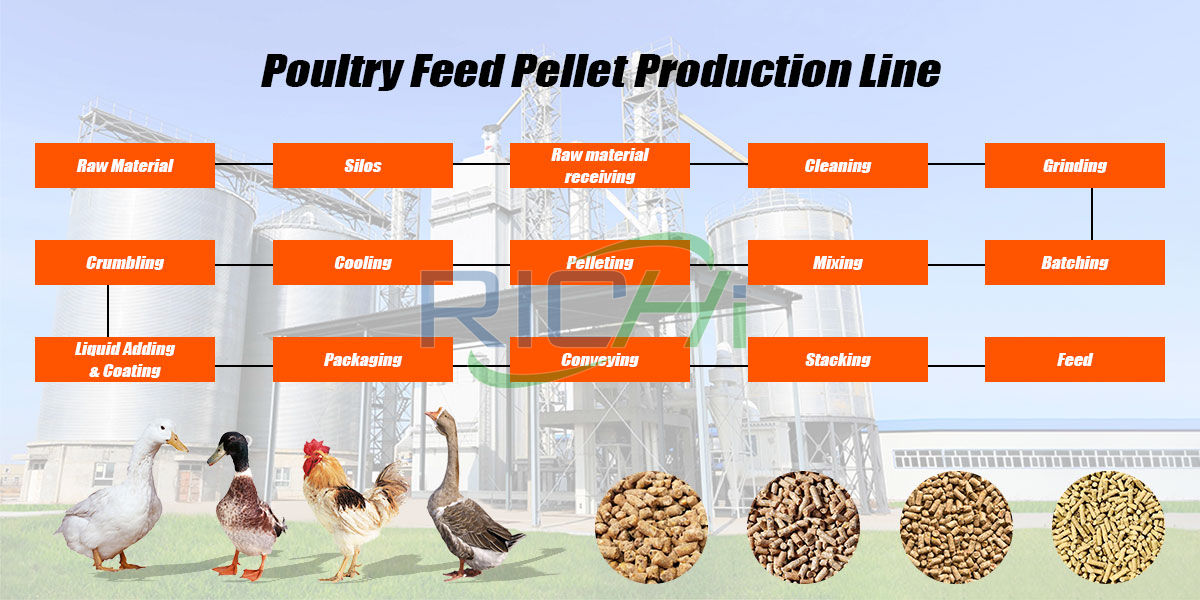 The main equipment needed in 20 t/h automatic poultry feed plant project:
Cylinder primary cleaning screen, poultry feed grinding machine, twin-shaft paddle poultry feed mixing machine, poultry feed pellet machine, poultry feed grading machine, poultry pellet crumbler, poultry feed pellet cooler, bucket elevator, scraper conveyor, packaging machine, steam boiler, transformer, floor scale and others poultry feed equipment.
| Poultry feed machine name | Model | QTY |
| --- | --- | --- |
| Cylinder initial cleaning screen | SCY-63 | 2 |
| Poultry feed grinder | SFSP112*50E | 1 |
| Poultry feed mixing machine | SLHY4.0 | 1 |
| Poultry feed pelleting machine | SZLH678D | 1 |
| Poultry pellet screener | SFJH250*1C | 1 |
| Poultry pellet crumbler | SSLG25*170*4 | 1 |
| Poultry pellet cooling machine | SKLN10 | 1 |
| Bucket elevator | TDTG26/32 | 7 |
| Scraper conveyor | TGSS16 | 7 |
| Packing Machine | BFB-8 | 2 |
| Steam boiler | 6T | 1 |
| Transformer | 500kVA | 1 |
| Weighbridge | XB-150T | 1 |
Click to see more details about this project: 50000 tons/year poultry feed mill project proposal