60T/H Animal Feed Company Project Overview
The customer's feed company for this large feed engineering project was established in 2007. This large animal feed company is located in Linyi City, Shandong Province, China. It is an animal feed company for poultry feed production, also one of the well-known local animal feed manufacturers.
Based on the high-standard requirements for feed quality, combined with its own capital and technical advantages and the human resource advantages around the project area, the animal feed factory in this project plans to invest in the construction of a 180,000 tons/year feed reform and expansion project at the original animal feed factory site.


The 60t/h animal feed factory project is an expansion feed engineering project, using the existing 40t/h animal feed factory area for construction. In other words, it is necessary to expand the 20 tons per hour feed engineering project.
60T/H animal feed factory project customer visit
In July 2017, this large animal feed company signed a contract with RICHI, and RICHI contracted the feed front end engineering design, civil engineering and all animal feed machine for the poultry feed manufacturing plant project.
In September 2017, the civil engineering of the project began; in December 2017, the poultry feed machine for the large animal feed mill plant project designed and produced by RICHI entered the installation stage, including animal feed pelleting machine, pellet mill conditioners, pellet coolers, poultry feed crumbles machine, poultry feed grinding machine, packaging machines, grading screens, etc.
The 2t/h coal-fired steam boiler will be changed to a 2t/h gas steam boiler, and the annual feed production capacity will be increased by 20t/h. The project was completed at the end of February 2018.


Animal feed production process in this large commercial feed mill
This animal feed company project does not increase the floor space and building area. The total investment of this 20t/h animal chicken feed factory project is 5 million yuan(770,000USD), of which 120,000 yuan is invested in environmental protection. The new 20t/h animal feed mill project is expected to start production in August 2021.
After it is put into operation, there will be no additional animal production capacity, and the annual poultry feed production scale of 180,000 tons will be maintained; the whole large capacity 60 tons per hour animal feed company project has 24 employees and an annual operation of 300 days (2400h/a).
New animal feed plant machinery needed in the 20 t/h animal feed processing plant
On March 6, 2018, the local Environmental Protection Bureau approved the 20t/h poultry feed mill project, and carried out an independent acceptance inspection in December 2018, and passed the acceptance inspection on September 3, 2019. The 60 tons per hour large scale animal feed mill production project is currently operating normally.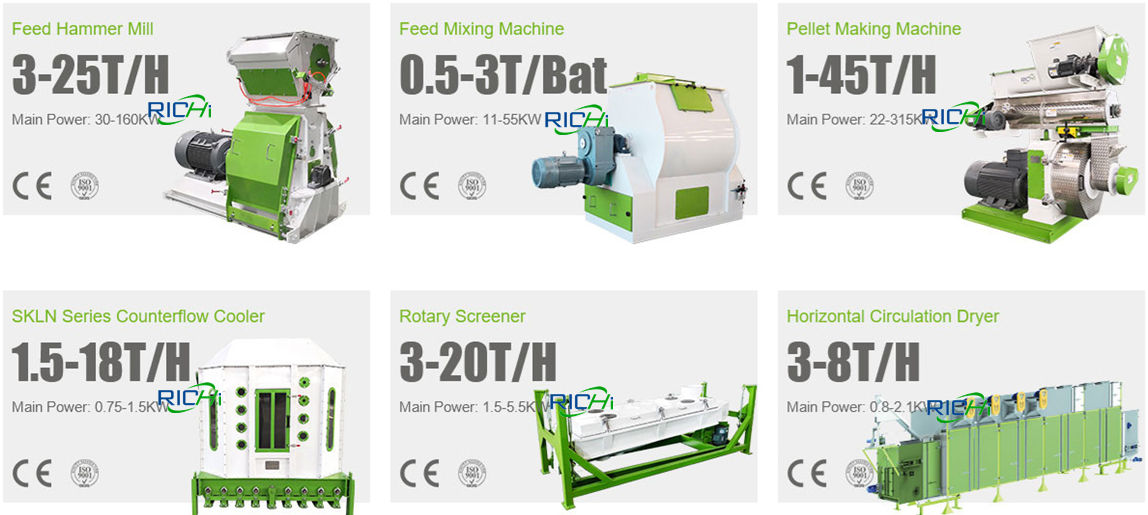 Animal feed machinery for 20t/h new build animal food processing plant
The main construction contents of the 20 t/h animal feed factory project are:
Replace part of the vegetable oil ester fatty acid raw materials with animal oil fatty acids, and add a 50t animal oil fatty acid storage tank;
Change 1 set of 2t/h natural gas steam boiler to 1 set of 4t/h gas steam boiler (the increase of steam is mainly used for heat preservation of animal fat storage tank to prevent it from solidifying);
Change the packaging method of finished products, increase the sales channels of bulk animal feed, change 30,000 tons of products from bags to silo storage, and add 8*60t finished product bulk warehouses (the existing project is bagged).