The 400-500KG/H livestock animal feed plant project is not the first export of Richi Machinery to Trinia and Tobago. Prior to this, we also exported the wood pellet processing equipment and other feed processing machines to customers in this country. In addition to petroleum and chemical products, livestock are the main products exported by Tobago, which means that there is a large demand for animal feed.
The production capacity of 400-500kg small animal feed mill plant seems to be small, but for Trinia and Tobago, where the breeding industry is not developed, it is already a relatively large production.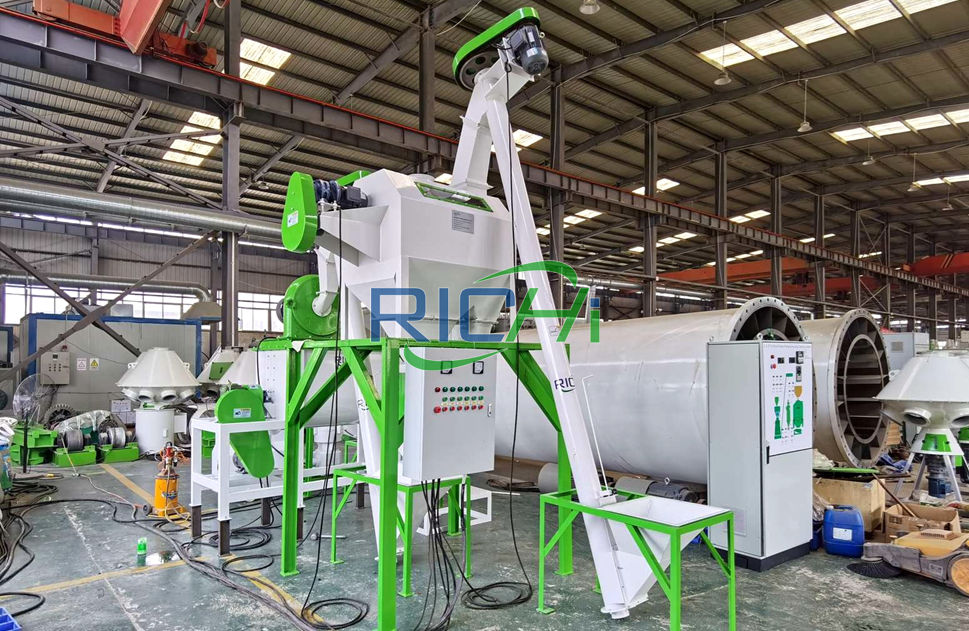 This is a project of animal feed plant machinery for small farm in Tobago. The whole small livestock feed production line 500 kilo hour for livestock of this project has a reasonable process layout and the small animal feed plant is smooth and simple; the project is equipped with a series of high-yield and low-consumption products such as Richi's animal grain hammer mill, small feeds mixer, small scale pellet machine for feeds.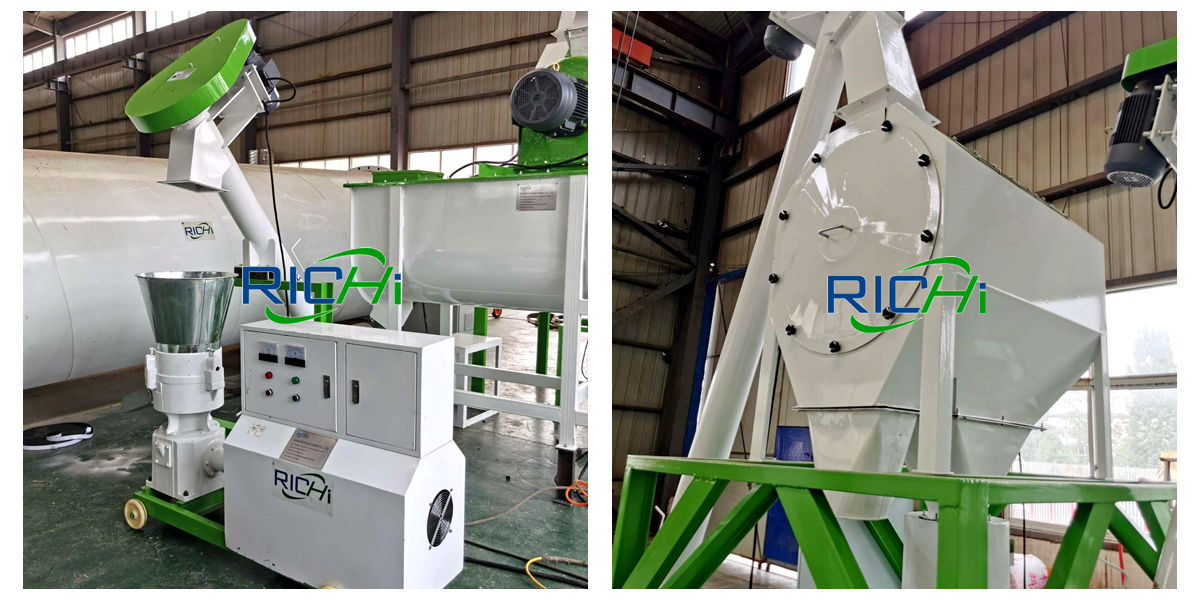 In terms of the operation intensity of the workers and the same output, the small farm livestock feed processing equipment configured by Richi Machinery can reduce the energy consumption of at least 5kw per hour than the peer small scale animal feed plant manufacturers, which reduces the operating cost of the 400-500kg hr small animal livestock feed plant. This small capacity aniaml feed production plant is a turnkey project of Richi Machinery, which has created a good model effect for similar small feed mill plants.
Small animal feed manufacturing process design for 400-500kg/h small animal feed plant in Trinia and Tobago
What is small animal feed plant? Small animal feed plant is also called small feed production line, which is used to process animal feeding pellets. Our small animal feed pellet plant is can produce 2-8mm of feed pellets, the yield is 0.08-1t/h.
This complete set feed procesing machine set is widely used in small and medium size of animal feed production line, livestock farms and individuals who raise animals, etc. The finished feed pellet are suitable for pigs, cattle, sheep, rabbits, chickens, ducks, geese and other aquatic organisms.
The general process flow of the 400-500KG/H small scale animal feed plant: put soybean, soybean meal, bran, corn and other raw materials into the cleaning equipment, the raw materials after debris removal have entered the small scale feed grinder, and after grinding into powder, enter the livestock feed mixers for small farms, according to customer's formula, oils are added in this section, and then mixed with the powdered raw materials, and then enter the small scale animal feed pellet machine. Then you get the finished product, which can be directly used to feed animals.
The following is the detailed animal feed manufacturing process for 400-500kg/h livestock feed pellet production line for sale Trinia and Tobago:
Small animal feed pellet making machine as explained earlier is a small and less complicated machine. This makes the processing of the pellets a bit easier to comprehend. The initial process is to bring the material for making the pellets. These includes soya bean meal, maize meal, vitamin among others.
As the picture, the corn and bean cake are ground by the self-suction grinding machine. The materials that don't need to be ground like wheat bran, bone meal, microelement, vitamin directly go into the mixing machine from the feeding port. All the materials are mixed uniformly and sent to the hopper then sent into feed bin by screw conveyor.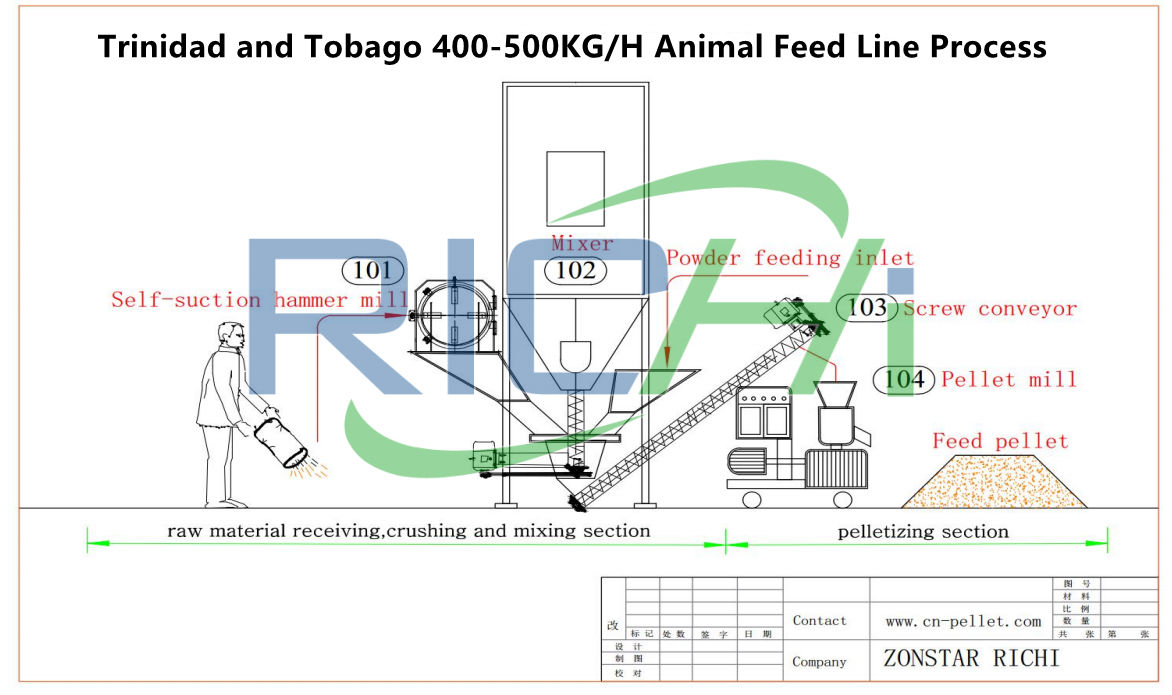 After that, the materials go into feed pellet mill equipment evenly from the feeding port and are produced into pellets. Those pellets then go into the cooling machine. Under the function of fan, the pellets are cooled to the temperature that is not over 5℃ than the room temperature. The cool pellets are screened by the vibrating screen, then they can be packaged.
Crushing section of 400-500kg small animal feed plant for sale Trinidad and Tobago
This is the first step to ensuring all the large grains are crushed into powder forms. The small animal pellet mill plant has a grinding machine that is specifically for the crushing purposes. Maize meals, broomcorn, wheat, beans, oilseed meal, soya bean meal may be in large grains and hence must pass the small scale hammer mill process. They are taken to the small farm feed grinder where they are crushed into fine powder. Without this process, it might be next to impossible to make pellets.
Mixing section of small animal feed plant for sale Trinidad and Tobago
This is where all the ingredients are mixed. The livestock feed mixing machine is known as RI-500 vertical mixing machine for animal feed. It has a large barrel where all the ingredients are put in different proportions. With the help of the small scale animal feed mixers, the powder is mixed in different proportions to form one mixture which is known as feed mesh.
Pelletizing section of Trinidad and Tobago small animal feed plant 400-500kg
The pelletizing system incorporates the small pellet mill for making animal feed. This is meant to press the feed mesh and form pellets. The machine used here is the FDF-260. It is able to make the pellets into uniform sizes. These includes the same diameter and length. This is to ensure that the livestock feed pellet machine produces the required sizes for different animals to ensure that it provides what is required and also avoid wastage during feeding. FDF series feed pellet machine is widely used in small feed pellet production line for animal feed.
Cooling section of 400-500kg small modular pelletization plant for sale Trinidad and Tobago
After crushing, mixing and pelletizing the final process is cooling. The small farm feed processing equipment used here is the counter flow type cooler. The small scale feed mill machine is small in size and convenient when transporting and installing. At the pelleting system, the pellets tend to produce heat which ranges from 70 to 85 degrees.

This heat must be reduced to room temperature to meet the storage requirement. Without cooling process, the hot pellets would produce mildew resulting to damage of the pellets. With a cooling fan in place, the pellets pass through the cooling area and their temperature is reduced to harmless levels. The pellets are then packed or derectly stored in a cool dry place.
Performance of RICHI 0.08-1T/H Small Animal Feed Plant
Compact structure, occupying small area, low requirement to the plant, low investment.
Easy to install, no need for civil engineering and welding at scene. The feed pellet machine can be used directly after the connection with low installation cost.
Continuous production, easy operation, small labor capacity, needing less stuff, the whole feed production line only needs 1-2 persons and the production cost is low in the later period.
Wide application, it can produce both livestock feeds and fish feeds, which is suitable for the small scale and medium scale feeding production plant, livestock farms and individuals who raise animals.
Advantages Of RICHI Small Scale Livestock Animal Feed Plant Unit
It has a low production cost: The small animal feed pellet plant machinery does not require too many people to operate. In fact, it requires just one or two people to operate it. This greatly cuts the cost of labor that largely affects the small scale livestock feed mill plant production cost. Low production cost leads to increase in the profit margin.
Reduced installation cost: The homemade small scale animal feed machines is simple and small hence it is easier to purchase and install it. You only need a few minutes to assemble the different parts. This reduces the amount of cash required to call a qualified personnel to assemble it. You only need one qualified personnel and another to help him.
It's a low investment machine: Due to its small size, the small feed pelletizer machine requires a small area. This reduces the cost of hiring a big area of installing it and also the time required to install it.
Has a wide application: The small scale feed pelletizing machine is capable of producing different sizes of pellets for different poultry and livestock animals. This means you can feed all your animals using one small pellet feed machine at the same time. It has made it easier for the farmers to rear different types of animals in their farms.

PELLET RICHI is a reliable animal feed pellet machine and small animal feeds plant supplier in China, with decades of experiences in livestock and poultry feed manufacturing process.This 400-500 kg per hour small animal feed plant is one of our hot sell products for small animal feed factories around the world.
If you want to buy small animal feed pelleting machine or small animal feed machinery for cows sheep fish poultry for starting your own mini small scale animal feed processing plant, it should be your best choice! Whenever you are interested in our small feed mill palnt equipment for making poultry & livestock feed pellets, don't hesitate to get in touch!
Small capacity animal feed plant for sale the world
In addition to exporting medium and large animal feed mill plant to the world, we also have a business specializing in selling small feed mill planrs. The following are some of the small animal feed plant projects we have done:
| Projects | Country |
| --- | --- |
| 500-600KG/H small animal feed plant | Netherlands |
| 400-500KG/H small animal feed plant | Germany |
| 500-700KG/H small animal feed making plant | Indonesia |
| 500KG/H small animal feed processing plant | Philippines |
| 500KG/H small animal feed pellet plant | Bangladesh |
| 300KG/H animal feed plant | Lebanon |
| 200KG/H small animal feed plant | Pakistan |
| 500KG/H animal feed plant | UAE |
| 500KG/H animal feed pelleting plant | Qatar |
| 100-150KG/H animal feed pelletizing plant | Bahrain |
| 400-500KG/H small animal pellet feed plant | Bolivia |
| FDF400 animal feed pellet line | Ecuador |
| 300KG/H animal feed plant | Colombia |
| 200-300KG/H animal feed machine plant | Australia |
| 500KG/H animal feed production plant | Tanzania |
| 500KG/H Small Feed Pellet Line | Uganda |
| 800-1000KG/H animal feed plant | The Gambia |
| 150KG/H animal feed pellet plant | Burkina Faso |
| 200-300KG/H animal feed produciton line | Botswana |
| 1000KG/H animal feed plant | South Africa |
| 700-800KG/H animal feed plant | Namibia |
All of the above small animal feed plant projects are really effective, please feel free to contact Richi Machinery for project details!