NEWS
RiChi News
Follow Richi Machinery trends, collect industry information, and discuss market focus.
1T/H-2T/H Ruminant Poultry and Fish Combined Feed Production Line Project in Gizak, Uzbekistan
Date: 2021-02-19 08:46:00
From: www.pellet-richi.com
Clicks:
This is a customized 1t/h-2t/h animal feed processing plant in Gizak, Uzbekistan, used for floating fish, cattle, sheep and chicken projects. It has advanced structure and stable operation. The customer's raw materials are corn, soybean meal, oil, and The mixture is used to produce 1-1.2t/h fish and shrimp feed pellet production line, 1-2t/h poultry feed pellet production line, 1-2t/h ruminant feed pellet production line, with a particle size of 2-12mm.

This 1t/h-2t/h ruminant poultry and fish joint feed production line project in Gizak, Uzbekistan was launched in January 2019. The installation period is 60 days and covers an area of 15 * 9.5 * 8 meters. The main equipment of the project includes: 37KW animal feed hammer mill, 500kg/batch feed mixer, 90KW floating fish feed extruder, 22kw feed pelletizer, SKLN11*11 cooler, vibration translation machine, automatic packaging machine, 1t/ h steam boiler etc.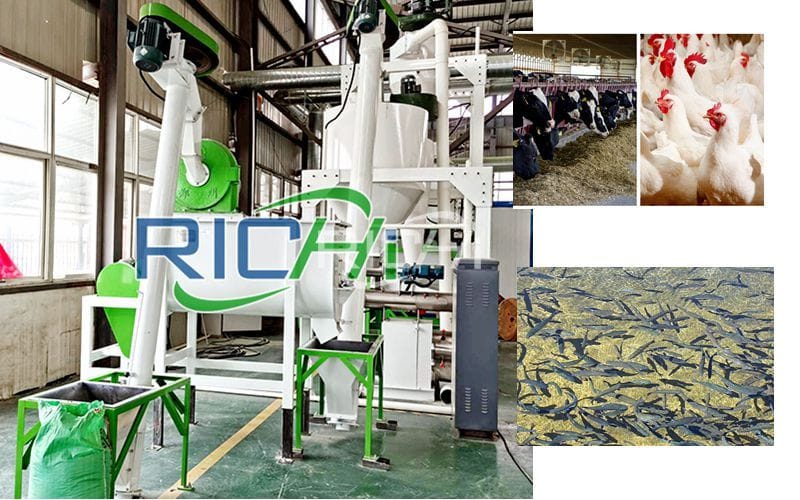 乌兹别克斯坦吉萨克的1T / H-2T / H反刍家禽和鱼类联合饲料生产线项目
配置功能:
1.37KW fish feed hammer mill

A perfect balance is achieved between fineness and production. Broken screen ≤∅1.8, oil content ≤8%, moisture content ≤10.5%.

2.90KW aquatic feed extruder
The new type conditioner can soften material fibers, improve gelatinization degree, reduce power consumption and increase production capacity.Intelligent control system, key data on-line monitoring, improve efficiency.
3.Double-shaft Efficient Mixer
Many kinds of liquid and solid can be added at the same time. The spraying is accurate and the control is convenient.
4.SZLH250 Feed Pellet Machine
The feeding system adopts stepless speed changing motor control, adjust speed conveniently and reliably. Could be equipped with microcomputer automatic control system adjusts feed-in quantity and throttle flow automatically,make pellet mill in the best working condition all the time.
5.SSLG pellet crumbler machine
It uses the differential speed principle of rollers to extrude and shear the materials, which breaks the large particles into irregular small particles.Roll protection device makes the roll automatically avoid collision when encountering hard foreign bodies, and protects the roll from damage.
6.SKLN11*11 Counter-flow Cooler
Use counter-flow cooling principle, full and uniform cooling.Use special slide valve discharging mechanism to discharge.The discharging mechanism runs smoothly and reliably, the discharging is smooth.Use mechanical leveling device, the discharging is accurate and sensitive.
7.Automatic bagging machine
The reasonable feeding structure ensures smooth flowing of materials.All parameters can be input by the panel.Automatic control of fast/slow feeding, bag clamping and loosening. By introducing automated feed equipment, this project can greatly reduce labor costs and improve customer production efficiency.
The above is the article for you: 1T/H-2T/H Ruminant Poultry and Fish Combined Feed Production Line Project in Gizak, Uzbekistan.
If you are interested in our products or project solutions, please contact us. We will give you the best product quality and the best price. Email: enquiry@pellet-richi.com